Bull buyers demand breeding assurance
Bull buyers demand breeding assurance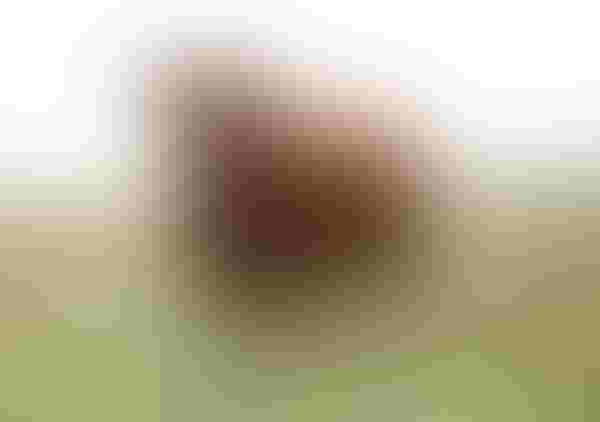 In a recent survey of BEEF readers regarding the BEEF Seedstock 100 (S100), 67.2% rank a first-year breeding guarantee highest among the services they expect their genetic suppliers to provide.
Though not directly comparable, respondents to the BEEF Genetic Survey (BGS) a few years back said the service most important to them was assurance beyond the normal breeding guarantee.
Whether or not the answer reflects expectation for a specific DNA-based test or the genetic evaluation defined by expected progeny differences (EPDs), 61.6% of S100 respondents say they look to genetic suppliers to provide genomic profiles of the bulls they purchase. That's another way to measure the expected integrity of individual bulls.
Of those respondents, 9% say they base all breeding decisions on genomic profiling or use the information in some of their breeding decisions (37.3%).
By contrast, 38.9% of BGS respondents said they used genomic data in their bull selection decisions — ranging from 26% for operations with 50 cows or fewer to 51.1% for operations with 500 head or more.
"A herd bull has two qualities of value to commercial producers. One is his ability to impregnate as many cows as possible, and the other is the ability to pass genes for superior performance on to his offspring. In the absence of the former, the latter is moot."
That's from the introduction of a Journal of Animal Science article by Alison Van Eenennaam and fellow researchers at the University of California, Davis (UCD), describing their multiyear study examining the prolificacy difference among individual bulls across several different ranches and years.
The mean number of calves sired per bull ranged from 3.3 to 39.1. The overall mean of all bulls was 18.9 calves. Repeatability of the number of calves — for bulls 3 years old or older — was 0.37; it was 0.33 when all bulls were included in the analysis.
The study encompassed 5,052 calves that were assigned paternity on the basis of DNA from 15 calf crops and 275 bull natural breeding opportunities at three commercial ranches in Northern California over three years. In 40% of the calf crops, at least one bull sired only one calf and at least one bull sired more than 50 calves.
Alone, and depending on the company, parentage testing runs around $15 per head. The number of calves tested and the testing strategy can dilute the cost.
"As a less costly alternative to parentage-testing all calves for assessment of prolificacy, smaller subsets of calves were used to sort bulls into prolificacy groups high prolificacy (HP), medium prolificacy (MP) and low prolificacy (LP)," UCD researchers explain.

BEEF Seedstock 100 List
Looking for a new seedstock provider? Use our UPDATED Seedstock 100 listing to find the largest bull sellers in the U.S. Browse the list here.
Alternative subsets included calves from a single week (Week 3) of the calving season, or the sum of calves from Weeks 2, 3 and 4. Researchers found that bulls rated similarly for prolificacy across groups.
"By paternity-testing only calves born in Weeks 2, 3 and 4 or only from Week 3, sampling costs would be reduced to approximately 50% and 20%, respectively, of that required to sample the entire calf crop in this study," researchers say.
Moreover, researchers say HP bulls sired a disproportionately large number of the early-born calves in well-managed herds with a large numbers of females cycling early in the breeding season.
"In self-replacing beef systems, replacement heifers are often selected on the basis of age to enhance the potential for conception early in their first breeding season," researchers say. "This study showed that only a small percentage of such replacement heifers would likely be sired by LP bulls." 
Subscribe to Our Newsletters
BEEF Magazine is the source for beef production, management and market news.
You May Also Like
---