BIF names seedstock, commercial award winners
BIF names seedstock, commercial award winners
Hinkson Angus Ranch and Mershon Cattle LLC, both Midwest operations, win top awards at the Beef Improvement Federation Research Symposium and Convention in June. Sponsored by BEEF, the awards recognize excellence in genetic improvement in beef cattle.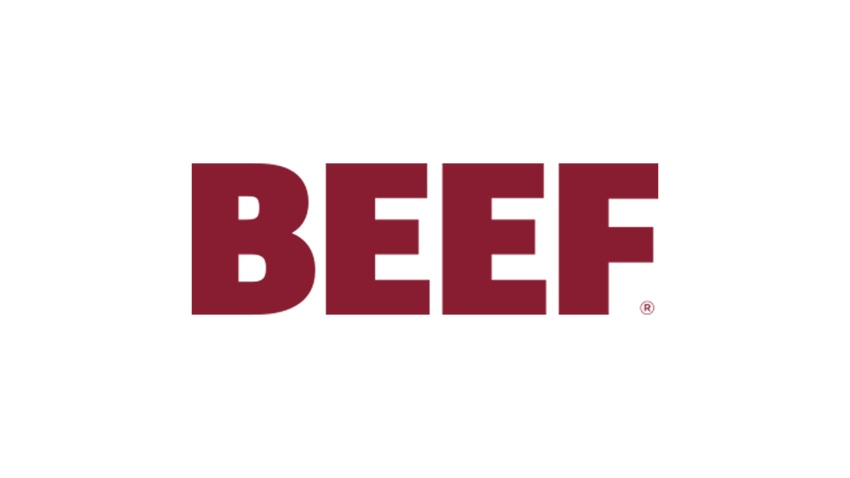 It's pretty heady company, the list of winners of the Commercial and Seedstock Producer of the Year Award. The Beef Improvement Federation (BIF) has been giving the award, recognizing excellence in using genetic improvement to better the beef business, for many years now. And BEEF has been a longtime sponsor of the award.
Again this year, BEEF was honored to be part of the BIF Research Symposium and Convention in Brookings, S.D. and honored to present the trophies to the award winners. Each rose to the top from a long and competitive list of nominees.
Commercial award winner
Pictured left to right are Burt Rutherford, BEEF senior editor; Tammy Mershon; Bruce Mershon; and Lee Leachman, 2018-19 BIF president.
The BIF Commercial Producer of the Year Award was presented to Bruce and Tracey Mershon of Mershon Cattle LLC, a diversified crop and livestock operation headquartered on a Century Farm in Buckner, Mo., northeast of Kansas City. The Mershon family has deep roots in Missouri agriculture. In 1865, Bruce's great-great-grandfather, Eli Mershon, settled in the Fort Osage area of Jackson County and purchased 160 acres shortly thereafter. The family has farmed there ever since.
Bruce and Tracey Mershon have owned cattle since 1993 and launched Mershon Cattle LLC in 2012. They purchased Sunny Acres Farm in Appleton City, Mo., in 2013 to expand the operation. The Mershon cow herd consists of 1,600 Angus-based, crossbred cows, which are bred to Hereford, Simmental and Charolais sires. This complementary breeding program allows the operation to produce efficient, high-performing offspring, and is paired with a sustainable grass management program to maximize environmental stewardship.
Bruce and Tracey have built their award-winning cattle operation while working full-time as a commodity trader and marketing communications professional, respectively. A key to their success is gathering complete phenotypic records on each calf crop from birth to harvest. In conjunction with utilizing cutting-edge reproductive technologies, this phenotypic data is used to implement strategic improvements in building accuracy for their cow herd.
Mershon Cattle LLC was nominated by the American Hereford Association. Rounding out the finalists in the commercial producer category were Blew Partnership, Hutchison, Kan., and Larson Farms, Green, Kan.
Seedstock award winner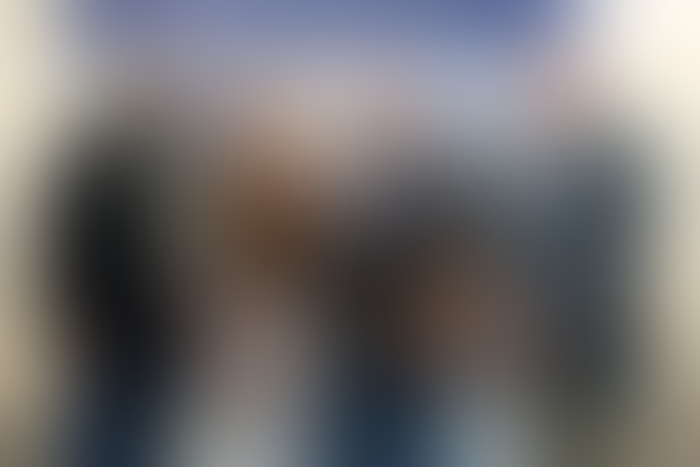 Pictured left to right are Burt Rutherford, BEEF senior editor; Marilyn Hinkson; Frank Hinkson, Jr.; and Lee Leachman, 2018-19 BIF president.
BIF presented Hinkson Angus Ranch, Cottonwood Falls, Kan., with the Seedstock Producer of the Year Award. Hinkson Angus Ranch is located in the Flint Hills region of east central Kansas, 12 miles southeast of Cottonwood Falls. This region is the largest portion of the tallgrass prairie left in North America.
The ranch was purchased in March 1984, when Frank Jr., wife, Marilyn, and children, Trey and Tyla, moved from West Texas with 90 head of registered Angus cows. These cows stemmed from the original registered herd started by Frank Sr. in 1959 near Lazbuddie, Texas.
Today, Hinkson Angus Ranch is owned by Frank Jr. and his son, Trey, who is the fourth generation on the ranch and manages the daily operation. Hinkson Angus consists of 5,500 acres of owned and leased land, and 200 fall- and 175 spring-calving registered Angus cows. An additional 1,000 commercial heifers are purchased each year, with the majority coming from Hinkson bull customers.
The focus of the Hinkson family is to produce practical, balanced-trait seedstock that will work at an optimum level in all phases of the beef industry in a real-world environment. Over the years, the Hinksons have been early to adopt new advances and technology within the livestock industry. A small herd of registered Charolais cows was added in 2017, in response to the needs of some of their commercial customers to add terminal genetics.
The Kansas Livestock Association nominated Hinkson Angus Ranch. Rounding out the finalists in the seedstock producer category were Hager Cattle Company, Karlsruhe, N.D., and Jungels Shorthorn Farms, Kathryn, N.D.
More than 500 beef producers, academia and industry representatives attended the organization's 51st annual convention. BIF's mission is to help improve the industry by promoting greater acceptance of beef cattle performance evaluation.
For more information about this year's symposium, including additional award winners and coverage of the meeting and tours, visit BIFconference.com. For more information about BIF, visit Beefimprovement.org.
Subscribe to Our Newsletters
BEEF Magazine is the source for beef production, management and market news.
You May Also Like
---