Leg conformation is too important to hide on bull photos
Leg conformation is too important to hide on bull photos
Selecting breeding bulls with good leg conformation is important, but Colorado State University research shows a majority of bull photos obscure this important trait.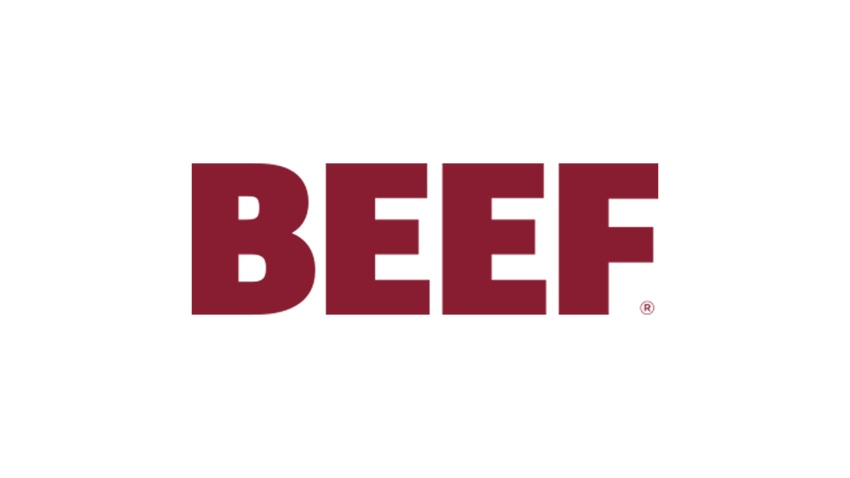 Over the past few years, there has been an increase in leg conformation problems in beef cattle. Included in the conformation issues are animals that are post-legged, have weak pasterns, or are pigeon-toed or splayfooted.
Leg conformation problems may be one cause of an increase of lameness in beef cattle. This is why it's important for beef breeders to select breeding bulls with good leg conformation.
To select for sound feet and legs, ranchers need to be able to see the feet and legs of the animals they are considering for use in breeding. This is especially important when selecting breeding bulls from semen catalogs, where visual appraisal is based on the picture supplied by the bull breeder. 
Websites from four major semen companies in the U.S. were surveyed to determine the percentage of beef bull photos where the feet and legs were clearly visible. Five different breeds were represented: Angus, Red Angus, Hereford (polled and horned), Simmental and Charolais. A total of 1,379 bull pictures were evaluated for this survey.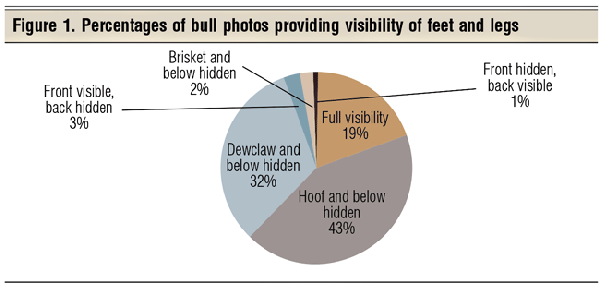 In about a third of the photos studied, both the bull's dewclaws and hooves were obscured. Only 19% of the bulls were pictured with their feet and legs fully visible (Figure 1).
In addition, the birthdates for each bull were recorded and age was determined, with the bulls' ages ranging from 1 to 48 years old. Though many bulls are deceased, age was recorded to help determine when the photographs were taken.

BEEF Seedstock 100
Looking for a new seedstock provider? Use our BEEF Seedstock 100 listing to find the largest bull sellers in the U.S. Browse the Seedstock 100 list here.
Statistical analysis showed that there is a correlation between the bull's age and visibility of the hooves. The older bulls had more pictures with fully visible feet. In recent years, pictures of younger bulls have more of their feet and legs hidden. This doesn't allow purchasers of genetics to view an animal's leg conformation.
After the research data had been collected, one of the authors received a beef bull sale catalog featuring over 100 pages of bull pictures, with many of the photos appearing to have been "Photoshopped." Some of these suspected images were shown to professional photographers, who agreed there was a high likelihood that the images had been manipulated.
In some of the images, photo editing software was used to cover the bulls' legs. In these pictures, the bulls' legs were completely hidden with grass, making it impossible to assess leg conformation. The use of Photoshop was obvious, as a fence next to the bulls had short grass.
Meanwhile, a positive trend was discovered while collecting data in that nearly 6% of the bulls included in the survey had both a picture and a video of the bull walking around. Including a video with each bull is an excellent way to show that a bull is structurally sound.
It is important in the future that full visibility of feet and legs be made a priority in photographs of breeding animals. Another improvement would be to include multiple images of the bull from different angles, along with videos of the bulls walking. This would allow breeders to see all of the bull they are purchasing semen from, similar to seeing a bull at a sale. Leg conformation, thus, will be easier to evaluate.
Marcy Franks is a graduate student, and Temple Grandin is a professor of animal science, both at Colorado State University.
You might also like:
8 tips for being a better ranch manager in 2015
Top 20 beef industry events of 2014
How will declining fuel prices affect beef demand?
100 biggest seedstock producers in the U.S.
No ranchers under age 35 by 2033? Say it ain't so
70 photos honor the hardworking cowboys on the ranch
Subscribe to Our Newsletters
BEEF Magazine is the source for beef production, management and market news.
You May Also Like
---