Autogenous vaccine is another pinkeye control option
Autogenous vaccine is another pinkeye control option
Autogenous vaccines protect cattle against pinkeye infections.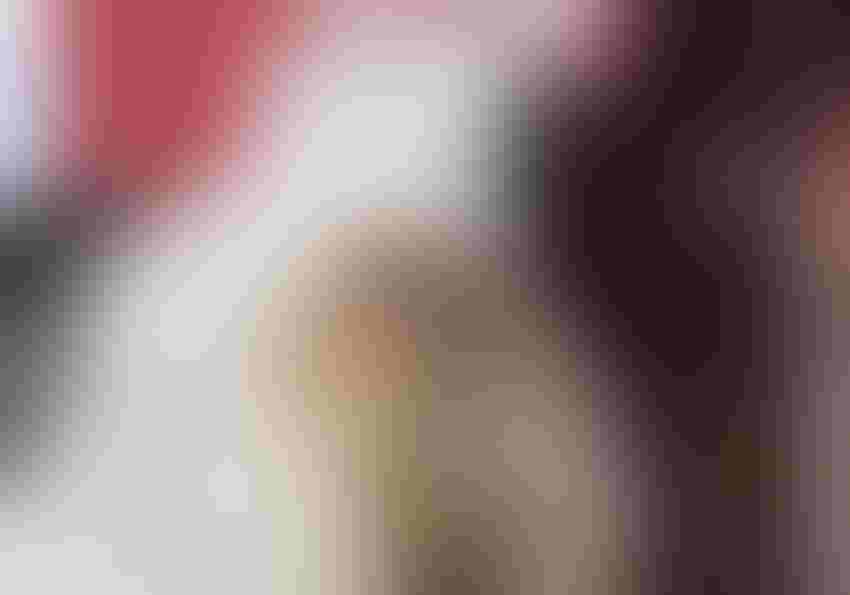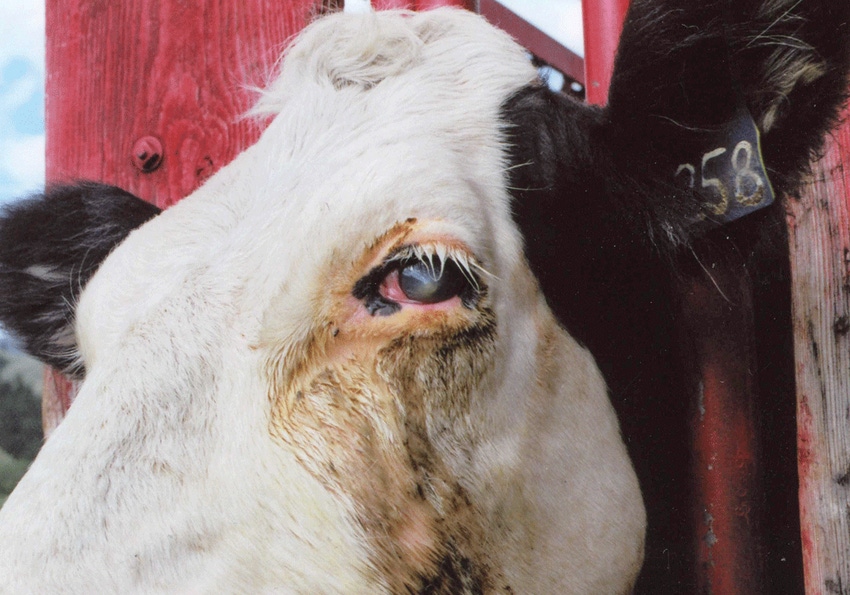 While pinkeye is often thought of as a summer disease, it can occur year-round. Its effects, both in terms of the pain it causes animals and the hit it puts on the bottom line, can be significant.
It happens every summer, it seems, even if you vaccinate. And the discomfort it causes you and your cattle can add up in a hurry. What's more, pinkeye is not just a summer problem. It can crop up any time of the year. So if you battled pinkeye this summer, it's time to prepare now for next year.
Pinkeye is a common problem that is painful for the affected animal and costs the beef industry thousands of dollars. This money pit is due to poor weight gains in affected animals, a drop in milk production, the cost of drugs and labor in treatments, price docks at sale time because of eye damage or blindness, or even calves cut back at sale time.
There is a commercial vaccine, but it only addresses one of the pathogens that cause eye problems. Because there usually are several different pathogens at work, it doesn't always prevent problems from occurring.
Ralph Walton, a veterinarian with Cross Street Veterinary Clinic, Tulare, Calif., uses autogenous vaccines to add another layer of protection for his cow-calf clients. "The advantage of an autogenous vaccine is that it is made for the specific organism causing problems in your cattle. The disadvantage is that it takes time to make it. You can't just run down to your farm supply store or veterinary clinic to buy some. We have to find the isolate, grow it and make the vaccine," he explains.
"If the pinkeye outbreak starts in June, you are looking at August by the time you get the vaccine. So in some instances, we may be talking about next year before it can really help us. When weather cools off in the fall and flies go away, you won't have much problem with new cases," he says.
"This is the frustrating aspect, though the autogenous vaccine works as well or better than commercial vaccine since it targets the specific pathogen in your herd," Walton says. If the commercial vaccine isn't fully protecting the cattle, this gives you another option.
Taking samples
Gary Spina, national sales manager with Hygieia Biological Laboratories, Woodland, Calif., says that if a herd has a pinkeye issue, the veterinarian can swab the infected eye and send the swab to the lab for culture. But some vets make the mistake of taking the sample from the corner of the eye near the tear duct.
"That's the wrong place, because you can end up with a lot of mixed flora that may have nothing to do with the infection. It should be taken from the center of the eye, over the pupil — where you are less likely to get mixed flora," Spina says.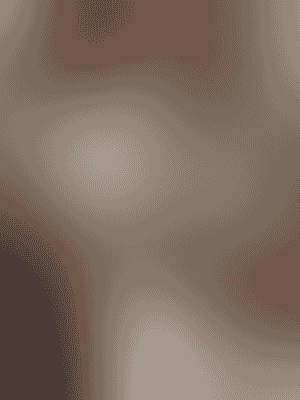 If a herd has a pinkeye issue, the veterinarian can swab the infected eye and send the swab to the lab for culture. But be sure to swab the center of the eye instead of the edge, near the tear duct. This gives the lab a better opportunity to isolate the different bacteria causing the problem. Photo by Gary Spina
Further, samples must be taken early, when the disease first strikes. "By the time you see an obviously painful eye, you may be past the point of isolating the bacterium. You need to look at other cattle that are not showing all the symptoms yet, and take samples from them as well — such as individuals just starting to get a runny eye. A veterinarian may have tried to get the bacteria in a sample and missed it, checking eyes that are already damaged and past the initial infection," he says.
"When samples are sent to the lab, they'll do the isolation and typically find Moraxella bovis, but often find M. bovoculi also — which is not in the commercial vaccine. [We] make a number of vaccines with bovoculi and bovis or bovoculi only — whatever is needed in that particular herd. The vaccine needs to be administered to the animals, allowing a long enough time for them to start developing immunity," says Spina.
Establishing immunity
Vaccines stimulate the animal's immune system to build resistance to the pathogen, which is not instantaneous. "You give one shot and then follow it up with a booster," says Spina. One shot alerts the immune system, and it's the second injection that stimulates the body to build immunity.
Even though a booster is recommended, many producers have good luck preventing pinkeye with only one vaccination. "I've never had any animals break with pinkeye after they were vaccinated with the autogenous vaccine," says Scott Steinert, DVM, Steinert Veterinary Clinic at Enid, Okla.
Ranchers he vaccinates for are giving pinkeye shots at branding time, before the cattle go to grass, and that's the only chance they get. One dose seems to protect the cattle all summer.

"The M. bovoculi can affect cattle year-round; it's what we call winter pinkeye. A lot of ranchers here buy small calves to put on wheat pastures later in the year, so we vaccinate them, too. I use it on cows and calves in the spring, and they only get the one dose. I've never boostered any of them," Steinert adds.
Ken Vroman, DVM , Fayette, Mo., has been using autogenous pinkeye vaccines for about 25 years. "Vaccines are not a panacea; they go hand in hand with good management and seem to help," he says.
Vaccination also seems to have an additive effect. "When you go through a herd and give them all an autogenous vaccine for one or both bacteria strains, you have better pinkeye control the second year that you use the vaccine than the first year. It's like a booster, and it seems to build herd immunity," he explains.
Multiple pathogens
"With a pinkeye vaccine, we have to determine whether to include Mycoplasma as well," says Vroman. "The eye disease can be worse when this pathogen is involved." 
Steinert says his practice has been using autogenous pinkeye vaccine for four years. "We started because the only commercial vaccine was for Moraxella bovis, and about 50% of the isolates we find in our clients' cattle are actually Moraxella bovoculi instead," he says.
"We decided to see what our options were to have better coverage, and had a lab develop a vaccine for us. We collected samples from several herds, and found a lot of those cross-react. From our last submission we had two different M. bovis isolates and three M. bovoculi," says Steinert.
Does it work?
Paul Cotterill, a veterinarian with Cherryvale Veterinary Clinic, Cherryvale, Kan., has used autogenous vaccines for 15 years. "We have given over 100,000 doses of pinkeye vaccine. This gives a pretty good idea regarding efficacy," he says.
"In certain situations, we know we've had a challenge for vaccinated animals — with cattle next door to our client and fence-line contact over a wire fence. There was facial contact, as well as flies going back and forth. The cattle on the other side of the fence had horrible cases of pinkeye, and our client's cattle did not. In one situation like this, there wasn't a single bad eye in the cattle that were vaccinated," he says.
"Cattle are moved around a lot today, so we are seeing more strains of bacteria that cause pinkeye. As we get an outbreak or a new case crops up, we might take a swab, especially if it's a significant outbreak. The lab cultures those samples to see what we have, and genetically tests them to see what the variance is, using a dendrogram. Once it reaches a high enough variance from the ones we have in our vaccines, they call it a non-like strain and add it to the vaccine if possible. That way we continue to update the vaccines we are using," says Cotterill. "Some of the strains are so close, we figure there will be a little cross-protection, since you can only get so many different isolates in a vaccine."
If you battled pinkeye this summer, consider having your veterinarian develop an autogenous vaccine specific to your herd. Your cattle will thank you.
Heather Smith Thomas is a rancher and freelance writer based in Salmon, Idaho.
You might also like:
Young ranchers, listen up: 8 tips from an old-timer on how to succeed in ranching
13 utility tractors that will boost efficiency in 2016
Burke Teichert: How to cull the right cow without keeping records
3 weaning methods compared; Which one rises to the top?
6 tips for proper electric fence grounding
9 things to include in your ag lease (that you better have in writing!)
Subscribe to Our Newsletters
BEEF Magazine is the source for beef production, management and market news.
You May Also Like
---