Avoid Wrecks Caused by Disease, Weather & Other Goblins
Avoid Wrecks Caused by Disease, Weather & Other Goblins
Here's a look at just a few of the possible wrecks that can happen and some steps to protect against disease, weather and other goblins.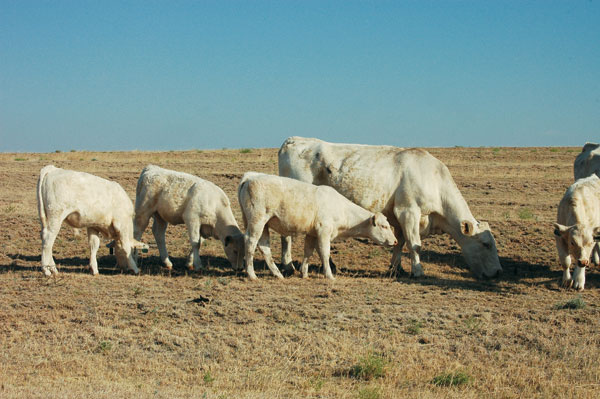 With high input costs and tight profit margins, the last thing ranchers need is a wreck. Whether it is health related or the pounding of cattle prices, wrecks can rise to take the unwary and unprepared out at the knees.
Frank Helvey faced one of the worst when 400 of his 600 cows came up open in a perfect breeding season. It was a half-million-dollar disaster. That was in 2007 – "the year I got a 'doctorate' in trich," Helvey explains.
The devastated South Texas rancher and auction barn operator described his wreck situation at a recent Texas & Southwestern Cattle Raisers Association (TSCRA) conference. When cows came up open, he sought answers from not only his local vet, but those in several surrounding states. Helvey finally learned that 16 of his bulls were infected with bovine trichomoniasis (trich).
The disease was new to his region, but had caused calving problems in a few other areas. Determined to get the facts on the disease, he learned, among other things, that those 16 bulls were forever worthless as sires.
Tritrichomonas foetus is the causative agent of trich, which is characterized by infertility, early embryonic death, rare abortions and pyometra in cows and heifers. The organism resides on the bull's penis and infects females during breeding. The organisms attach to her vaginal wall, colonize and spread throughout the uterus and oviducts, causing an inflammatory response in the uterus.
Even though the cow or heifer will conceive, the infection will ultimately lead to embryonic death or abortion. Infected cows usually return to heat in their next 21-day cycle. If they're bred by an uninfected bull, he is then infected and the cycle repeats itself. Cows will eventually clear themselves of the infection after four or five cycles, but once the bull gets infected, he will be a bellerin' wreck waiting to happen for the rest of his life.
Helvey has a plan to avoid trich again. No untested bull will set a hoof on his ranch and bulls are isolated from his cowherd for four months.
"We make sure every bull is trich-tested. I also make sure every bull that goes through our auction (in Pearsall, TX) is tested," he says.
The Texas Animal Health Commission, with input from Helvey, veterinarians, TSCRA and others, has developed regulations to help stop spread of the disease. Texas joins at least 20 other states now requiring trich testing, the cost of which is about $25/head.
Vets in states where trich hasn't been highly detected warn producers to make sure bulls are tested before buying them. One key threat to trich infections is wandering cattle. So good fencing and knowledge of the neighbor's herd can be the first step not getting "tricked" into a wreck.
Here a wreck, there a wreck
Highly sensitive cattle markets should have producers, stocker operators and feeders concerned about managing their price risk, notes Matthew Diersen, South Dakota State University Extension economist.
Volatile cattle markets aren't signaling that a complete price panic is in order, but cattle markets have taken a hit, dropping to the $140/cwt. range for September and October feeder futures. They had surged to $160-plus before the media stirred up the lean finely textured beef (LFTB) frenzy, and later the skyrocket in corn prices and drought.

A Closer Look: Plenty Of Market Volatility & Road Bumps Ahead
Diersen says cattlemen, whether selling via local auction markets, video sales or feeder or live cattle futures, can't depend on having good prices when they're ready to sell.
"The way around this problem is either to spread out sales or selectively hedge the cattle," he says. "Selling at more than one time may not be practical for smaller producers. Selective hedging may still work if a portion are priced or protected when returns look favorable."
Diersen says producers and feeders should use USDA Risk Management Agency insurance products and marketing tools, such as forward contracts or futures and options, to spread out or reduce risk.
"While it's too late in the year for livestock risk protection (LRP) on calves, it may still work well for feeder cattle. Out-of-the-money put options are also an inexpensive way to get a minimal amount of coverage," he says. "There's usually no other way to guard against price wrecks. If it's getting close to sale time and you see a price you like, lock it in for part of your production."
Diersen says that with high input costs, producers and feeders may consider locking in those expected outlays. "Look at protecting the feed cost side of things," he says. "Maintain a minimum amount of quality hay if possible. If backgrounding or feeding cattle, the whole feed bill may need to be covered.
"The other alternative to consider this time of year is protecting hay and grazing for 2013. This is the time to buy forage production or similar hay insurance. It is also near the deadline for pasture, rangeland, and forage (PRF) insurance, which can cover either haying or grazing."
He concludes that when situations like the LFTB incident strike and consumers walk past the beef counter when shopping, it's a direct impact on beef producers and feeders. "That's where having a plan to spread your risk to manage a price would be helpful," Diersen says.
Mistakes to avoid 
David Smith, University of Nebraska-Lincoln professor of veterinary science, recommends producers develop a production and animal health plan to ward off wrecks. He says producers should:
Understand the sequence of disease and the recovery times of common diseases and reasonable outcomes.

Have a written plan for when cattle arrive and face environmental changes.

Commit enough time to observe and handle cattle. 

Let cattle get to know the people who care for them.

Select appropriate high-quality vaccines, medications and other animal health products, and don't "step over dollars picking up nickels."

Know when to let go – have a "quitting plan" and stop spending money on lost causes. 
Sidebar: Managing Mother Nature
Along with protecting against disease and other animal health problems, many ranchers deal with dry weather year in and year out. The drought of 2011 caught many Southwest producers off guard simply because of its duration and severity. This year, the drought was much bigger than the Southwest and cattle operations in many other states are suffering as well.
Good ranchers and managers always have a drought plan in place and implement that plan when they see an imminent drought, says Gerald Hobson, rangeland specialist for DuPont in Peaster, TX. "Grass may be green, but if annual rainfall is less than 50% by May or June, good ranchers implement that drought plan," he says.
The old established rule of "take half and leave half" of the forage produced dictates that good ranch managers graze 50% and leave 50% of available forage. "Ranchers are optimistic folks, and that optimism, in some instances, is our worst enemy," Hobson says, noting that some drought-stricken producers overstepped the 50-50 rule the past two years.
"Many just knew it was going to rain and, in many instances, destocking or adjusting the stocking rate came too late for many pastures."

Industry Related Resoure Page: Drought Management
As overgrazing occurs and perennial grass plants' roots systems are weakened due to the lack of rainfall and extreme heat, all of these factors can influence and slow down pasture recovery, he adds.
Hobson also encourages bermudagrass producers who faced excessive drought and heat last year to take soil tests.
"As expensive as fertilizers are, you have to know what your soil nutrient levels are," he says. "Soil testing will help do that, and it could be the best money you'll ever spend. When nutrient levels are correct, you are able to utilize what rainfall you receive more efficiently."
In 2011, some temperatures (in Texas) reached 138° F at ground level," he reports. Citing a 1950s drought study in South Texas, Hobson notes that stretches of 100°-plus temperatures and continued lack of rainfall can weaken perennial grasses.
"The shading effect of perennial grasses help to reduce moisture loss and soil temperatures," he says. "Good management in a drought becomes extremely important." 
Subscribe to Our Newsletters
BEEF Magazine is the source for beef production, management and market news.
You May Also Like
---