B-PIKE Program Offers Vet Students Real-World Experience In Feedlot & Stocker Cattle
B-PIKE Program Offers Vet Students Real-World Experience In Feedlot & Stocker Cattle
The Beef Production Immersive Knowledge Experience offers highly motivated veterinary students a birds-eye view of serving feedlots and stocker producers.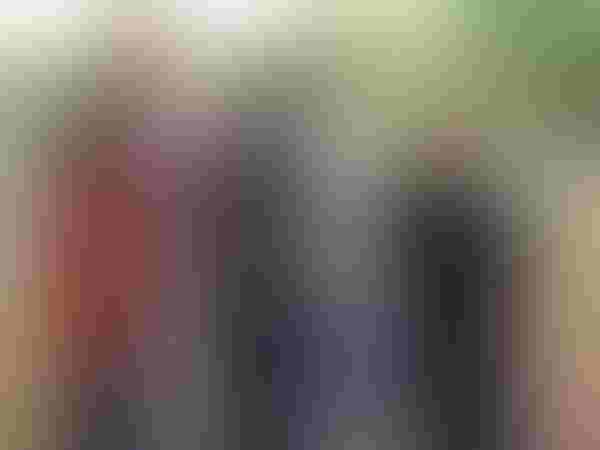 "I see it as a tremendous opportunity for some of the brightest veterinary students from across the nation. It's like getting on the dream team for vet school," says John Groves, DVM, of Livestock Veterinary Service at Eldon, MO.
"I think this is a priceless opportunity for students to leave the structured environment of the classroom and enter the real world of beef production," says Tom Noffsinger, DVM, a consulting feedyard veterinarian and low-stress cattle handling expert based at Benkelman, NE.
Both are talking about the Beef Production Immersive Knowledge Experience (B-PIKE), a ten-week summer program designed to help veterinary students learn by doing at the feedlot, with added insights to the stocker sector.
"The idea of this program is not to turn them into feedlot consultants—obviously there is no possible way to do that in ten weeks. What we hope to do is give them an understanding of how a feedyard works and the role that the veterinarian plays within that framework," explains Terry Engelken, DVM, associate professor of Veterinary Diagnostics and Production Animal Medicine at Iowa State University. "Along the way, we try to challenge them to develop their critical thinking skills in the areas of animal handling, pathology, disease transmission, health protocol evaluation and the relationship between nutrition and disease. Then, they can take this experience back to vet school and have a different perspective on the information that is presented in the classroom."
Dr. Engelken worked with Dee Griffin, DVM, feedlot production management veterinarian at the Great Plains Veterinary Educational Center (GPVEC) at Clay Center, NE, to develop the program which began six years ago. Dr. Engelken adds that Del Miles, DVM, at Veterinary Research and Consulting Services, LLC, based at Greeley, CO, played a key role in getting the program off the ground.
The B-PIKE program is limited to six students per year. Competition is deep and widespread. Last year, for example, there were more than 20 applicants from Washington State University to Cornell University and everywhere in between.
"I'm impressed with how hard these kids are willing to work so that they can make a difference when they enter practice," Dr. Groves says. "They're highly motivated."
Dr. Groves' practice and stocker clients host B-PIKE students as part of a touring, week-long, in-depth look at the stocker sector—dubbed Grass Cattle 101—that is part of the ten week program.
"I've always been a big fan of Dr. Dee Griffin and GPVEC," Dr. Groves says. He participated in the Beef Cattle Production Management Series there several years ago (see "Growing by Helping Clients Grow" in this issue). "I think what they do is of such high quality. It's such a good program and they train the best of the best vets out there."
Subscribe now to Cow-Calf Weekly to get the latest industry research and information in your inbox every Friday!
For perspective, the stocker tour last year included visits with veterinarians, stocker operators, university folks and allied professionals in Missouri, Arkansas and Mississippi. The year before, students visited stocker operators, feedlots, auction markets, veterinarians and allied professionals in Kansas and Oklahoma.
Dr. Engelken is quick to credit the support of animal health companies for helping B-PIKE provide students with a comprehensive experience. Boehringer Ingelheim Vetmedica is the primary sponsor today, with added support from Bayer Animal Health. Elanco Animal Health sponsors the Grass Cattle 101 portion. Fort Dodge Animal Health was the sole sponsor when B-PIKE began in 2008.
Learning How Feedlots Work
"There's a wide variation in the background and production experience of the students, but all of them are intently interested in becoming part of the beef production system," Dr. Noffsinger says. He is a consulting veterinarian for Nebraska-based Gottsch Feedyards which hosts B-PIKE students each summer at its yards in Juniata and Red Cloud.
"I include them in my daily consultation visits, interacting with them mostly on hospital treatments and protocols and postmortem examinations," Dr. Noffsinger says. "We include them in any stockmanship and caregiver training and we are training them in low-stress handling as we process and sort cattle and as we walk and exercise hospital cattle."
Students have the chance to learn how feedlots work from end-to-end.
"The program requires students to work in each part of the feedyard in order to understand the total package," Dr. Engelken explains. "Students learn how to evaluate incoming calves and the best way to load out finished cattle. They work in the feed mill, ride in feed trucks and learn to read bunks. They process newly arrived calves and work with pen riders to learn how to recognize sick cattle and get them to a hospital. They work with the hospital crew to understand clinical decisions as part of a treatment protocol and the importance of animal health records and Beef Quality Assurance. We do our best to have students necropsy all of the deads under the supervision of either feedyard personnel or the consulting veterinarian.
 "Students also get an opportunity to work with the consulting veterinarian and nutritionist as they visit the yards," Dr. Engelken explains. "They come to understand that there is a lot more involved in constructing and monitoring a health program than picking the right vaccine and counting the deads. The students get an opportunity to see the daily running of the yard from top to bottom and hopefully gain a better understanding of the role that veterinarians play in making sure the cattle are cared for."
Dr. Groves points out another opportunity students have through B-PIKE is access to a wide network of influential veterinarians.
B-PIKE's practical education is supplemented by weekly seminars presented by academic and industry experts on various feedlot topics. 
"These production medicine rounds are designed to enhance student learning and understanding of the feedlot industry," Dr. Engelken says. "Students in B-PIKE get a daily, firsthand look at the population dynamics that affect animal health, animal welfare, nutritional management and productivity. This repetitive immersion is key to understanding the factors that affect enterprise profitability and the role that the veterinary profession plays in feedlot management. Additionally, Dr. Griffin does a great job of supplementing these sessions by meeting with the students during the week." 
"We teach them some about acclimation in processing and the fact that how cattle are processed is much more important than how fast they are processed," Dr. Noffsinger says, offering some specific examples of his interaction with students. "We discuss how to establish the case definition for BRD (bovine respiratory disease), using more than a thermometer, and how that case definition changes recommended treatment and expected response."
Jim Coffey participated in B-PIKE last year. He's in veterinary school at Oklahoma State University. He's one of those who grew up on a farm and has been around livestock all his life. He explains veterinary medicine was a logical choice for him because he wanted to be in a position to help both animals and people.
"B-PIKE enabled me to work in three different feedyards and be around industry leaders and veterinarians while learning more about the beef cattle industry," Coffey says. "My current plan is to be a mixed animal or large animal practitioner in the Southeast or Midwest. I really enjoy feedlots and would love to consult as well."
Learning in Both Directions
"We value our time with these students because we get to share with them this part of the business, what we do, how hard we work and what they need to be able to do in this sector," says Jack Lawless, feedyard operations manager at Gottsch feedlots in Juniata and Red Cloud. "It gives us a chance to have a little influence on a set of kids who will hopefully be influential in our industry."
Lawless also believes the feedlots are made better by hosting the B-PIKE students.
"It keeps all of us in the yard honest about how and what we're doing. These kids are very interested. They tear apart everything we say. They don't necessarily think we know what we're telling them. They're willing to challenge things, and that's good for everybody. It makes us better leaders," Lawless explains. "It helps our yards because they're here asking questions about why we do things a certain way. Sometimes, we don't ask ourselves that. There has to be a reason why you do something a certain way or do something at all."
"It also gives my caregivers at the feedlot a chance to teach the students what they've learned," Dr. Noffsinger adds. "As relationships form, in turn, the students have a chance to share with the caregivers things they know."
"It's a picker-upper for every crew the students work with," Lawless says. "Everyone is so proud of the job they do, and these students look at everything microscopically. That gives everyone a chance to look more closely at themselves and what they're doing so there are no weak spots."
"We met a lot of great people who take pride in their work," Coffey says. "We saw a lot of good cattle, great facilities and great people. We were able to ride with the consulting veterinarians and nutritionists, and spend quite a bit of time with Dr. Engelken and Dr. Griffin. Everyone took great care of us and Dr. Engelken and Dr. Griffin made sure that it was an excellent experience."
Aspects of the B-PIKE education can be multiplied when the students return home, too.
"We get young university people out on operations that have a huge emphasis on beef quality assurance, animal well-being and proper veterinary care," Dr. Noffsinger says. What they see are things they can take back to share with classmates in and out of veterinary school.
Research Projects Add Depth
The latest evolution in B-PIKE is the addition of summer research projects.
"In-house" research projects are becoming more common as large production units (cow-calf, stocker-backgrounder, feedlot) search for the optimal use of different input combinations," Dr. Engelken explains. "Research skills have also been required for industry technical service veterinarians as a means of product evaluation and usage for many years. Skills such as experimental design, data capture, and statistical interpretation are becoming more important than ever before, even in practice situations."
For an idea of the types of research projects, think along the lines of such things as: determining the correlation of antemortem diagnosis with postmortem necropsy lesions; investigating the incidence, risk factors and necropsy lesions associated with AIP (acute interstitial pneumonia) in long-fed cattle; and determining the utility of deep nasal swabs for diagnostics.
The notion is that students will conduct two or three research projects concurrently and then present their research findings by participating in the student research competition at the annual convention of the American Association of Bovine Practitioners. Along the way, the participating feedlots have the opportunity to uncover information that's useful to them.
The next program change under consideration is adding a cow-calf component to the summer-long immersion experience.
Best and Brightest
Reflecting on his interaction with B-PIKE students, Dr. Groves says, "The tables have turned on veterinarians who complain to the veterinary schools that they need to send us kids ready to work. Very few practices are set up to handle kids with the skills these B-PIKE students possess in areas such as information technology and data analysis."
Lawless mentions how some folks look at the next generation and despair of the future, just the way their parents and grandparents did. 
"If you think there's no hope for the industry, the country or whatever, then you need to be around kids like these who have a high level of education and drive," Lawless says. "There's a lot of hope. There are a lot of really good kids and they're smart, really smart."
More resources for you:
New Study Says Systems Approach Is Best Way To Train Veterinarians
Calving 101: How To Use A Calf Puller
Ranching As A Family -- See The Multiple Generations On The Ranch
Beef Veterinarians Work To Improve Trich Regulations, Testing
Exclusive BEEF Survey: Find Out Trends In U.S. Beef Cowherd Genetics Here!
Subscribe to Our Newsletters
BEEF Magazine is the source for beef production, management and market news.
You May Also Like
---