Beef Cattle Institute Helps Prepare Tomorrow's Veterinarians Today
Beef Cattle Institute Helps Prepare Tomorrow's Veterinarians Today
Beef Cattle Institute provides training for current, future veterinarians.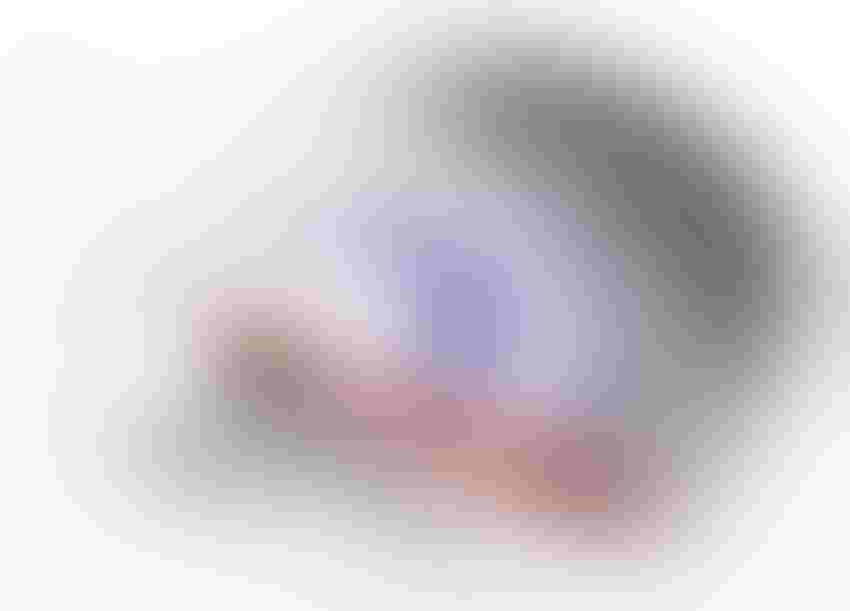 Tomorrow's veterinary students must be armed with both traditional clinical skills and innovative ways to bring value to their producers. The Beef Cattle Institute (BCI) at Kansas State University is helping fill that need with a variety of undergraduate, graduate and training programs for practicing clinicians.
The programs at the Beef Cattle Institute are intended to serve the beef industry today and ensure a steady stream of bovine practitioners for the future, notes Dan Thomson, Ph.D., DVM, director of the Beef Cattle Institute and Jones Professor of production medicine and epidemiology at K-State.
"I don't think there's a more important group for the sustainability of the beef producer than the young bovine practitioner because if we aren't working to show them how to supply value to the beef producers, ranches and feedlots, then they aren't needed and won't go to vet school," Dr. Thomson says.
The value is found in more than just traditional animal health roles, including: using pre-harvest controls to help eradicate foodborne illnesses; optimizing the health and performance of cattle; improving animal well-being; and achieving sustainability for both producers and practices.
"When I look at veterinarians that are developing management programs so our animals stay healthy and decrease on-farm antibiotic use, those are the producers that will be in business five to 60 years from now," Dr. Thomson says. "The thought process is more progressive. We as a veterinary profession are challenged with moving forward and staying ahead of the people we're serving."
Staying ahead
Helping veterinarians advance their beef producer customers is one of the BCI's goals. The organization conducts online and animal care training for practicing veterinarians, plus it has courses for undergraduate and graduate students. In addition, the institute conducts research that helps address questions producers and veterinarians face today.
"The training we need to stay ahead of our own clients means specialization and diligence, and we should be demanding continuing education from our professional groups that put us on the cutting edge," Dr. Thomson says.
Beef quality assurance (BQA) training provides direct benefits for veterinarians and producers, and it also helps advocate for the industry as a whole, says Nels Lindberg, DVM, of Animal Medical Center in Great Bend, Kan.
Subscribe now to Cow-Calf Weekly to get the latest industry research and information in your inbox every Friday!
"As a feedyard consultant and a certified trainer, we can put entire yards through the BQA certification program," Dr. Lindberg says. "There's a benefit that goes multiple directions. The first benefit is the person getting the training because now they are more educated caretakers of the animals. The second benefit is the cattle because they now have more educated caretakers. The third benefit is for the consumer. We have this awesome program that educates our people, but in the end, it has a three-pronged effect."
Original research generated from the institute also helps practicing veterinarians help make daily decisions. Dr. Lindberg cites recent Beef Cattle Institute research on beta agonists has helped him, and other veterinarians, make decisions based on solid information. In addition, research into Salmonella and E. coli has helped him stay in front of important topics clients are concerned about.
Preparing students
Along with helping practicing veterinarians, the BCI helps prepare future veterinarians through its undergraduate and graduate programs.
"We host interns from all over the nation and sometimes internationally," Dr. Lindberg says. "The K-State students that have a large animal interest are the best, hands-on veterinary students we have come through our program. They are given the opportunity to get their hands dirty on real, live animals in multiple situations related to basic veterinary care. They've done a fantastic job of producing students that can really go to work on day one."
That skill set is a benefit to practice owners and managers, but it also demonstrates value to the clients immediately. It's important to the producer to have a veterinarian that's fully capable of performing the job they need done, Dr. Lindberg says.
No matter what changes about veterinary medicine in the future, the basics of animal medicine will need to be in place, he notes. Producers that trust in the skills of their veterinarians have the opportunity to develop closer relationships into the future, Dr. Lindberg says.
Tiffany Lee, DVM, is a doctoral student at K-State who returned after several years in a mixed animal practice in Colorado. She worked with the BCI in its early days while she was a veterinary student. The background she received at the institute supported her perspective while in practice, she notes.
"The concepts of BQA and good animal welfare practices were ingrained in me," Dr. Lee says. "That put me ahead of the game just being able to bring those concepts to the clients who might not have been exposed to them."
For example, Dr. Lee advised large animal clients in Colorado on many practices they could use every day on their operation, including low-stress animal handling techniques, proper injection site placement, proper brand placement and judicious use of medications such as antibiotics. 
Photo Gallery: Home Is Where You Hang Your Hat
At BEEF, we're proud to celebrate the ranching lifestyle. Enjoy 20+ photos from our readers that showcase their country home. Enjoy the gallery now.
Today, Dr. Lee is developing her doctoral program and assisting with master's students. She anticipates her research will focus on how the public views beef production agriculture.
"If I hadn't been involved with the BCI before, I don't think I'd be as passionate about what I'm doing now," she says. "It's the same with a lot of students that help and are involved with the BCI. They learn a lot about the industry as a whole — not just how producers do things, but how society and consumers view it. Then, they take those perceptions and that knowledge and can go into a clinic setting and talk to their clients. Sometimes, producers are so busy with their own production, they don't get time to see what the industry is doing. I feel that it is our job as veterinarians to bring the rest of the industry to the producer, and to help them figure out how to put that knowledge into practice on their own operations."
You might also enjoy:
Producers Must Act Now To Save Their Beef Checkoff Program
Buying A New Herd Bull? Do These 4 Steps First
3 Reasons A DVM Should Head Up Our Ebola Response
4 Tips For Eliminating Weeds This Fall
Photo Tour: World's Largest Vertically Integrated Cattle Operation
6 Pasture Weed Control Tips For The Fall
What Do You Think Of The National Geographic Take On Beef Production
5 Tips For Getting The Most Cash For Your Cull Cows
Subscribe to Our Newsletters
BEEF Magazine is the source for beef production, management and market news.
You May Also Like
---