New standards exist for bull BSEs
New standards exist for bull BSEs
Society for Theriogenology reclassifies two sperm morphologic abnormalities.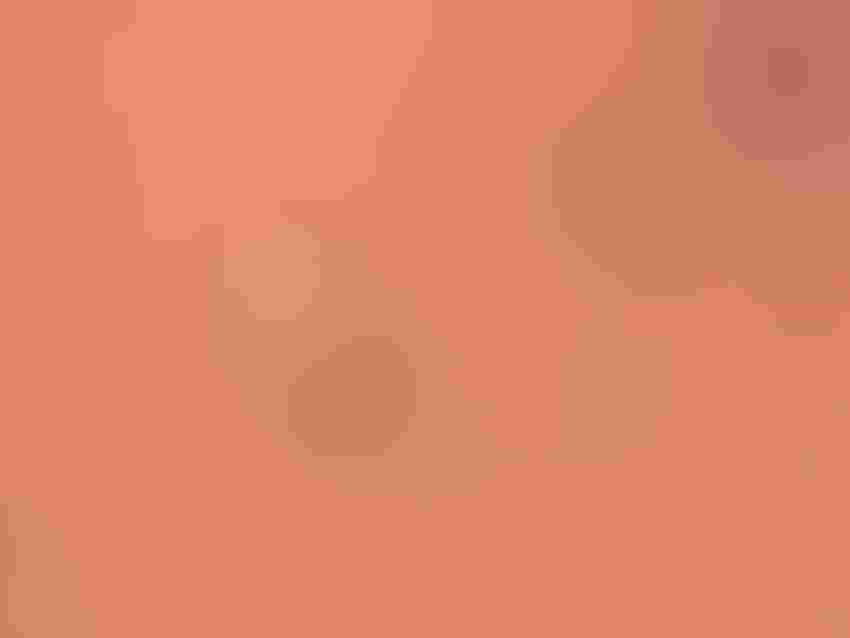 This sperm cell displays both the abaxial tail implantation and the distal cytoplasmic droplet, both which are now considered non-problematic.
If you haven't had training in the last two years on breeding soundness exams for bulls, it might be time for an upgrade.
The Society for Theriogenology in the last few months has accepted some changes that should make BSEs more accurate and potentially more useful to both veterinarian and client. These are now published in the second edition (2018) of the Society for Theriogenology (SFT) Manual for Breeding Soundness Examination of Bulls, which is available on the SFT website.
The changes are designed to provide "evidence-based improvements" to the BSE to help veterinarians better understand what the exams are showing, says Dr. Chance Armstrong, Louisiana State University school of veterinary medicine. Armstrong is one of the authors of the new edition and was on the SFT task force for upgrading the standards and the manual.
Because of the changes, bulls with certain sperm morphologic abnormalities once thought problematic may not be.
With respect to morphology, the classification scheme designating abnormalities as primary or secondary has been discontinued. One problem was that system indicated the origin of the defect but not the severity.  Adverse conditions may simultaneously affect both epididymal function and spermatogenesis suggesting that primary and secondary defects are of equal importance as indicators of disturbance of reproductive function. Therefore the time old concept of classifying sperm as primary and secondary and that primary sperm defects are more important than secondary defects were questioned.
"We also suggested that we make a differential count in morphology and go away from the current primary and secondary sperm defect classification," Dr. Armstrong says. "This new morphology classification will now allow for differential counting and then grouping of defects in head, midpiece and tail abnormalities. Knowledge of the probable cause will allow the practitioner to develop a prognosis for recovery if the bull was found to be subfertile."
Further, the abaxial tail implantation and the distal cytoplasmic droplet are no longer to be categorized as abnormalities because the literature showed they are not problematic. A 1989-published study by A.D. Barth showed abaxial tail abnormality sperm fertilize ova at the same rate as normal sperm, and the originate from bulls with might be termed fully normal and functioning sperm and testes. As for the distal droplet, another A.D. Barth study published in 2013 showed when incubated and agitated for 15 minutes, the droplets are released and drop from the spermatozoa. Further, other studies have shown no adverse effects from it, and it does not appear to originate in the testis or epididymis.
There are no changes to the minimum motility and morphology rankings. Dr. Armstrong says a minimum of 30% progressively motile cells and 70% morphologically normal  cells remains the standard. This should be a minimum count of 100 cells, with 300 cells providing a more accurate sample, especially on marginal bulls. Of the cells examined, less than 20% should have head or mid-piece abnormalities.
A complete BSE must be the minimum
The statistics show one out of five bulls, or 20%, are sub-fertile across an unselected population. This can be due to physical unsoundness or poor semen quality, and it should reinforce the importance of performing thorough breeding soundness exams.
The economic ramifications of such statistics for beef producers are huge.
Further, 20 years of data from Auburn University's Veterinary Teaching Hospital showed unacceptable morphology was the most common reason for unsatisfactory or deferred classification over all time periods, says Dr. Chance Armstrong, Louisiana State University school of veterinary medicine.
Aside from sperm motility and morphology, the other components of the breeding soundness exam have not changed -- and they remain vitally important, Dr. Armstrong says.
For example, bulls still need normal vision to identify females in estrus, normal confirmation, and sound  feet and legs to travel and breed, and good body condition with ample energy to perform through the breeding season, he says.
The penis and prepuce should have correct structure without any injuries or malformations. The veterinary examiner also should be looking for any heritable defects in the bull.
Scrotal circumference remains a vitally important measure of minimum semen-production capacity, as well as ties to the onset of puberty of offspring.
Palpation of the testes and also of the accessory sex glands through the rectum remains an important way to look for disease and for proper function.
These and the other parts of a thorough BSE cannot be properly evaluated with a cursory glance and a semen "wiggle test."
"We found that overall we need to become more consistent with this exam throughout the profession as we closely examined the BSE in the two-year review," Armstrong says. "We have to strive as a group to provide a professional exam on every bull that we examine and  want allow the science to shine through and encourage all of us -- including myself -- to reach for excellence in everything we do. Anything short of this and we are not supporting the cattle industry to the best of our abilities."
How to build volume for BSEs
A bull breeding soundness exam may seem like a lot of work and not a profit center, but Dr. Armstrong suggests building volume through BSE exam days at your clinic, perhaps with a small discount, and digital equipment that lets the producer see what is happening under the microscope. A beach umbrella that blocks sunlight can make a cheap investment and a good viewing station if you are working outside. It's possible to examine 80-90 bulls in a day with good technical help, good facilities and good cowboys, he adds.
Subscribe to Our Newsletters
BEEF Magazine is the source for beef production, management and market news.
You May Also Like
---