Three-legged approach to using carcass data
Three-legged approach to using carcass data
High carcass value, high performance, peak health: Through grid marketing, carcass data and genetic selection tools, the three can work in tandem for the good of all, while keeping that seesaw in balance.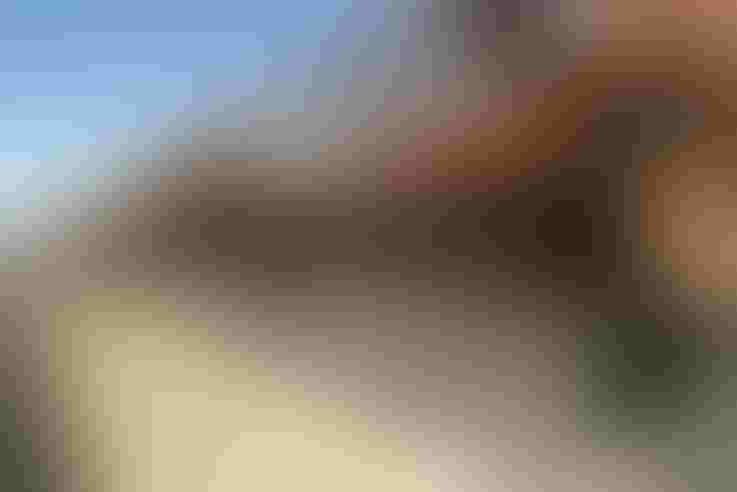 It's been the seesaw of beef cow herd progress:  carcass quality versus performance. Now with advanced genetics and tools, selecting one no longer means denying the other.
But even the ideal balance can fall off the scale without the third weight of health, and well planned programs still need the catalyst of veterinary consultation to optimize profit opportunities.
"The health issue definitely affects performance and, without a doubt, the carcass value of every animal," says David Trowbridge, longtime manager of Gregory Feedlots, Tabor, Iowa.
His experience in marketing cattle on value based grids fits in with extensive data from Iowa's Tri-County Steer Carcass Futurity to confirm it. The healthier an animal is, the more likely it is to grade well and return a profit.

BEEF Seedstock 100
Looking for a new seedstock provider? Use our BEEF Seedstock 100 listing to find the largest bull sellers in the U.S. Browse the Seedstock 100 list here.
The trio of rancher, veterinarian and feeder can work together to improve the overall supply of cattle and support the end user's demand for quality beef.
"We've seen a shift in the bovine sector of veterinary medicine," says Wayne Miller, DVM, rancher and Gregory Feedlots customer. Forty years and a practice behind him, the Savannah, Missourian now runs a commercial Angus herd that doesn't quite resemble retirement.
He says the veterinarian's role was more hands-on, responsive to needs as they arose in the 1980s, but a more proactive approach holds sway today.
"It's not just help anymore," Dr. Miller says. "It's involvement in the total management scheme of a producer's livelihood."
Getting down to business
DVM or not, looking at carcass data with a rancher for the first time can be daunting, says Colorado State University animal scientist Dale Woerner, Ph.D., but logic says analysis will pay. "Just the fact that grid marketing systems exist means there's an opportunity to make more money by producing higher quality cattle," he notes; something he urges veterinarians to share with their customers.
Ken Conway, Hays, Kan., has been part of the move to grid marketing from its dawn in the 1990s. The founder and president of the GeneNet marketing alliance has provided cattlemen with carcass data to foster herd improvement for more than 17 years.
Prior to that, as a seedstock producer, Conway saw bull customers raising superior cattle with virtually no reward in the market.
"There were guys producing Cadillacs and getting normal prices for them," he recalls, explaining why he set out to fix the system on their behalf.
Over the years, hundreds sat across Conway's table with kill data in hand and questions on their minds.
But before those conversations, his first priority was simple: Get them to sell on a grid and go from there.
"I wouldn't say it's a lack of education, but a lack of completely understanding the opportunity," Woerner notes. He helps train producers to fully see the value and application of carcass data.
"The first thing a vet could do is go to the producer and say let's have a talk about how your cattle perform," he says. "If they are performing at a high level, they can ask for a greater premium."
Building herds, relationships
Direct to a feedyard, through a backgrounder, partnering or sold outright, Woerner doesn't care as long as the rancher realizes the range of options: "This is an enhancement opportunity."
"Sit down with a producer with an example grid, show them how the value of each animal is calculated, including yield and quality grade and other carcass premiums and discounts. Sit down and explain where the incentives come from," he suggests.
When you have kill data in hand, Conway says, "The obvious first thing is how your cattle grade as far as a percentage of Prime, Certified Angus Beef and Choice compared to the average."
You've also got to point out that one end of the cattle cost money. 
"The nice thing about individual carcass data is you can isolate those very bottom cattle and get them out of there," Conway says, "Do that, and then explain to them the various degrees of marbling in Choice and the impact of marbling."
Follow that with a deeper discussion of yield grade.
Conway stresses a holistic approach, first the group and later the individual data, if necessary. That way a rancher can get a handle on his cow herd profile and get into more specifics when it comes to bull selection.
"I think where most producers fail is not buying high quality seedstock," Woerner says. "They have 1,500 cows and they're buying sale barn bulls. That's a missed opportunity."

70+ photos showcasing all types of cattle nutrition
Readers share their favorite photos of cattle grazing or steers bellied up to the feedbunk. See reader favorite nutrition photos here.
Fine tuning requires culling as well. 
"Basically, it's getting rid of the poor end of the Standards and maybe the Selects that were a Y4 [Yield Grade 4] or a high 3," Conway says. "You can't just say all Selects are bad. If you've got Select Yield Grade 1s or 2s, then he was probably killed a little too early and maybe would have graded Choice if he'd had more time. Now a Select Y4, you've probably got a marbling problem on that one."
What's in a Vet
That's just a part of the puzzle; unless the ranch has its own finishing pens, it takes solid partnerships to continue the road to capturing added value.
"The best relationships here are the vet to the feedlot and the vet to the producer," Woerner says.
Trowbridge holds that three-way relationship in the highest esteem, too, reminding that health in the feedyard has more to do with the ranch than the yard.
"What we are seeing now are possible implications of the health of a cow family two generations back to the animal that I have to handle," he says. A cow compromised by disease can affect the ability of its grown calf to adapt its immune system to a foreign environment such as a feedlot.
Through nearly 40 years at Gregory, Trowbridge has seen that favorable evolution of the veterinarian's role. While the feedyard has its own consulting veterinarian under contract, it's not uncommon for a manager or consulting vet to develop specific health protocols for any one producer's operation.
The best practitioners have more than knowledge, with willingness and ability to educate.
"The vets who are actively participating in operations have firsthand knowledge in a rancher's management practices and what he wishes to accomplish (production wise, genetic wise, everything). What they do plays into the results someone can achieve, the success they can have," Trowbridge says.
In the end
But first, you have to be able to explain the impact of carcass data and why certain decisions made at the ranch will show up down the road in a packinghouse cooler and the harvest report.
Multiple treatments, implants at different stages of life, the status of long term immune systems and quality nutrition, all play a part and show their ramifications at some point.
"A lot of people look and say, 'Hey, that calf got us the highest premium, that's the best calf.' That may not be the correct answer," Trowbridge says.
"The correct answer is the most profitable animal," he points out. "Not just the highest dollar animal we produced. Which animal, during its entire lifetime, was the most profitable to its herd enterprise? It may not be the one that brought $2,500. It may be the one that brought $2,200. His inputs may have been less than the one that brought $2,500."
No matter what happens at the end of a calf's life, Dr. Miller says in order to produce a good product, the genetics have to be there at the beginning. That doesn't take away from the importance of a health program.
"You can't manage your way into carcass performance but you can manage it out," he says. "Without taking care of things like health and stress, management subtracts from your genetic potential."
High carcass value, high performance, peak health: Through grid marketing, carcass data and genetic selection tools, the three can work in tandem for the good of all, while keeping that seesaw in balance.
You might also like:
6 Trending Headlines: 3 years, 3 million cows, PLUS: Idaho's ag-gag law gets gagged
How to prevent foot rot in cattle
21 ATV, UTV and side-by-side units for 2015
When is the best time to wean? It might be younger than you think
How to get more than a preg-check from the vet's preg-check visit
Subscribe to Our Newsletters
BEEF Magazine is the source for beef production, management and market news.
You May Also Like
---