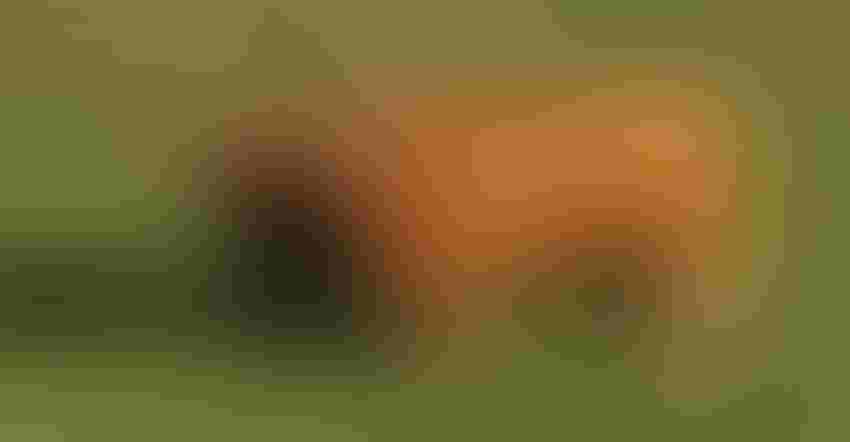 It's been more than 130 years since trichomoniasis, more commonly called trich, was first discovered in France.1 Still, today, one trich-infected bull has the potential to wipe out your calf crop, and the disease remains a significant challenge for the beef industry.
According to Dr. John Davidson, senior associate director of beef professional veterinary services at Boehringer Ingelheim, the challenge is rooted in the ease of transmission during breeding, and also the difficulty in detection and diagnosis.
"Trich is a stealthy disease that often is not apparent until cows are pregnancy-checked, making it difficult to put interventions in place to stop the progression of the disease once it is established," said Dr. Davidson. "Additionally, the ease of transmission is something that has to have our attention, and today's producers need to make sure they're educated and aware of that."
While clinical signs may not be observed, bulls are the carriers of trich, and spread it to cows during breeding. It is difficult to detect in infected cows, as they show no outward signs of infection; however, reproductive failures such as infertility, low pregnancy rates, abortions and pyometra are all indicators of infection. And while cows may sometimes clear themselves of the disease in two to four months, bulls will continue to carry and spread trich each time they breed a cow.
What can you do to prevent trich in your herd?
Dr. Davidson said pasture breeding records, trich surveillance (testing) and vaccination are absolutely essential. "A bull's ticket to change breeding groups or even enter a breeding pasture must be a negative trich test," he stressed. "Producers should be able to identify which bulls are in each pasture, and ultimately know the bull's disease status before and after breeding. A bull should not change pastures or go into a breeding group, or leave a breeding group, without a negative trich test."
If one bull tests positive for trich, it's vital to test all the other bulls. "Current diagnostic methods will detect 80 to 90 percent of infected bulls with a single test," noted Dr. Davidson. "Recent research out of Nebraska encourages three negative tests one week apart to classify a bull as disease-free."
Pre-breeding and post-breeding surveillance is also important in high-risk areas to have the assurance that trich is not present in a particular set of cattle.
The value of vaccination
"For the cow-calf producer, in my opinion, there is not another disease that carries the economic impact of trichomoniasis," remarked Dr. Davidson. "And for that reason, when ranching in known trich areas, vaccinate the females in the herd with a vaccine that will increase the likelihood of live calves or successful pregnancies with lives calves on the ground despite infection."
Dr. Davidson explained that while trich is sometimes an "out of sight, out of mind" disease, your herd health program should be centered around risk. "When you compare the risk of diseases that are commonly vaccinated against, trich is much more prevalent in the United States than something like vibrio."
He stated that oftentimes it takes experience with a trich outbreak and the devastating losses that come with it before some producers will realize the value of vaccination.
"I've worked with ranchers across the United States who've experienced the unfortunate event of a trich outbreak," he said.
Of these herds, Dr. Davidson has witnessed some of the most devastating losses. "One herd was estimated to have lost more than 400 pregnancies to trich in one year," he recalled. "Another rancher was only able to market one calf from about every two cows, which is terrible in terms of reproductive efficiency. When we went out to this ranch and did testing, we also completed breeding-soundness exams, and out of roughly 150 bulls, we ended up culling nearly one-third of his bull battery due to trich status. Another ranch owner claimed to lose more than $250,000 when trich entered his herd. That's quite substantial."
Currently, there is one vaccine available that has been proven to reduce the shedding of Tritrichomonas foetus, the disease-causing organism, thereby helping to reduce the spread of infection throughout the herd.
When it comes to trichomoniasis vaccination, Davidson said he is often asked, "When is the best time for administration?" 
"The best time for maximum benefit for the trich vaccine is going to be about 30 days pre-breeding," he asserted. "I always remind producers that the vaccine is efficacious, and there have been numerous research studies demonstrating its ability to help infected cattle deliver live calves. It's also important to follow label directions. If it's the first time you're going to use the product, it needs to be given either 60 days or 45 days out from breeding, from turnout, for the first dose. The second dose can be given about 30 days before turnout, and after that, booster it annually."
Dr. Davidson recommends working with your local veterinarian to develop management practices and a vaccination regimen tailored to your operation. "Don't let one trich-infected bull take down your whole herd," he concluded. "Avoid complacency with this venereal disease and take proactive steps to prevent it today."
Reference:
1Morgan BB. A summary of research on Trichomonas foetus. J Parasitol 1947;33(3):201–206.
***
About Boehringer Ingelheim Animal Health
As the second-largest animal health business in the world, Boehringer Ingelheim is committed to improving animal health. With more than 10,000 employees worldwide, Boehringer Ingelheim Animal Health has products available in more than 150 markets and a global presence in 99 countries. For more information about Boehringer Ingelheim Animal Health, click here.
Boehringer Ingelheim
Innovative medicines for people and animals have, for more than 130 years, been what the research-driven pharmaceutical company Boehringer Ingelheim stands for. Boehringer Ingelheim is one of the industry's top 20 pharmaceutical companies, and to this day remains family-owned. Day by day, some 50,000 employees create value through innovation for the three business areas of human pharmaceuticals, animal health and biopharmaceutical contract manufacturing. In 2016, Boehringer Ingelheim achieved net sales of around 15.9 billion euros. With more than 3 billion euros, R&D expenditure corresponds to 19.6 percent of net sales.
Social responsibility comes naturally to Boehringer Ingelheim. That is why the company is involved in social projects, such as the "Making More Health" initiative. Boehringer Ingelheim also actively promotes workforce diversity and benefits from its employees' different experiences and skills. Furthermore, the focus is on environmental protection and sustainability in everything the company does.
More information about Boehringer Ingelheim can be found on www.boehringer-ingelheim.com or in our annual report: http://annualreport.boehringer-ingelheim.com.
©2018 Boehringer Ingelheim Vetmedica, Inc.
Subscribe to Our Newsletters
BEEF Magazine is the source for beef production, management and market news.
You May Also Like
---
Current Conditions for
New York, NY
See Detailed Weather Report
Enter a zip code to see the weather conditions for a different location.
Aug 27 - Aug 29, 2024
Farm Progress Show annually hosts more than 600 exhibitors displaying new farm equipment, tractors, combines and farm implements; seed and crop protection products; and many additional farm supplies and services.
LEARN MORE