Two trials prove little about remote drug delivery
Two trials prove little about remote drug delivery
Two small studies reported at AABP showed some equipment failures and possible tenderness issues in delivery to lower round muscles.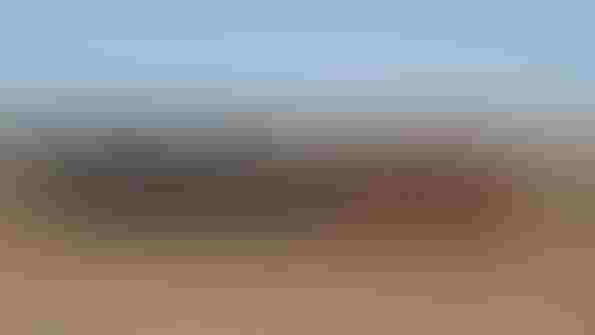 Two small trials on remote delivery of medications (dart guns) were reported at AABP.
In the first study 15 calves were given Tulathromycin (Draxxin) in the neck by one of two methods: hand injection with a syringe or remote delivery from 30 feet with a dart.
The second study actually injected one of three antimicrobials or a saline solution via pneumatic dart into the lower round (biceps femoris muscle) of 40 calves, ostensibly to test the effects of the treatment upon subsequent carcass quality. This goes directly against injection guidelines by BQA.
The summaries are reported below as prepared by their authors.
Study #1
Author: Hans Coetzee
Clinic: Iowa State University
Introduction:
Remote drug delivery (RDD) using pneumatic darts is becoming widespread in beef production systems with an estimated 4 million darts sold last year. Data concerning the impact of pneumatic dart delivery of antimicrobials in cattle are deficient in the published literature. In this report we describe a case of failure of high capacity pneumatic darts to consistently deliver tulathromycin to calves after RDD.
Materials and Methods:
Fifteen calves weighing between 340 kg and 412 kg received 10 mL of tulathromycin (Draxxin, Zoetis) injected using a Type U 10.0 cc 1/2 inch 14 GA Needle (Gel collar) pneumatic dart (Pneu-Dart) administered with a Model 178B breech loading projector. Calves were restrained in a mobile chute and the dart was delivered over a fixed distance of 30 feet in accordance with the manufacturer's instructions. After RDD, blood samples were collected for tulathromycin, CK and AST determination and injection sites were examined over 24 h.
Results:
Darts remained in-situ for 1.07 to 0.01 hours after RDD. Four of 15 calves failed to develop significant injection site lesions at 24 hours and had no detectable plasma tulathromycin concentrations after RDD. Furthermore, CK concentrations were also significantly lower in these four calves at 12, 24 and 48 hours post-injection. Darts recovered from calves without injection site reactions weighed 24 g compared to 13.5 g.
Significance:
RDD of tulathromycin was unsuccessful in four of 15 calves. Given the low incidence of dart recovery reported in practice, this finding has important implications for the welfare of sick calves treated using RDD technology.
Study #2
Author: Virginia Fajt
Clinic: Texas A&M University
Introduction:
Use of remote delivery devices in non-restrained cattle has increased in the last few years, and it is unknown whether this route will result in subcutaneous delivery, appropriate drug levels, or tissue damage. The objectives were to assess the plasma disposition of labeled doses of tulathromycin, tildipirosin, and ceftiofur crystalline free acid (CCFA) delivered via dart and to determine impact on meat quality.
Materials and Methods:
Forty steers were administered CCFA, tulathromycin, tildipirosin, or saline via dart. Type 'U' remote delivery device (RDD) (14 gauge, three-quarter inch cannula with gel collar end port discharge) darts were delivered via Pneu-Dart's X-Caliber Gauged CO2 Projector/Rifle, 25 feet from the cattle, and into the left biceps femoris muscle. Blood samples were collected for 10 days after drug administration. Animals were fed to slaughter weight, and muscles samples from bottom round steaks were harvested from the darted area and the non-darted side for Warner-Bratzler Shear Force analysis.
Results:
Mean maximum plasma or serum concentrations (Cmax) were: CCFA: 127 plus or minus 93 ng/ml; tildipirosin: 360 plus or minus 41 ng/ml (outlier removed); tulathromycin: 498 plus or minus 257 ng/ml (outlier removed). Elimination half-lives were:
* CCFA: 74 plus or minus 40 hr
* tildipirosin: 77 plus or minus 15 hr
* tulathromycin: 96 plus or minus 22 hr
Bottom round steaks from the non-darted side tended to be more tender than steaks from the darted side (p=0.08). Steaks from cattle treated with saline or CCFA were significantly more tender than those treated with tulathromycin or tildipirosin (p=0.003). Steaks from tildipirosin-treated cattle were significantly less tender on the darted side than the non-darted side (p<0.05).
Significance:
Dart delivery of antibiotics may result in changes in tenderness and somewhat altered plasma pharmacokinetics.
You might also like:
15 favorites from fall photos on the ranch
4 questions to ask before marketing 2016 calves
Subscribe to Our Newsletters
BEEF Magazine is the source for beef production, management and market news.
You May Also Like
---