Veterinarians Help Bridge Rural Divide
Veterinarians Help Bridge Rural Divide
In a country where only a small percentage of the population understands how food is produced, can veterinarians help bridge the divide?Twitter and other social media channels have allowed people in urban environments that care about food, and how that food is produced, to connect with all kinds of producers.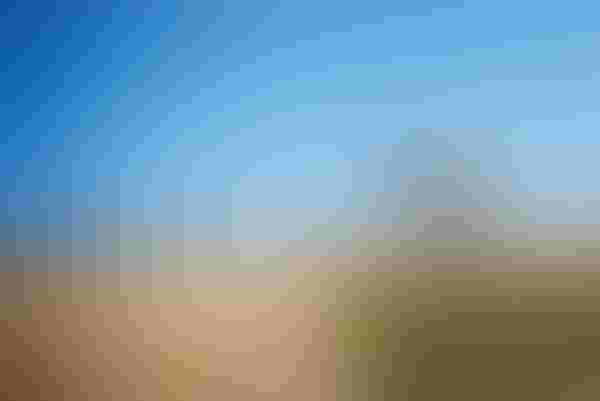 Today's food production system is questioned relentlessly with issues ranging from "pink slime," to "mad cow" and general animal welfare. Often, veterinarians can find themselves caught in the middle.
On the other hand, some veterinarians purposely put themselves in the middle to help defend their industry and communicate the facts. Bridging the divide between the urban and rural way of life is a common goal for these veterinarians whether it's achieved through member organizations, government or social media—and the reward is a two-way discussion based on science.
Front and Center
Larry Bramlage, DVM, Rood and Riddle in Lexington, Ky., faces a barrage of questions each time he takes the microphone as part of the American Association of Equine Practitioners' (AAEP) On Call program. The program provides accurate veterinary information to media during nationally televised horse races by simply being "on call" in case veterinary questions arise during the race.
Dr. Bramlage and the On Call program helped explain headline-making equine health concerns to the mainstream media, such as the tendon injury that sidelined Kentucky Derby winner "I'll Have Another" this year.
"The disconnect between the population, what is now primarily an urban population, and animals leads to misunderstandings," says Dr. Bramlage, who also co-owns 65 head of cattle with his wife. "People tend to put an animal's feelings into human terms rather than take the perception of the animal in its context."
For example, Dr. Bramlage says that new race viewers perceived races with two-year-old horses negatively. The younger, more inexperienced horses would often balk at the starting gate in their eagerness to run, but viewers perceived this differently.
"The older horses have it figured out that going into the starting gate is how you start a race," Dr. Bramlage notes. "The young horses don't know that yet, the last thing they want to do is go into the gate because they want to run and go right at it, not get organized for a fair start first. People in an urban environment intuitively can't understand that and think they don't want to go into the gate because they don't want to run, when it is actually just the opposite."
The confusion surrounding animal agriculture is not limited to sports, notes Joe Seng, DVM, Iowa State Senator and owner of the St. Francis Veterinary Hospital in Davenport, Iowa. Dr. Seng supported the controversial "Ag-Gag" or "Ag Protection" bill that would make it a crime in Iowa to obtain a job at an agricultural operation with the intent to commit an unauthorized act, such as videotaping. Under the bill, animal rights activists that go undercover on farms with the purpose of staging acts of animal abuse could face serious charges.
Making The Connection
As a supporter of the bill, Dr. Seng says his colleagues and constituents presumed the agricultural industry was hiding something. It was his job as a state senator and veterinarian to connect the two sides.
"Discussions had the connotation that agriculture was on the defense, trying to stifle openness—and due to the lack of knowledge of what goes on in agriculture—everyone was considered a culprit," Dr. Seng recalls. "In reality, for the bill to work, both sides had to give in some. There is this thing with consumers and issues of agriculture. They are getting inquisitive about things that have been standard practices on farms for years.
The political implications are huge. Everyone is questioning everything about everything."
Dr. Seng says he believes veterinarians have a special place in the ongoing discussion about how food is produced due to the trust most people have in the veterinary field.
"I think veterinarians have consumers' trust because we haven't specialized. We're still a family practitioner type of career," Dr. Seng says. "When you get into urban areas, most veterinarians do almost everything for the overall health of your animal. As a practical matter, they are in business and not related to elite academia, but hold the respect of an advanced degree. At the end of the day, you could put all veterinarians in the country inside Hawkeye Stadium. We're a rather sparse group in the overall population."
One of the keys to making the connection is simply understanding how things have changed, Dr. Seng notes. When he first started as a veterinarian, many dogs were outdoor-only animals. In the last 40 years, he's seen a greater emphasis on pets as members of the family. In urban America, pets could often be the only animal interaction readily available.
"With the increased interest in animal welfare on the companion animal side, people are looking across the scenario to the large animal field too," Dr. Seng says. "If a dog is supposed to have a clean run and there are cattle standing in feedlots, they can't understand how it would be a different standard. With increased awareness on their pet, it jumps into the large animal sector as well."
Ahead Of The Myth
Providing context from a trusted source, like a veterinarian, is critical to squashing myths before they start.
Dr. Bramlage notes both the equine and beef industries suffer from similar misunderstandings in the rural population. The AAEP On Call program is a larger stage for what many veterinarians can do in their own backyards, and the best place he recommends to start is with kids.
"Occasionally there will be opportunities to do this in our daily lives," Dr. Bramlage says. "One opportunity is with elementary school children. Elementary school teachers are caring people, but those teachers are often unequipped to deliver the message."
In addition to in-person talks, social media offers an opportunity to take the discussion beyond geographical boundaries, says Kathy Swift, DVM, Gainesville, Fla., whose Twitter account (@CowArtAndMore) has more than 11,500 followers.
Twitter is an online social networking service where users send short posts, or "tweets," and can connect with others that have a similar interest.
"I didn't join Twitter with the idea that I would talk to consumers about where their food came from," Dr. Swift says. "Twitter is basically the world's largest cocktail party. It's really no different than if you go to a social function and actively make it a point to seek out different people to talk to."
While Dr. Swift didn't start her social media presence with an educational ideal in mind, Twitter and other social media channels have allowed people in urban environments that care about food, and how that food is produced, to connect with all kinds of producers.
One of the largest agricultural communities making this connection is AgChat (agchat.org), and Dr. Swift now serves on the AgChat Foundation board of directors. AgChat is a weekly moderated chat that began on Twitter and serves as a virtual meeting place for people in agriculture and those who want to learn more about the industry.
Dr. Swift encourages other veterinarians to join in the social media discussion. Even though it may seem daunting, she recommends a few simple steps to ease the transition.
First, pick one platform, like Facebook or Twitter, and get a buddy who's already using the service to help. Next, follow some veterans for examples of how it's done. Dr. Swift recommends @JPLovesCotton on Twitter or Pioneer Woman's blog (ThePioneerWoman.com).
Even in the virtual realm, Dr. Swift says being a veterinarian lends credence to her points, although she is careful not to let the many ways food is produced—from organic to natural to conventional—become a sticking point in the discussion.
"I have taken the approach that I'm not going to throw anyone under the bus," Dr. Swift notes. "Everyone is working hard to produce a quality product, and some folks on Twitter feel strongly about their production methods. If I'm in a conversation with someone, I try to stick with the facts."
Keeping with the facts is a policy she tries to keep whether at a real cocktail party or in the Twitter universe.
"One thing I don't care for with social media, is that because people aren't face to face, they feel they can say stuff and act in a way that they wouldn't if we were in the same room together," she says.
Largely, this isn't a problem, especially when participating in AgChat as there are so many experienced participants that can jump in to fend off bullies, Dr. Swift says.
However, she often receives questions about "pink slime" and antibiotic use. In addition, she takes a cue from mainstream media and posts factual responses to current headlines. For instance, the recent case of bovine spongiform encephalopathy (BSE) found in a California dairy cow led her to take a proactive approach.
"I have not directly had any questions about BSE," she says. "But, I'm going to try to put some good article links out there to help people understand they can drink their milk. I also would sometimes get questions about why you would feed antibiotics to healthy animals and food label questions about what 'hormone free' means. Most of the time, it's whatever hot topic is in the mainstream media."
While the breadth of questioning may seem daunting, one terrific aspect of social media is that it's easy to connect questioners to other experts with just a few clicks.
"With something like the 'pink slime,' I can quickly connect them to someone else that has direct experience with that," she says.
Seeing The Other Side
Social media channels offer positive opportunities for the industry, but the channels can also be used to spread damaging videos by animal rights organizations and others. As a veterinarian whose priority is animal health, Dr. Swift says she can understand the reaction those outside the industry have when witnessing a provocative video.
"I've had these conversations with people, and if you see one person, I could see why you'd think everyone would do that," Dr. Swift says. "If you've never been on a farm, I could see why they would think all animals are treated like that."
She notes veterinarians and others involved in animal agriculture know the truth and can make a difference in explaining it to others. In addition, the speed of social media can highlight any bad apples in the business more quickly.
"In today's world, you can't abuse animals and think you're going to stay in business," Dr. Swift says. "Good, bad or otherwise, information can spread on Facebook and Twitter so quickly these days."
In addition to weeding out bad actors, Dr. Seng agrees the increasing emphasis on animal welfare has not been all bad for agriculture. In fact, sometimes it may even benefit a producer's bottom line.
"For example, studies now show that there can be less disease, and animals may even do better when we provide some pain medication," Dr. Seng says. "If you give $2 worth of pain medication and receive $10 of benefit—there are some win-wins on this issue. Farmers shouldn't be completely against re-assessing some of the traditional practices if there is a better way."
How Agriculture's Tale is Told
Whether speaking to a room full of children or a reporter, these tips from fellow veterinarians can help you tell the story of animal agriculture—and make sure the audience remembers it.
1. Use anecdotes. Personal stories are relatable. Use them to supplement the science whenever possible. If applicable to the discussion, also keep in mind you may need to explain the perspective of the animal.
"If you can, anecdotes are the best," says Larry Bramlage, DVM, Rood and Riddle in Lexington, Ky. "Also remember that people in an urban environment have no idea about pecking order and how every group of animals will establish it. Dogs will do it by sizing each other up and growling, cattle will push each other around and horses will run around the field."
Urbanites won't understand herd dynamics and may even misinterpret these behaviors, he says. It's just one example of how no detail is too small to explain.
2. Keep it simple and short. If you don't know someone's history or background, keep complex explanations at home. Simple, straightforward answers provide a good starting point for more discussion if it's needed.
"When we were training for the On Call program, the media trainers told us that we would all make things too complicated," Dr. Bramlage says "Over the years, I've realized how right they are. You have to keep things straightforward, because you have a whole spectrum of understanding."
3. Fess up if you don't know the answer. No one is the expert in everything. If a question is beyond your expertise, it does not diminish your credibility to direct it to someone else.
"I've found it's no use making a comment when you're not an expert," says Joe Seng, DVM, Iowa State Senator and owner of the St. Francis Veterinary Hospital in Davenport, Iowa. "It's hard to be a knower of everything. When that 'pink slime' issue came out, I didn't know the answers to some of the questions people asked me. After all, I'm not in the meat packing industry."
4. Understand where they are coming from.
When having one-on-one discussions, it's important to ask where the other person is from and what contact he or she has had with agriculture. Even in Iowa, Dr. Seng notes there is a group who is new to country life.
"Urban sprawl is an issue in a lot of cities," he says. "It sounds like a great way to be in the countryside, but when you start moving people or moving farms closer to the city, therein lies a lot of disputes."
5. Really listen to the other side of the argument. The customer may not always be right, but neither is the farmer or veterinarian, Dr. Seng warns.
"When I think of some of the antiquated ways we used to do things, and what modern scientific solutions we have now, I can see the progress we've made," Dr. Seng says. "I hope my fellow practitioners will resolve in their mind when they approach confrontational discussions as an opportunity to continue moving forward."
6. Keep client privacy in mind. Particularly on social media, client privacy is important. The immediacy of Facebook or Twitter may make you want to post in real time—but remember to ask first.
"I work for my clients and their privacy is their business," says Kathy Swift, DVM, Gainesville, Fla. "I never tweet a picture without them knowing what I'm doing. I try to relay information as if all my clients were reading my tweets. Sometimes it can be a nonspecific post like 'it's a great day to be a heifer in Florida.'"
Subscribe to Our Newsletters
BEEF Magazine is the source for beef production, management and market news.
You May Also Like
---