Why Genetic Credentials Matter In U.S. Beef Industry
Why Genetic Credentials Matter In U.S. Beef Industry
Helping clients aim for a value target and utilize predictable genetics and genomics tools to sort and select, can help them make value strides in a hurry.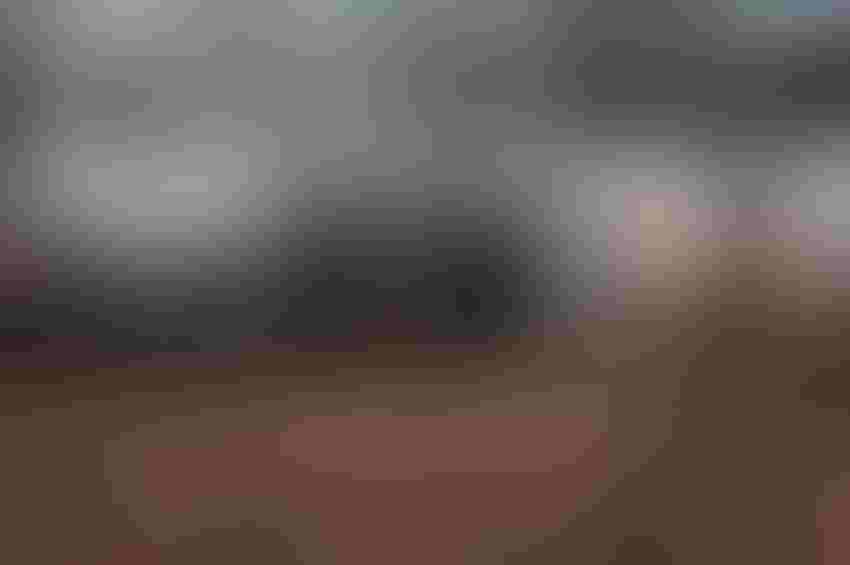 Helping cow-calf clients sort through which cattle to add to their herds during this current period of industry expansion may be even more important than helping them figure out the most effective ways to expand.
"Predictable genetics are a way of helping our clients manage risk. As veterinarians, I think we need to be more aware of that aspect," says Randall Spare, DVM of Ashland Veterinary Center, Inc. (AVC) in Ashland, KS.
Understand that Dr. Spare, and the other three veterinarians comprising AVC, say they're blessed with a practice area that includes the most progressive commercial cattle producers you'll find anywhere.
"If you can find two percent of the cows in our practice area that aren't pregnancy checked, that would be a stretch," Dr. Spare says.
Also understand that Gardiner Angus Ranch (GAR) at Ashland is a longtime AVC client. The Gardiner program is arguably the most storied among seedsock producers when it comes to successfully embracing genetic selection tools and reproductive technology in order to make genetic progress.
Rather than compromise between naturally antagonistic traits, Mark Gardiner explains genetics today means that producers truly can have it all. In the Angus breed, for instance, he points out producers can select bulls that are among the top one percent of the breed for yearling weight, calving ease and marbling, while also being among the bottom ten percent of the breed for mature size and weight.
"At the core of all cattle performance is reproduction. We manage for reproduction and select for other traits," Gardiner says. "After reproduction, the most important thing you can do is identify what makes you money and that's pounds."
At the same time, Gardiner points out pounds of weaning weight, yearling weight and carcass weight have different values in the marketplace.
Known genetics accelerate opportunity
Consider the illustration provided by the recently completed Technology Two-Step (Tech Two) research project, which was conducted by Zoetis Genetics and Gardiner Angus Ranch.
In broad terms, they bought 104 single-source, run-of-the-mill, mixed-breed, yearling commercial heifers in the spring of 2012. They DNA tested the heifers with Zoetis genomic technology to determine the heifers' individual molecular value prediction (MVP) for marbling. These days you may be familiar with the GeneMax® tests from Zoetis.
The average marbling MVP of -21.1 for the group was significantly below average. They culled about a third of the heifers that had the worst scores (an average of -55.1). The keepers (68 head) had an average marbling score slightly near zero at -4.7. Nearly half of those had marbling genetics greater than the average of reference cattle populations given the same DNA test.
Photo Gallery: Home Is Where You Hang Your Hat
At BEEF, we're proud to celebrate the ranching lifestyle. Enjoy 20+ photos from our readers that showcase their country home. Enjoy the gallery now.
These retained heifers were synchronized and AI bred to two Gardiner Angus sires that rank in the top six percent of the breed for calving ease and in the top one percent for the breed's $B index which recognizes growth rate and carcass value traits.
Calves resulting from these matings were born in the spring of 2013, weaned and backgrounded at GAR and then placed on feed under typical commercial feedlot conditions in southwestern Kansas. These calves were also DNA tested by Zoetis Genetics; they had an average marbling MVP of +53.0. 
These research steers and heifers were harvested in June: 94.6 percent Choice and higher, including 5.8 percent Prime and 35 percent Certified Angus Beef®. There were no discounts for carcasses being too heavy or too light. They beat the base grid dressing percentage by 2.2 percent. They achieved $113.10 per head grid premium at a time when fed cattle prices are already historically high.
"It doesn't take a lot more to do this, and those who do are rewarded, even in these times of unprecedented high price levels," Gardiner says. "There's always $80-$100 per head to be had from cattle that are designed appropriately."
Gardiner expected these kinds of results, but wanted to provide a demonstration of what could be accomplished in a single generation using old technology (AI), new technology (genomic tools) and a blend of the two (genomic enhanced EPDs).
Genetic credentials matter
"The leading edge of the U.S. beef industry's genetics is now able to create dramatically more value than we could have dared dream about in the past," Tom Brink told participants at the annual meeting of the BIF in 2013. At the time, Brink was president of J&F Holdings Oklahoma, which feeds more than 1.6 million head annually in Five Rivers feedyards.
"This reality is a game changer," Brink explained. "First, it illustrates what is possible today with the best of the best genetics. Secondly, it says we can now pay much higher prices for feeder cattle and calves known to create exceptional value in the feedyard and packing plant. That is exactly what is starting to happen in the cattle market. Larger and larger premiums are being paid for top end genetics at all levels in the system."
In fact, Brink left JBS to begin his own consulting business and to found Top Dollar Angus, which is helping producers of genetically qualified and genomically qualified Angus calves receive a minimum $50 premium for their calves from participating feedlots. So far, Brink has a premium commitment from feedlots for one million head per year. This is a premium for selling the calves outright, rather than a residual premium achieved through retained ownership. For more information about Top Dollar Angus, see the November issue of BEEF magazine and BEEFMagazine.com.
Brink emphasizes, he's not for Angus or against other breeds, which can also produce carcasses that have superior carcass value. The fact is, though, no other breed has a database as large and comprehensive, or the genomics tools, that Angus has currently. That and the sheer industry reach of the breed make it a logical starting point for his endeavors.
The reason feedlots are willing to pay more for calves is because they know these kinds of calves will return them more than an extra $50 in value.
Heading into the BIF meeting, Brink asked Five Rivers' feedyard managers to quantify the performance of the top 10 to 15 percent of the genetics they feed. He then compared that to average Five Rivers' cattle performance.
Compared to the average, the top 10 to 15 percent gained 1.35 pounds more per day in the feedyard and had a feed-to-gain conversion that was 0.75 pounds better. On the rail, the top 10 to 15 percent earned $85 per head compared to $20 for the average.
Top Dollar Angus relies on verification of cattle genetically qualified to produce superior cattle feeding performance and carcass merit.
Incidentally, there's another program out there—Verified Beef's Reputation Feeder Cattle™—that aims to value feeder cattle based on genetics utilized within commercial programs.
The point is, as Brink explained recently, "The industry is entering the era of specification feeder cattle. Premium prices will be paid for cattle with known genetics that are superior for growth and carcass traits."
Brink provided data analysis for the Tech Two research project.
The risk management perspective
 "Ultimately, our goal is to help our clients produce a valuable product," Dr. Spare emphasizes. "What we're really trying to do is help them manage risk by adding value to what they produce."
That's why Dr. Spare and his crew help clients collect DNA samples for GeneMax testing, showing them how to gather samples or gathering the sample for them and then helping them interpret the results.
"We can be involved with synchronization and AI to help our clients get as many cows bred as possible," Dr. Spare explains. "We can help them sort through EPDs and genetic information."
"I think there is a need for more veterinarians to provide their clients these kinds of services," Gardiner says. "We all want to be low-cost producers, but it's amazing how much more money you can make by making small tweaks in genetic selection, along with nutrition and animal health."
For instance, Dr. Spare points out, "Some producers pride themselves in getting cows bred with little supplemental protein. We're starting to see health problems in calves from those kinds of herds." It's one thing if cows have been designed genetically and managed with that in mind. It's another when they're not.
Risk management is also why BVD (bovine viral diarrhea) testing heifers is a cornerstone of AVC's recommended herd health program.
"Testing heifers mitigates having to test everything after they've calved," Dr. Spare says. He adds, "The cheapest test isn't necessarily the best test."
Managing risk is why Dr. Spare and his crew recommend pregnancy checking with ultrasound 35 days post breeding. The sooner you can make decisions about the bottom line, the more opportunity there is to impact it.
"Another piece of the puzzle is basic husbandry skills. We can teach heifers to be good cows (as long as they also have the genetic and phenotypic makings). On the other hand, if these heifers start life seeing us as predators, we create a lifelong problem," Dr. Spare says. "My mantra is that cows are a product of their lifetime experience (nutrition, health and docility). When they have those things, genetics can be expressed correctly and to their potential."
For Dr. Spare and AVC, managing risk by helping clients add value includes helping clients maximize the marketing potential of their calves. If clients want to retain ownership, they help them identify feedlots. If clients are selling calves and feeder cattle, they help clients identify additional prospects. The AVC folks also help clients evaluate alternative markets. For example, Gardiner customers sold more than 500 commercial bred Angus heifers in that firm's fall sale. The heifers had a GeneMax score of 90+ out of 100 and were bred to calving ease Gardiner bulls.
In other words, for both cow-calf producers and their clients, Dr. Spare says, "Just getting cows pregnant isn't good enough anymore."
Expanding the relationship
As far as Dr. Spare is concerned, developing a partnership with clients beyond the fire extinguishing relationship goes back to that old adage about folks caring little about what you know until they know how much you care.             
"When someone has a real problem, that's the opportunity to stand with them," Dr. Spare says. "As veterinarians, we have to be able to take care of client problems when they're having difficulties before they're going to be willing to listen to our ideas about improvements that could help them."
Maybe it's chatting about bull selection after pulling another calf. Perhaps it's sitting on the tailgate after pregnancy checking and asking whether the number of open cows is acceptable. If not, what can be done to secure a higher breeding rate?
Subscribe now to Cow-Calf Weekly to get the latest industry research and information in your inbox every Friday!
"We have to be able to listen to our clients and speak their language," Dr. Spare says. He explains that's an advantage to having four veterinarians in their practice. None of them will speak every producer's language. Between them, though, chances are at least one of them will.
More than anything, it's tough to beat sincerity in relationships.
"Nothing is more exciting to me than having people coming to my clients wanting to buy their calves," Dr. Spare says.
Other trending BEEF articles:
65 Photos That Celebrate Cowgirls & Cattlewomen
Should You Be Worried About Cattle Ingesting Net Wrap?
3 Steps To Negotiating A Great Cow Lease
NEW PHOTO GALLERY: Home Is Where You Hang Your Hat
New Farm Trucks To Consider For 2014
The Importance Of Beef Reproduction: What How Why
Subscribe to Our Newsletters
BEEF Magazine is the source for beef production, management and market news.
You May Also Like
---