Calf Prices Strengthen With Dwindling Supply
Calf Prices Strengthen With Dwindling Supply
Steadier wholesale prices help underpin fed cattle and feeder prices.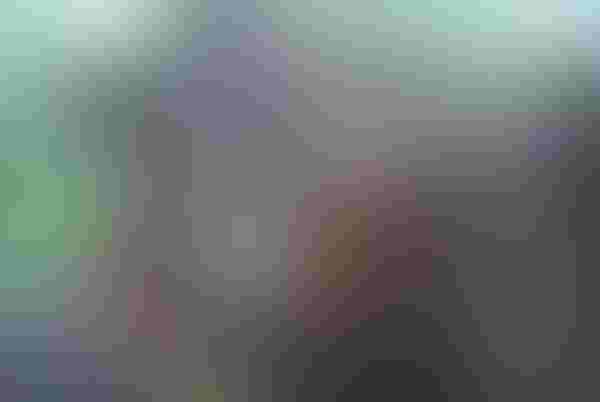 After moderating briefly during weather-related market disruptions the past couple of weeks, calf prices took another step forward at auction this week. Steers weighing less than 800 lbs. and heifers weighing less than 700 lbs. traded firm to $5/cwt. higher, according to the Agricultural Marketing Service (AMS) Friday.
"Backgrounders are expecting grass cattle supplies to be especially tight over the next several weeks," AMS analysts explain. "Record prices brought many calves to town early this year, plus fewer cattle growers dry-wintered stockers due to the high prices and the bitterly cold temperatures. Fewer of the lightweight calves sold last fall will come back up for sale as they left local areas and were placed in growing lots to later be moved straight into the feedlot."
"Seasonally speaking, light-weight calf prices tend to peak from late February through March which is quickly approaching," says Andrew P. Griffith, University of Tennessee agricultural economist, in his weekly market comments. "Producers intending to market lightweight calves in the near future should be cognizant of this price seasonality and watch markets closely to maximize returns."
Yearling cattle did receive some price pressure last week, tied to the sharp drop in post-spike fed cattle prices the past couple of weeks. Steers weighing more than 800 lbs. sold steady to $2 lower with the decline primarily in the Southern Plains, according to AMS.
Yearling heifers sold unevenly steady.
"Feeder cattle prices remain strong and the expectation is for prices to remain strong throughout the year due to reduced supply available to enter the feedlot as more and more producers are retaining heifers to grow the herd size," Griffith explains. "It is also expected that heifer prices will strengthen more than steer and bull calf prices as feedlot managers and cow-calf producers compete for heifer calves."
Subscribe now to Cow-Calf Weekly to get the latest industry research and information in your inbox every Friday!
"Older bred cows have been taken off the table by a spiking slaughter cow market that reached all-time record highs this week in certain regions of the nation," AMS analysts report. "The 1,500-lb. cow that packers will pay near $1/lb. for, simply dollars up to more than most ranchers are willing to spend. They would rather stockpile grass this summer and see what the bred heifer market will bear late in the year when droves of them will be waiting for able-bodied cowboys with a set of pulling chains." 
Stabilizing wholesale beef values added stability to Feeder Cattle futures by the end of Friday's trading session. Week-to-week, Feeder Cattle futures were up an average of $2.92 across the board.
On the one hand, Choice Carcass cutout value ($207.68/cwt.) ended the week about $30/cwt. less than its panic-spawned peak on Jan. 22. On the other hand, that's still about $8 higher than the end of December; $11 higher for Select.
"The 13% decline in Choice beef prices since its peak a few weeks ago has resulted in packers slowing chain speeds to reduce the quantity of beef available to markets," Griffith says. "While beef prices have been in freefall mode, the same cannot be said about the price of fed cattle. Fed cattle prices have stabilized while beef prices have been falling which can cut into packer margins. The thought behind slowing chain speeds is to stabilize or increase the price of beef to improve margins, and it does appear to have stabilized prices in a major way."
Along with steadier wholesale prices, thoughts that demand can increase in the next several weeks helped cash fed cattle sell for $142/cwt. in the Southern Plains this week. Though $6-$8 in back of record prices achieved a couple of weeks earlier, that's $1 more than fed cattle brought in the Northern Plains last week.
Week-to-week, Live Cattle futures were up an average of 80¢ (10¢ to $1.40 higher) except for $1.35 lower at the very back.
"Feedlot managers are in a good position as packers are between a rock and a hard place, because many packers are short-bought and facing weakening boxed-beef prices," Griffith explains. "This bodes well for the prospect of steady-to-stronger fed cattle prices over the next couple of weeks. It would not appear the market is set to challenge the record prices set in January in the next few weeks. It will probably take a spring price rally to rival the record price set in January, but it is possible for that to happen. Feedlots will continue to pay strong prices for animals entering the feedlot…the low cost of gain allows feeders to pay higher prices."
More resources for you:
Has The U.S. Become A Ground Beef Nation?
Ranching As A Family -- See The Multiple Generations On The Ranch
Know Which Cows Are Most At Risk To Predators
Best Tips For Selecting Replacement Heifers For The Beef Herd
Exclusive BEEF Survey: Find Out Trends In U.S. Beef Cowherd Genetics Here!
Subscribe to Our Newsletters
BEEF Magazine is the source for beef production, management and market news.
You May Also Like
---