Calf uniformity pays off at sale barn
Calf uniformity pays off at sale barn
A defined calving season and vaccination protocol help create more marketable calves.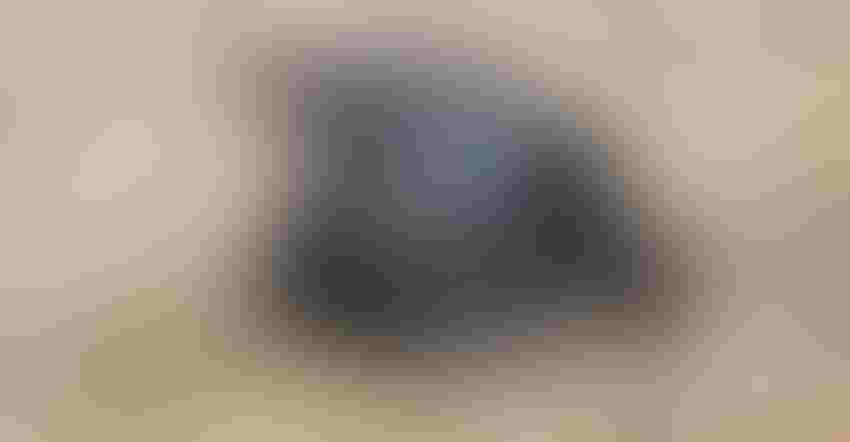 BANG FROM BABIES: Cattlemen and women can reap bigger dividends by producing a uniform calf crop. Buyers look for consistency in sale barns. where 60% of weaned calves are marketed each year.
Farm Progress photo
A lot can be learned at a sale barn, and South Dakota State University Extension cow-calf specialists feel producers can learn even more by paying attention to trends on sale day.
According to USDA's National Animal Health Monitoring System, about 60% of weaned calves are sold at sale barns or auctions. Olivia Amundson, a SDSU Extension cow-calf field specialist based out of the Sioux Falls regional center, says cattlemen may be leaving money on the table if they are not paying attention to management decisions at home.
"One of the big things that we were looking at here was really focusing on a uniform calf crop," Amundson says, "and how that maybe influenced price received at the sale barn."
Large sample size
Amundson and fellow Extension colleagues Adele Harty, Robin Salverson, Heather Gessner, Julie Walker and Kiernan Brandt collected data from five South Dakota sale barns for four weeks from October through November in 2021. Data collected was from 24 sales, accounting for about 110,000 calves.
To diminish geographic variation, researchers attended sales within the same week at the sale barns. They kept data for each specific sale barn, which included date of sale, gender of calves, number of calves in each lot and the average weight per head.
The Extension team also tracked hide color, vaccine protocols — whether they had received a seven-way clostridial vaccine, or four- and five-way respiratory vaccines — whether calves had been implanted, whether they had been creep-fed, whether they had been weaned, if they were part of a branded program, whether they had horns, and the price per head received.
To maintain statistical integrity, calves below 265 pounds and those above 800 pounds were removed from the database, as were lots of one or two calves, Amundson says.
Lots of opportunity
While buyers in sale barns look for quality cattle, they may also be looking for larger numbers "to meet their quota or fill a pot load," Amundson says.
Researchers broke down the lot sizes of 101 head or more, 50-100 head, 21-50 head and 1-20 head, and found premiums of $15.85 per cwt between the largest lot size and the smallest lot size.
"It makes a lot of sense because those buyers, they've got a pot load or multiple pot loads, and they can just load all of those animals on a truck, and they don't have to try to co-mingle calves or group calves that have similar types and sizes to make a full load," Amundson says.
While not as great, premiums still exist between the smaller lot groups: $10-per-cwt premium for the 101-plus-head lots over the 20- to 100-head lots; and $6-per-cwt premium for the 21- to 50-head lots over the one- to 20-head lots.
Producers unable to bring in large lots may benefit by coordinating with neighbors or other cattlemen to coordinate a grouping of uniform calves to deliver a large number to entice buyers and possibly get a better price on sale day, Amundson says.
"Those calves have to have been born within the same time range, same season," she says. "We have to think what kind of management decisions were made on those calves. Were they vaccinated at the same time? Did they get the same vaccines? Were they dehorned, castrated? So a lot of those same management decisions have to be thought about if we're pooling our cattle with other producers' cattle to try and receive a higher premium."
A big step to calf crop uniformity, Amundson says, is to define the calving season. "That comes down to maybe just pulling the bull earlier than we usually do. So that we're not calving our cows for let's say 120 days, and now we're just calving them out for 80 days instead."
Management premiums
Cattlemen can be loyal to their breed or color of animal. SDSU research shows that black-hided cattle paid premiums of $9.75 to $34 per cwt over other colors and color combinations.
Some other premium findings include that steers reap a $19.77-per-cwt premium over heifers, and steers also bring in $23 per cwt over bull calves.
Vaccination programs also benefit sellers, as calves given a seven-way clostridial vaccine at birth and in the fall gained at $17-per-cwt premium over the calves receiving only one dose. There was also an $18- to $25-per-cwt premium given for vaccinated calves over those that were either unvaccinated, or if vaccination status was unknown at sale time.
The SDSU Extension team also surveyed the same sale barns for four weeks this past spring, but this time looking at backgrounder cattle. Results of that study are still forthcoming.
These projects were grant-funded through the North Central Extension Risk Management Education Center, with funding provided by USDA's National Institute of Food and Agriculture.
To learn more about this research, listen to Amundson and Adele Harty, former SDSU Extension cow-calf field specialist, on a Cattle HQ podcast. Amundson also joined a University of Minnesota edition of the Moos Room podcast to discuss the results.
Geography matters
SDSU research found that the fall calf run noticed a premium for sale barns located west of the Missouri River in South Dakota, versus that east of the river.
Amundson says that cattle types differ between the two regions, but maybe more of a factor were the higher numbers of calves, as well as the higher number of buyers at the west-river sale barns.
"On our west side, we have a lot of guys that do sell feeder calves in large lots," she says, "and then on the east side of the state, we have a lot of those guys who maybe buy those feeder calves to then background them."
Subscribe to Our Newsletters
BEEF Magazine is the source for beef production, management and market news.
You May Also Like
---