Cattle prices dredge lower
Cattle prices dredge lower
"Feeder cattle are caught in a bottleneck of lower fed cattle prices, sharply lower cattle futures and record supply of competing meats as the entire livestock complex continues to struggle with these issues," AMS analysts explain.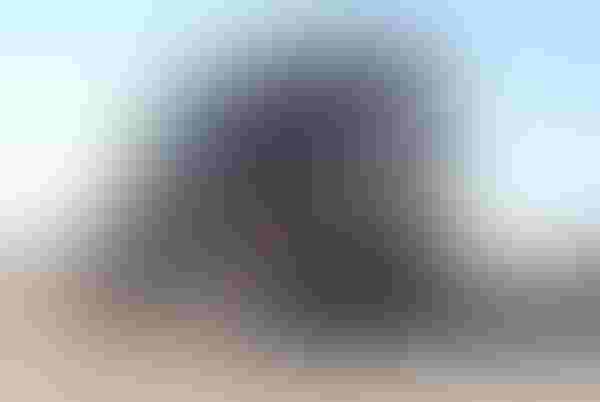 That old saying about this not being the end of the world but it's within eyeshot of your current location continues to be a hopeful notion in cattle markets when it comes to finding the market bottom.
Bright spots were few and far between as calves and yearlings traded mostly $5-$12 per cwt lower to start the week before trending $10-$20 lower with instances of $25-$30 lower, according to the Agricultural Marketing Service (AMS).
"Feeder cattle buyers also remain very cautious and very selective on quality and condition, quick to discount anything that is un-weaned and carrying too much flesh," AMS analysts add.  
"Weaned calves continue to sell at a strong premium to calves straight off the cow," explained the AMS reporter on hand for Tuesday's sale at Miles City Livestock Commission in Montana. "Vaccinations continue to be a huge factor, as buyers purchasing un-weaned calves were adamant in knowing the vaccinations they were given. Single-vaccinated or unvaccinated, un-weaned calves, no matter the size, sold with large discounts to fully preconditioned calves with two rounds of vaccinations."
Sharply higher cattle futures prices on Thursday—only the second up-session in two weeks—glimmered like a desert oasis but faded as a mirage when follow-through buying failed to materialize in a sustained fashion on Friday.

BEEF Seedstock 100
Looking for a new seedstock provider? Use our BEEF Seedstock 100 listing to find the largest bull sellers in the U.S. Browse the Seedstock 100 list here.
Week to week, Feeder Cattle futures were an average of $7.03 lower across the board. The CME Feeder Cattle Index was $10.61 lower week to week. At $157.79 on Thursday, it was the lowest in more than two years.
"Feeder cattle are caught in a bottleneck of lower fed cattle prices, sharply lower cattle futures and record supply of competing meats as the entire livestock complex continues to struggle with these issues," AMS analyst explain.  
Looming retaliatory tariffs awarded to Canada and Mexico by the World Trade Organization to satisfy damages wrought by mandatory country-of-origin labeling (COOL) added another layer of bearishness.
Live Cattle futures were an average of $3.54 lower week to week.
Cash fed cattle sales were $5-$6 lower than the previous week on a live basis at $117-$118 per cwt. in Nebraska and at $119 in the Southern Plains. Dressed trade in the north was $7-$9 lower at $186-$188.
"The likelihood of finished cattle making any kind of run in December is dwindling." explained Andrew P. Griffith, agricultural economist at the University of Tennessee, in his market comments last week. "The market continues to be hampered by heavy cattle even though the bulk of the problem has been pushed through the packer. There is no doubt cattle feeders continue to hold back market-ready cattle in hopes of selling on a stronger market."
A stronger market that thus far remains absent. In the meantime, cattle feeders are caught in a vicious circle of needing to get heavy cattle gone, needing to add weight to dilute losses and packers holding all of the cards.
"The packer has plenty of front-end supplies and doesn't have to chase the market or get into high gear to buy fed cattle," AMS analysts say. "Feeder cattle price—both cash and futures—have been too high when compared to the fed cattle market. Until the fed cattle market finds a bottom and Live Cattle futures find support, feeder cattle prices will continue to come under pressure."
Choice boxed beef cutout value closed about even week to week at $202.50 per cwt, while Select was $5.06 lower at $186.43. Declining value for Select, amid the faltering ground beef market, accounted for the widest Choice-Select spread in almost two years on Friday at $16.07.
"Seasonal weakness is expected to dominate beef markets in January and February, which will tighten margins for packers," Griffith explains in his comments this week. "The Choice-Select spread will begin to narrow after Christmas and it is likely most of the narrowing will be due to lower Choice prices. The wholesale beef market will continue to face competition from relatively low pork and poultry prices, but its biggest competition comes from itself as retail prices remain elevated."
The good news, Griffith explains, is that both fundamental and technical market analysis suggests prices should start heading north.
"The anticipation is that prices will begin improving and the cash price will likely see their largest gains after the first of the year," Griffith says.
Moreover, analysts with the Livestock Marketing Information Center (LMIC) explain in the latest Livestock Monitor that some of this year's market pressures should subside in 2016.
For instance, LMIC forecasts pork production to increase less than 1% next year, and broiler production to increase 2%. That pales in comparison to increases this year of 7% and 4%, respectively.
At the same time, LMIC analysts say, "Regardless of when interest rates are raised, it is very unlikely the dollar will experience another value increase of the same magnitude seen this year."
Both of these factors should help beef and meat exports. Through October of this year, beef exports were 12% lower in volume compared to the previous year and 10% less in value, according to the U.S. Meat Export Federation. The export value per head of fed cattle slaughter ($278.06) was 5% less.
"There has been tremendous volatility in the cattle markets for more than a year, but volatility does not result in catastrophic losses," Griffith says. "What does result in catastrophic losses is not reevaluating the marketing plan when prices are trending down."
You might also like:
Could we soon be taxed for eating meat?
13 new utility tractors for the ranch
7 ranching operations who lead in stewardship, sustainability
Trending Headlines: 10 tips for cutting cattle feeding costs
Subscribe to Our Newsletters
BEEF Magazine is the source for beef production, management and market news.
You May Also Like
---