Cattle producers should be on the lookout for new tick species
Cattle producers should be on the lookout for new tick species
The Asian longhorned tick has not been found in Iowa yet, but it is present in many other states. It can be a carrier of Anaplasma and other diseases.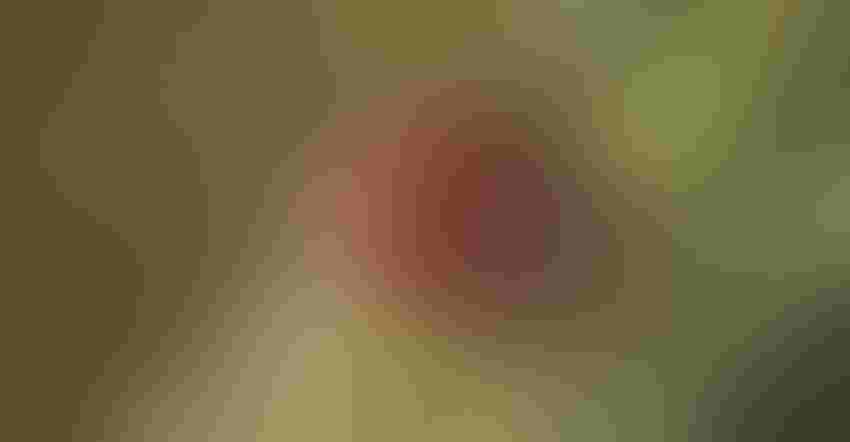 TICK: The Asian longhorned tick has not yet been found in Iowa but has been found in several other U.S. states, It is known to be a vector for viruses, bacteria and parasites, just like all ticks.
James Gathany
All types of ticks are blood-feeding ectoparasites which can be vectors for viruses, bacteria and parasites. Cattle producers and other animal owners have dealt with these pests for decades, but the increasing spread of the Haemaphysalis longicornis, or Asian longhorned tick, has veterinarians concerned.
Katy Martin, a veterinarian and resident in veterinary parasitology at Iowa State University, says different kinds of ticks carry different kinds of concerns for livestock and pet owners.
"If an animal is heavily infested, it could suffer from anemia, as well as having a chance to contract a virus, bacteria or parasite from a tick bite," Martin says. "Our main concern for ticks is their function as vectors and spreading diseases."
The Asian longhorned tick has been found in Virginia, West Virginia, North Carolina, Pennsylvania, New York, New Jersey, Tennessee, Maryland, Kentucky, Connecticut, Delaware, Ohio, Missouri, South Carolina, Arkansas, Georgia and Rhode Island.
Long life cycle
Ticks can have a very long life cycle with four stages — egg, larva, nymph and adult. The adult stage is when ticks breed and produce more eggs. The main way a tick spreads disease is by moving from host to host, although one-host ticks can also spread problems.
Martin said the most common one-host tick is the Rhipicephalus, which is more common in Texas for causing cattle fever. Producers will use organophosphates in a dip tank to prevent this disease. Two- and three-host ticks will move from one host to another in between life cycle stages and will molt in between. The Asian longhorned tick is a three-host tick. Knowing what kind of tick it is will help with control and prevention.
"Some ticks are host-specific. For instance, the deer tick will only use a deer as a host, while others will use several different kinds of animals as hosts, thus vectoring pathogens between the hosts and causing problems," Martin says. "But not all ticks are suitable vectors for all pathogens. The deer tick is the only tick which will spread Lyme disease."
Types of ticks
In a great majority of the country, the Dermacentor viriabilis, or American dog tick, is the most common. It has an ornate scutum, which is the back on the tick, with a scalloped appearance on the posterior. Martin says these ticks can be carriers of Anaplasma, but not as likely to be the vector as other insects such as flies.
The Amblyomma Americanum, or Lonestar tick, has become more prevalent in the Midwest, Southeast and Eastern states. This tick is identified by the yellow dot on its back and is less of a threat than others, according to Martin.
The Asian longhorned tick is one to be on the lookout for. While it has been found in 15 states in the Eastern U.S., Missouri and Arkansas, it is a tick that can be misidentified. "The first documented finding of the Asian longhorned tick was in 2017 in a sheep herd, but it is thought to have been misidentified in a case going back as far as 2010," Martin says. "If this is so, then the tick is likely in more places and just hasn't been found yet."
The female will lay thousands of eggs at one time and can do so without mating. This native to Asia will feed on cattle, horses, small ruminants, humans and other animals, but prefers a larger host. It is a potential carrier of Anaplasma, Ehrlichia, Babesia and other diseases. In New Zealand, this tick is a carrier of Theileria, which is often misdiagnosed as Anaplasma. This disease can cause reluctance to walk, weakness, abortion, mucosal pallor and pyrexia.
Identification and control
"If you find an animal with several ticks on it, these should be collected in a baggie and sent to your veterinarian or veterinary college for identification," Martin says. "It's very important to know what is present in what area so we can help with control and prevention."
Several different options are available for treatment and control, based on what a producer is dealing with. Pyrethrins can be used to kill a wide range of arthropods. Pyrethroids, which are chemical analogs of pyrethrins, typically have a greater insecticidal effect. Martin notes permethrin is toxic to cats, and its use should be avoided in any areas cats could be present. Avermectins are better used as a control, as they have a slower speed of kill.
Martin suggests starting treatment in the early spring if a producer thinks ticks could be a problem. Ticks can start emerging as soon as there are several warm days. An early treatment and then re-treatment in early summer can also help with fly prevention. She does warn of overtreatment and the possibility of resistance, therefore stressing the importance of knowing what pests are in the area.
Martin also recommends removing tall grasses, brush piles and weeds, where ticks can live, adding, "This will decrease the encroachment by wild animals, which are common hosts for ticks."
Her final advice: Contact your veterinarian for help in tick identification, control and treatment.
Subscribe to Our Newsletters
BEEF Magazine is the source for beef production, management and market news.
You May Also Like
---