Grass and graze-out buyers push calf and feeder prices higher
Grass and graze-out buyers push calf and feeder prices higher
Demand for cattle to send to graze-out wheat and summer grass helped lift calf and feeder prices this week.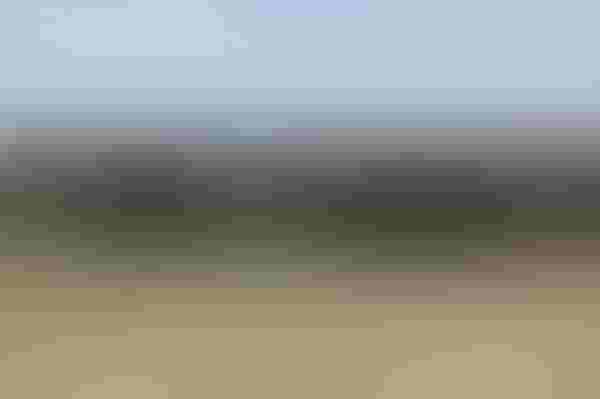 Calves traded mostly $3-$8 per cwt higher this week—instances of $10 higher—and yearlings sold mostly steady to $3 higher, according to the Agricultural Marketing Service (AMS). Depending on the region, buyers were after cattle for both graze-out winter wheat pasture and summer grass.
Overall, AMS analysts say demand is especially strong for calves and stocker cattle weighing 500-700 pounds, with the most demand for long-time weaned calves and light yearlings with good weighing conditions.
"Demand is especially good for lighter-fleshed cattle to turn back out on graze-out wheat," explained the AMS reporter on hand for Monday's sale at Oklahoma National Stockyards where stocker-weight steers traded $5-$10 higher.
"Demand for thin or medium-fleshed short yearlings, along with weaned calves, increased due to buying activity for the Flint Hills and Osage grazing areas, along with restocking wheat pastures for graze-out wheat," explained the AMS reporter at Tulia Livestock Auction in Texas on Thursday. Yearlings weighing 600-750 pounds traded $1-$5 higher there. Calves weighing less than 600 pounds sold $3-$12 higher.
Further north, the AMS reporter on hand for Thursday's auction in Mitchell, S.D. explained, "Buyers are selective when it comes to flesh and the amount of mud cattle are carrying. Cattle feeders are treading cautiously as feeding conditions remain very poor and outgoing cattle continue to lose money." Feeder steers there weighing less than 800 lbs. sold steady; steady to $2 higher at heavier weights.
"Continued support in the cattle futures this week definitely gave support to feeder cattle
prices," AMS analysts explain. "Cattle futures trade also seems to have calmed down and been less volatile the last couple of weeks."
Feeder Cattle futures closed an average of $4.12 higher week to week.
Through Friday afternoon, cash fed cattle trade was shaping up to be another weekend affair. Although moderate demand was reported in all major cattle feeding regions, cattle feeders were mostly passing on packer bids. Though there were too few transactions to trend in any region, early dressed sales in Nebraska were steady to $2 higher at $212-$214 per cwt. Early dressed sales in Iowa-Minnesota were $2-$4 higher at $212-$214.
One reason for cattle feeder optimism was the fact that Live Cattle futures gained ground—an average of $2.35 higher week to week—as wholesale beef values finally offered some hope for a seasonal bottom.

70+ photos showcasing all types of cattle nutrition
Readers share their favorite photos of cattle grazing or steers bellied up to the feedbunk. See reader favorite nutrition photos here.
Choice boxed beef cutout value was $6.01 per cwt higher week to week at $217.67 on Friday. Select was $3.84 higher at $211.99. For all practical purposes, that's the first week-to-week gain since the middle of January.
That was despite the monthly USDA Cold Storage report pointing to record volumes of frozen meat.
Total red meat supplies in freezers January 31—1.2 billion pounds—was 9% more than the previous month and 7% more than the previous year, a record high since the series began in 1915.
Frozen beef supplies of 518.5 million pounds were 1% more than the previous month and 5% more than the previous year, also a record high for the month.
USDA expects total red meat and poultry production to increase almost 3% this year to a record 97.35 billion pounds. It increased 2.7% last year, the most rapid increase since 2008.
You might also like:
2016 market outlook: Here's what to expect
Colostrum and calves: Milk it for all its worth
When you're feeding a pregnant cow; you're feeding for two
It's hay time! 10 new mower-conditioners in 2016
Pasture lease rates continue higher
Subscribe to Our Newsletters
BEEF Magazine is the source for beef production, management and market news.
You May Also Like
---