Grazing cattle underpin calf and feeder demand
Grazing cattle underpin calf and feeder demand
Cash and futures prices showed some spark this week, buoyed by sharply stronger outside markets.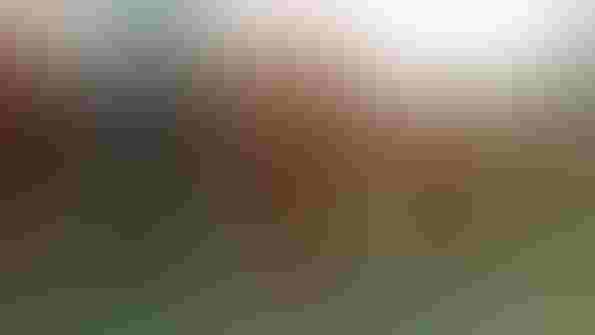 Markets this week weren't necessarily as good as they were lousy last week, but they took a decided and positive turn.
Calves and yearlings traded mostly steady to $5 higher at auction, according to the Agricultural Marketing Service (AMS).
"The full market advance was most evident for middleweight cattle weighing 500-700 pounds," AMS analysts say. "Competition for these cattle has  increased with cattle and grass interests becoming more prevalent."
Positive outside markets—following the previous week's Chicken Little pandering—helped buoy cash cattle and futures prices.
Live Cattle futures were an average of $3.24 higher week to week, helped along by limit-up and near limit-up moves early in the week. Feeder Cattle futures were an average of $3.62 higher week to week.
Even oil prices were higher for about the first time since Granny Moses was in diapers. Oil futures (WTI-ICE) were an average of $3.77 per barrel higher week to week through the front six contracts.
Wall Street found a foothold, too. The Dow Jones Industrial Average was 427 points higher week to week; the S&P 500 was up 53 points.
Beef demand remains resilient
Although cash fed cattle trade was limited to Nebraska and Iowa-Minnesota through Friday afternoon, dressed prices were $4-$5 more than the previous week at $210 per cwt. That was despite the fact that seasonal pressure continues on wholesale beef values.
Choice boxed beef cutout value was $4.42 per cwt lower week to week on Friday at $211.66. Select was $4.38 lower at $208.15.
"Beef prices remain strong relative to recent history," says Andrew P. Griffith, agricultural economist at the University of Tennessee. "The market is not falling off and disappearing…As beef supplies increase over the next several years, beef cutout prices will continue to come under pressure and that is to be expected since supplies are expected to increase. However, demand calculations the past couple of years have shown the strength of beef demand. There is always a possibility of pricing consumers out of certain markets, but it would seem analysts sometimes price more consumers out of the market than prices do."
Carcass weights have yet to plunge seasonally, but muddy conditions in the Plains and up north suggest such a decline must occur sooner rather than later. That should add another layer of support to fed cattle prices.
 On the other side of the ledger, cattle feeding margins should improve over the next several months as feeder prices decline, according to analysts with USDA's Economic Research Service (ERS), in the February Livestock, Dairy and Poultry Outlook. By April, they expect feedlot breakevens to decline to $123 per cwt or so.

BEEF Seedstock 100 List
Looking for a new seedstock provider? Use our UPDATED Seedstock 100 listing to find the largest bull sellers in the U.S. Browse the list here.
In the meantime, Friday's monthly Cattle on Feed report mirrored analysts' expectations.
Cattle on feed Feb. 1 (10.7 million head) were slightly less than a year earlier, according to the monthly report issued yesterday.
Placements in January (1.78 million head) were 1% less than the prior year.
Marketings in January (1.59 million head) were 2% less than the previous year; the least since the series began in 1996.
For cow-calf producers looking to market calves, lightweight calf prices are seasonally strongest in March—about 6% above the annual average price—Griffith explains in his weekly market comments.
"Stocker producers will be trying to secure calves to grow for the next 120 to 150 days which may offer cow-calf producers a good opportunity to market calves at a fairly strong price," Griffith says. "Stocker producers may still have an opportunity to purchase calves the next week or two without paying top dollar, but if calves are not purchased soon then it may be best to wait until the middle of April or later to secure inventory."
Either way, Griffith adds that there is little reason to expect the severe price swings witnessed the past couple of years. "Producers should make note of this because stocker margins are expected to gravitate back to somewhat normal margins," Griffith adds.
You might also like:
100+ spring calving photos from readers
It's hay time! 10 new mower conditioners in 2016
Wendy's addresses antibiotic use in beef production
9 new pickups for the ranch in 2016
Subscribe to Our Newsletters
BEEF Magazine is the source for beef production, management and market news.
You May Also Like
---