Price range widens with new-crop calves
Price range widens with new-crop calves
Calves and yearling feeders traded mostly steady to $5 per cwt lower, according to the Agricultural Marketing Service.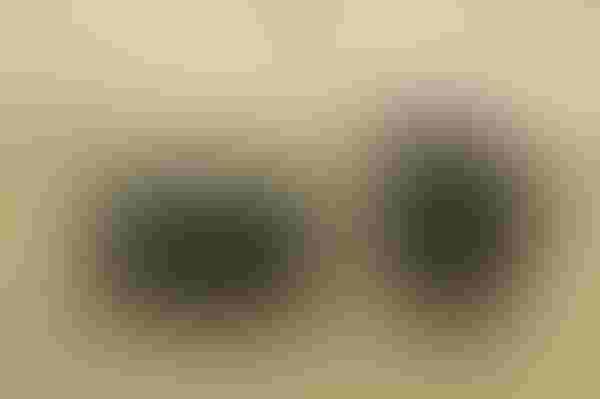 Wide swings in cattle futures prices and the continued decline in wholesale beef values dragged on calf and feeder prices this week.
After steady money early in the week, calves and yearling feeders traded mostly steady to $5 per cwt lower—instances of $10 lower—according to the Agricultural Marketing Service (AMS).
"Lower fed cattle prices and sharply lower beef futures had the cash feeder market moving lower since the last sale from two weeks ago," explained the AMS reporter on hand for Wednesday's sale at Green City Livestock Auction in Missouri. "Then traders at the CME pulled the rug out from under beef futures, causing feeder buyers to pull back even more."
Feeder Cattle futures nose-dived an average of $3.85 on Wednesday; Live Cattle were down an average of $2.09. There were plenty of suspects—technical selling, limping boxed beef prices, looming larger cattle supplies. None seemed adequate to explain such a sudden and deep dive.
Then came Thursday's Prospective Plantings report from USDA with expectations for 5.6 million more acres of corn this year. Corn futures sank 15¢ through July of next year, providing a catalyst for a limit-up rally in Feeder Cattle futures.
Despite the mid-week implosion, Feeder Cattle ended the week mostly narrowly positive through the front five contracts, compared to the previous Thursday. The back three contracts were 80¢ to $1.85 higher. Keep in mind they lost about $8 on average the previous week.
Although demand continues strong for weaned calves suitable for grazing, new-crop calves are also starting to exert seasonal pressure.
"This week saw many soft, fall-born calves making their way to the market, widening the price spread against the rugged old croppers in many cases," AMS analysts say. "Many lightweight offerings in the coming weeks will be overwhelmingly new-crop, fall-born calves, which are not always in high demand by feeder buyers as many are un-weaned and carrying plenty of flesh."
"The decline in lightweight calf prices this week is most likely the beginning of the decline that will persist through the summer and fall of the year," says Andrew P. Griffith, agricultural economist at the University of Tennessee, in his weekly market comments. "The seasonal tendency will result in lightweight calf prices falling drastically the next seven or eight months with the biggest decline starting towards the end of May."
Wholesale values lead fed cattle prices lower
Choice boxed beef cutout value was $5.25 lower week to week at $219.11 per cwt on Friday afternoon. Select was $7.96 lower at $206.93. At $12.18, the Choice-Select spread was the widest since the middle of December.
"The unseasonable price climb during February and March proved to be too much as packers had to lower prices the past couple of weeks to continue moving beef products," Griffith explains. He adds that the early price increase could dampen seasonally-expected prices heading into grilling season.
Cash fed cattle prices were mostly $3 lower this week on a live basis at $133-$134 per cwt.
Live Cattle futures closed an average of $1.09 lower compared to the previous Thursday.
"Even though boxed beef prices have been on the decline the past couple of weeks, the Select cutout has been declining at a more rapid pace than the Choice, which has resulted in the Choice-Select spread widening," Griffith explains. "This is indicative of the grilling season as consumers look for a higher quality grade to throw on the grill. The market may have to wait a couple of weeks before wholesale beef prices make a run."
You might also like:
Get to know the 2016 Seedstock 100 operations
5 tips to make bull buying easier
Cow prolapsing? Here's what to do
March cattle markets In like a lamb and out like a lion
Why the USDA suspension of the midyear Cattle report is troubling
Subscribe to Our Newsletters
BEEF Magazine is the source for beef production, management and market news.
You May Also Like
---