Record beef, pork, broiler production forecast for 2021
Record beef, pork, broiler production forecast for 2021
Overall, meat exports are important across all sectors leading to forecasted higher prices.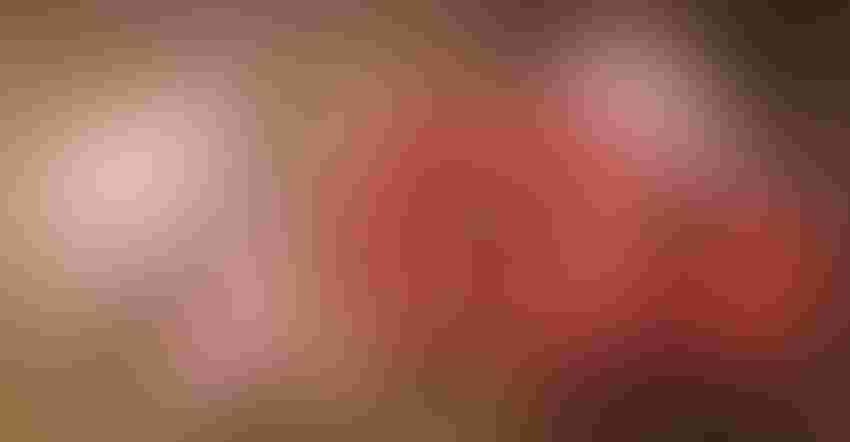 nitrub/iStock/Getty Images Plus
Despite a challenging 2020, the livestock industry was actually able to pivot and turn things around, ramp things up and get near pre-COVID levels toward the end of the year. Heading into 2021, total red meat and poultry production is forecast to increase 1% and higher prices are ahead, according to the latest outlooks presented at USDA's Agricultural Outlook Forum on Feb. 18 and 19.
"In 2021, livestock and poultry sectors will face additional pressure in the form of higher forecast feed costs, but faced with an expected more stable demand pattern, livestock and poultry prices should average above 2020," shares USDA Chief Economist Seth Meyer. "Economic growth and support from an increasingly important export component will support higher livestock and poultry prices in 2021."
Seanicaa Herron, agricultural economist at USDA's World Agricultural Outlook Board, says total production for 2020 year is forecast at 106.5 million pounds of meat - up from the previous year, which was a record. "As we look forward into 2021, total red meat and poultry production is forecast to increase 1% in 2021," she notes.
On an annual basis, feed prices are forecast higher in 2021. The annual 2020/21 corn price is forecast to average $4.30 per bushel, up 20.8% from the previous year. The 2021/22 average corn price is forecast to decline slightly to $4.20 per bushel. Soybean meal price for 2020/21 are forecast to average $400 per ton, up 33.6% from last year. The 2021/22 average soybean meal price is forecast to decline to $390 per ton.
Beef outlook
The January 1 cattle inventory reported U.S. cattle herd had declined for the second consecutive year, Herron notes. The U.S. cattle inventory is expected to recover and increase modestly in 2022, with support from estimates that producers retained approximately the same level of replacement heifers for the beef cow herd as last year; but the number of beef heifers expected to calve during 2021 was approximately 1% higher than 2020.
The total number of cattle on feed in feedlots of all sizes as of January 1 was 14.7 million head, up fractionally from the previous year. Supplies of cattle outside feedlots was estimated fractionally lower than last year. However, the number of cattle grazing on small grains pastures was estimated 7% above year-ago levels. These cattle will likely be placed in feedlots in early 2021 and marketed during the latter part of the year.
"However, higher projected feed costs and dry conditions coupled with low stocks of forage in some parts of major cattle producing regions could potentially affect the timing of when these cattle will be placed in feedlots," Herron notes in her outlook.
Beef production for 2021 is forecast at 27.5 billion pounds, an increase of 1.4% year-over-year. In 2021, commercial steer and heifer slaughter is expected to be above 2020 levels while cow slaughter is forecast to decline approximately 4%. Total commercial cattle slaughter during 2021 is expected to increase 1%. Carcass weights are expected to increase in 2020 but higher forecast feed costs are expected to temper growth in the second half of the year.
After declining in 2020, US. beef exports are forecast to increase over 6% in 2021. Japan and South Korea were top destinations for U.S. beef exports volume-wise in 2020, followed by Mexico and Canada and increasingly strong exports from China.
Strong international demand strength from late 2020 is expected to carry into 2021. Total U.S. beef exports are forecast to reach 3.1 billion pounds in 2021, up 6.4% from 2020. U.S. beef imports are forecast to reach 3.0 billion pounds in 2021, down 10.1% from 2020. Decreased shipments from Australia are the primary driver behind lower imports in 2021.
The 5-area steer price for 2021 is forecast to average $115 per cwt, nearly 6% higher than 2020. Firm domestic demand and stronger exports are expected to support higher prices, despite higher beef production.
Pork outlook
The December quarterly hogs and pigs report estimated all hogs and pigs at 77.5 million pounds, which was down 1% from the previous year. And the breeding curve was estimated at 6.3 million head, down 3% from 2019, Herron says. Producers indicated they were planning to farrow approximately 2.4% more in the February quarter, but they also indicated they were planning to farrow approximately 1% fewer in the March/May period.
"We have seen pigs per litter continue to increase going forward, and we anticipate that trend to continue in the quarters ahead. So, the expectations of larger pig crop and increases and growth in pigs per litter is anticipated to support higher pork production for 2021, USDA is forecasting pork production at 28.7 billion pounds. That's up approximately 1.4% relative to 2020," says Herron.
Pork exports are lower in 2021, says Herron after seeing a surge in 2019 and into 2020 from China due to African swine flu shortages. "As we moved into 2021, and China has been working to rebuild their herd, building their sow inventories, we anticipate their demand for U.S. pork will pull back somewhat, therefore, we're anticipating exports to be approximately 1.5% lower in 2021 relative to the previous year," she says.
However, export growth in other key markets such as Mexico, Canada and Japan (and to a lesser degree several Latin American countries) are expected to partially offset declines from China. Pork imports for 2021 are forecast at 0.9 billion pounds, up 4.5% from 2020.
U.S. hog prices, on a national base, 51%-52% lean, live equivalent, are forecast to average $50.50 per cwt for 2021, higher than last year's price by nearly 17%. Despite higher hog slaughter expectations, firm demand will support higher prices.
Broiler outlook
The broiler sector is expected to undergo a slowdown in expansion for 2021, Meyer notes. "Although production is expected to increase in the first half of the year on increased slaughter rates and heavier average bird weights, the combination of higher feed prices and weakening returns are expected to slow the rate of expansion to less than 1% for the year," he says.
Herron notes that increased production is supported by heavier bird weights in 2021, not chick placements which at the end of 2020 were below 2019 levels and initial 2021 data also shows lower chick placements.
"It's very important to note that the higher feed cost will also temper growth for bird weight increases for the year," Herron says. "Nonetheless, given the heavier bird weight expectations, broiler productions are forecast to reach 44.9 billion pounds, which is a record, and it's up approximately 1% relative to the previous year."
Broiler exports for 2021 are also forecast higher, approximately 3%, and this is basically on the premise or the spillover import demand from China and also gradual recovery in global economic conditions from the COVID-19 pandemic.
Broiler prices are forecast higher at 15.4% and average $0.85 per pound in 2021. That is on strong growth both domestically and internationally, Herron explains.
Read the full livestock and poultry outlook. 
Dairy outlook
The dairy sector faced a high degree of uncertainty in 2020 as restrictions due to COVID-19, including widespread school closures, resulted in changes in dairy marketing patterns and shifts in product demand, explains Meyer.
Nonetheless, supported by a growing cow inventory, gains in milk per cow, and an additional milking day, milk production grew by more than 2% in 2020, he says.
Dairy product prices saw significant volatility during the year as demand shifted and the market looked for direction. At the annual level, cheese prices in 2020 were higher than 2019, butter and whey prices were weaker, while nonfat dry milk prices were close to 2019 levels. With pressure from large supplies and with unsettled and weaker demand, the all milk price averaged $18.32 per cwt., $0.31 lower than 2019.
"Looking forward, in 2021 the dairy sector is expected to face higher feed prices, which when coupled with weaker all milk prices, is expected to lead to a decline in the cow herd during the year," Meyer forecasts.
USDA's Cattle Inventory report estimated that the dairy cow numbers on January 1 were 1% above 2020, but producers intended to keep about 2% fewer heifers for addition to the breeding herd. With a higher expected cow herd and continued growth in milk per cow, milk production in 2021 is expected to increase just under 2%.
"Although demand is expected to improve, the sector is entering 2021 with quite large cheese and butter stocks; coupled with additional product production from larger milk supplies, cheese and butter prices are likely to remain under pressure. Conversely, nonfat dry milk and whey prices are expected to find additional support from export markets and forecast to be higher in 2021," Meyer says.
The all milk price for 2021 is forecast to decline to $17.15 per cwt, the lowest price since 2018.
Read the full dairy outlook.
Subscribe to Our Newsletters
BEEF Magazine is the source for beef production, management and market news.
You May Also Like
---