The bull market in 2022
The bull market in 2022
Check out these steps to help get more for your buck in a bull.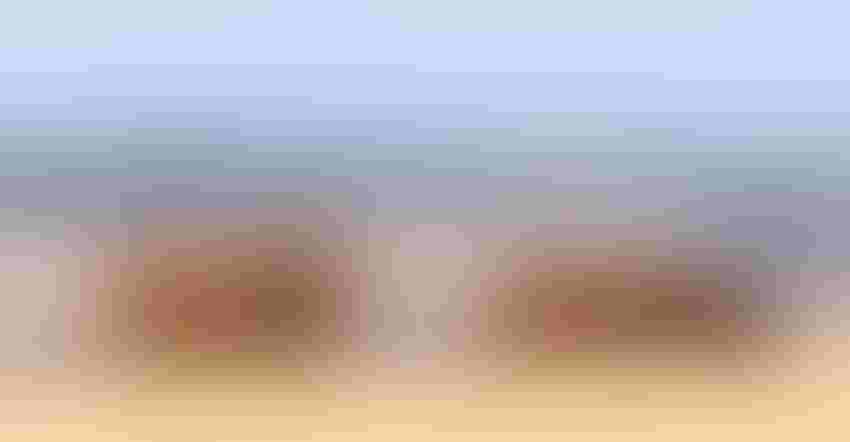 Bull sale season is officially underway across the country, and early reports certainly indicate that demand is high, regardless of the zip code of the sale. Some might say this defies logic since grain prices are high and the cattle market has been subpar for quite some time. However, there are a number of factors to consider, some follow traditional buying behavior, and others may be completely new influencers on the final gavel price of bulls this spring.

It's no secret that drought has gripped the western United States, covering a tremendous amount of real estate that's predominantly cow country. A common management technique during drought is to pull the bulls and "get them off the feed bill." The next step would be to cull the late bred or open cows if drought continued. It did. Regardless, the bull battery necessary to cover the remaining herd has to be purchased. As a result, bull demand in the drought-stricken areas of the U.S. remains strong…so far.

For producers in the Corn Belt, the market influence may be entirely different. When grain prices are strong, many producers decide to stimulate the local economy by re-investing dollars into their beef cattle enterprise. The beauty of an auction often is pinning two competitive farmers against one another for an animal they really like. Bred female offerings in the Midwest appear to be following the same trend. Recent strength in the fed cattle market may be creating some optimism moving forward, generating a couple extra head nods at bull sales locally.

The producers at a disadvantage, obviously, are those purchasing feed but not selling calves until next fall. That being said, preparing to buy your next herd sire should have the same approach, regardless of the scenario above that best describes your current situation. The following steps may help you stretch your dollar for the next bull(s) you turn out.

Step 1: Buy the bull you need instead of the bull you want.
Farmers are creatures of habit. Breaking tendencies during a bull sale can be difficult, especially if you are easily drawn to a certain "kind" of cattle. For example, a producer can acknowledge that their cows are too big, yet still end up chasing the big, stout, growth bulls in the sale. With prolonged high feed prices, these genetics can heighten the financial challenges faced by an operation.

Step 2: Embrace technology.
The number of boxes, columns and rows of information available on a bull can be daunting. Much of it can be difficult to understand, particularly as it relates to what your herd actually needs to be more profitable. Breed associations have worked hard to create simpler tools for bull buyers to use, $ Indexes. The easy thing to remember is that more money is always better, so a higher $ Index is always more desirable. However, when inputs increase, it is important to keep in mind that some $ Indexes are largely output driven. If you're willing to put in the time to learn and understand new feed efficiency technology, the cost savings can be immense. There's Dry Matter Intake (DMI), Residual Average Daily Gain (RADG), Residual Feed Intake (RFI), Feed Conversion, Feed Conversion Ratio, Cost of Gain, and just plain old Feed Efficiency…among others. Some are in EPD form, some may be just an actual measure from the bull on test. Try your best to understand what number(s) is under your nose, and how to use it to your benefit.

Step 3: Focus.
A bull sale that advertises a lot of feedlot performance and carcass merit genetics may not be an event you should even attend…especially if your operation needs to moderate milk, decrease cow size, and concentrate on cow longevity. Likewise, the bull sale catalog that does offer what you need may not be in the stack by your easy chair. Some additional office time scrolling through online sale offerings may be warranted. At any rate, stick to the plan. More importantly, stick to the short list of bulls that meet your criteria.

Step 4: Re-budget.
I'm not even sure if that's a word, but stay with me. One of my favorite quotes is from a disgruntled producer referring to his dad when buying new genetics, "You can always buy better, but you can't spend more." Unfortunately, this sentence fits far too many producers during bull sale season. They do all the homework described above, they mark the bulls they need. They enjoy the coffee, the sale lunch, and the pie. Then they proceed to get out-bid on every bull on their list. Worse yet, they load the trailer with a bull that fit their budget…but also one that takes their cow herd backwards for the next four years. If your goal is to fix the frustrations of your operation, be prepared to pay for the "services" offered by the genetics you need.

Finally, don't be afraid to ask for help.
The seedstock producer is the place to start. He/she wants to sell you the right bull, just as bad as you want to own him. Repeat business is crucial to the longevity of a seedstock operation; satisfied customers come back for more. Also, nobody understands the dams of a set of bulls better than the person calving them. A bull can read well on paper, but understanding more about his mother can be the deciding factor on where he ranks on your short list. If you retain your own heifers, you'll be looking at this bull's daughters in production in three years. With any luck, it will be 2035 when they need replaced. This investment is important.
Source: Iowa State University, which is solely responsible for the information provided and is wholly owned by the source. Informa Business Media and all its subsidiaries are not responsible for any of the content contained in this information asset. 
 
Subscribe to Our Newsletters
BEEF Magazine is the source for beef production, management and market news.
You May Also Like
---