U.S. officials celebrate reintroduction of U.S. beef in China
U.S. officials celebrate reintroduction of U.S. beef in China
First shipment of U.S. beef to China since 2003 arrived on June 19, 2017.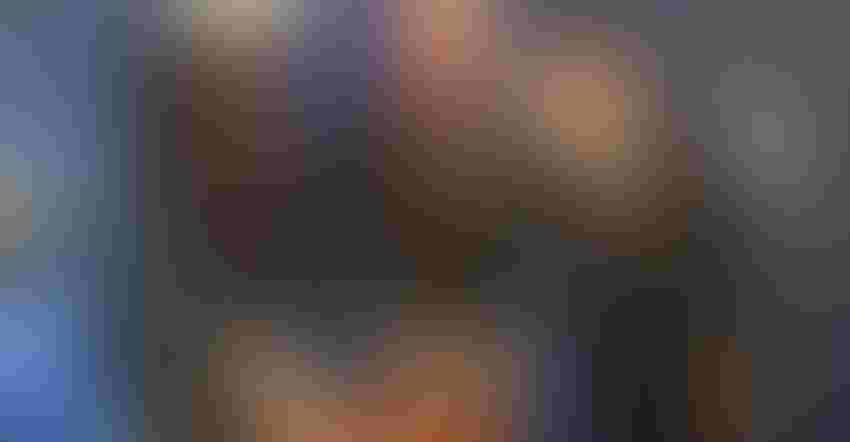 NCBA President Craig Uden, left, Secretary Sonny Perdue and Luan Richeng, vice president of COFCO Group, carve U.S. prime rib at a ceremony in China marking the reintroduction of U.S. beef in China.
U.S. Meat Export Federation
Agriculture Secretary Sonny Perdue and U.S. Ambassador to China Terry Branstad today formally marked the reintroduction of American beef products to China by slicing Nebraska prime rib in a Beijing ceremony. 
The first shipment of U.S. beef arrived in China on June 19, 2017, after a 13-year hiatus.
Related: Perdue traveling to China to celebrate reintroduction of U.S. beef
"Beef is a big deal in China and I'm convinced that when the Chinese people get a taste of U.S. beef, they're going to want more of it," said Agriculture Secretary Sonny Perdue. "This is also a good harbinger of the kind of relationship that can be developed. We hope there are other things we can cooperate on and we're going to use U.S. beef as the forerunner."
Branstad, who was confirmed as U.S. ambassador to China on May 22, said the return of U.S. beef to China is an important step forward in expanding U.S. agricultural exports.
"This is an exciting day – we've been waiting nearly 14 years for this," Branstad said. "I want to express my excitement that one of my first official duties as ambassador from the United States to the People's Republic of China is to be here with my friend, Secretary of Agriculture Sonny Perdue, to welcome American beef back to China. I want to reiterate our commitment to expanding trade and increasing American exports, and we believe beef is a great beginning for this process." 
National Cattlemen's Beef Association President Craig Uden, a cattle feeder and rancher from Elwood, Nebraska, echoed these sentiments, noting the excellent potential China holds for U.S. beef exports. 
"This is a great day for U.S. beef producers, and we look forward to supplying U.S. beef to many Chinese consumers in the years to come," Uden said.
President Trump, Commerce Secretary Wilbur Ross, Treasury Secretary Steven T. Mnuchin, officials with the U.S. Trade Representative, and Secretary Perdue announced the deal brokered with China to allow the return of U.S. beef to China in May. China has emerged as a major beef buyer in recent years, with imports increasing from $275 million in 2012 to $2.5 billion in 2016. The United States is the world's largest beef producer and in 2016 was the world's fourth-largest exporter, with global sales of more than $5.4 billion. 
Earlier in June, USDA announced the final details of a protocol to allow American companies to begin shipping beef exports to China. To date, producers and processors in Nebraska and Kansas are eligible to ship beef products to China, having followed the requirements set forth in the USDA Export Verification Program and according to USDA's Food Safety and Inspection Service export requirements. USDA maintains a public list of companies that are eligible, and will continue to update it as more companies complete the export documentation requirements.
Also on Friday, Perdue held a series of meetings with Chinese government officials, including Vice Premier Wang Yang and Minister of Agriculture Han Changfu, to discuss expanding trade between the United States and China.
Following Friday's events in Beijing, Perdue planned to travel Saturday to Shanghai where he will tour a major Chinese supermarket where other American products are offered. 
Perdue will be joined by USDA Foreign Agricultural Service representatives, Greg Ibach, director of the Nebraska Department of Agriculture, USMEF staff and U.S. beef exporters. The group will distribute samples of U.S. steak cuts and chuck eye roll to City Super customers and speak to the unique attributes of U.S. beef. Funding support for this event was also provided by the Nebraska Beef Council.
"It has been a long road back for U.S. beef in China, and USMEF is extremely pleased to see such great enthusiasm for its return," said Joel Haggard, USMEF senior vice president for the Asia Pacific. "Buyer interest is very strong, and we are excited about the opportunity to work with U.S. exporters and future customers in China to build a solid foundation for U.S. beef in this dynamic market."
Source: USDA, U.S. Meat Export Federation
Subscribe to Our Newsletters
BEEF Magazine is the source for beef production, management and market news.
You May Also Like
---