Yearling Prices Continue Higher, And Calves Lower
Yearling Prices Continue Higher, And Calves Lower
Declining corn prices and tighter cattle numbers continue driving yearling feeder cattle prices higher.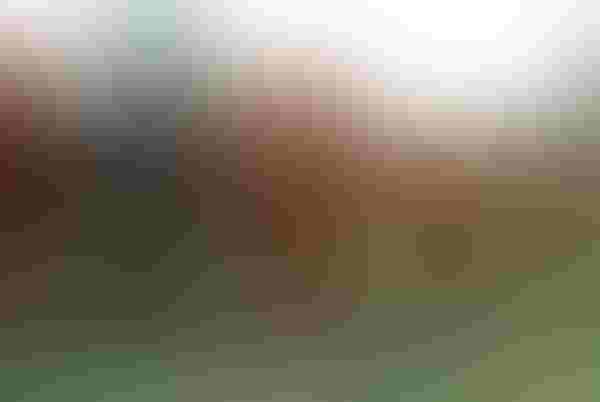 Demand for a dwindling supply of yearling cattle continued strong last week at prices steady to $2 higher, with most of the advance in the Southern Plains, according to the Agricultural Marketing Service (AMS).
"Recent competition from a large influx of farmer-feeders to the north has left more empty pens than normal in the corporate feedyards," AMS analysts say.
Calves, on the other hand, traded weak to $5 lower, with the full decline in the Southeast. According to the AMS folks, the widest price spread currently is easily $30/cwt. between thin and green old-crop yearlings and same-weight fleshy, unweaned bawlers.
"The sudden onset of autumn and the accompanying field work has taken many farmers out of the stocker and feeder markets," AMS analysts say. "Southern Plains wheat growers are busy planting next year's crop and don't have the available time and manpower it takes to care for newly purchased calf arrivals. However, the wheat pasture outlook is spectacular and calf buyers are sure to be armed with 'go get them' orders as soon as the tractors are parked and the horizon starts to turn green. Experienced cattle buyers know not to bother grain farmers when they're busy farming, but the amount of corn left over after the contracts are filled will dictate heavy feeder demand for the rest of the year."
Lower corn prices may provide incentive for feedlots to place some cattle at lighter weights, too.
"Anticipation of significantly cheaper corn, and the lower feedlot cost of gain that it implies, is well reflected in the current prices of heavy feeder cattle," said Derrell Peel, Oklahoma State University Extension livestock marketing specialist, in his marketing comments last week. While feedlot competition for tight feeder supplies may drive feeder prices higher, it will be to the detriment of feedlot margins unless fed cattle prices move higher than currently reflected in Live Cattle futures…"
Enjoy what you are reading? Subscribe now to Cow-Calf Weekly for the latest industry updates every Friday!
 Cash fed cattle finally did gain $1 in late week trade at $124/cwt. in the Southern Plains. Week-to-week, Live Cattle and Feeder Cattle futures edged slightly higher and should find support from Friday's Cattle on Feed report.
According to Peel, current expectations call for a market-average corn price of $4-$5/bu.
"This translates into a feedlot cost of gain of $0.80 -$0.90/lb. as feedlots are able to use more and more new-crop corn in the coming weeks," Peel explains. "The value of stocker gain at current market prices is in the range of $1.10-$1.15/lb. The stocker value of gain is a reflection of the feedlot cost of gain, which means that the value of gain will likely decrease some in the coming weeks. This will be accomplished in the market with higher prices for lightweight stockers relative to heavyweight feeders. Of course, it depends on exactly what the corn price is, and also on winter grazing conditions and the ability of stocker producers to respond to these market signals. There is, for example, potential for 550-600-lb. steer prices to increase roughly another $5/cwt., relative to the current price level for 800-lb. steers, before the expected corn price is fully reflected in stocker prices."
You might also like:
A Time Capsule Of 50 Years Of BEEF Magazine Coverage
8 Surprising Factors That Impact Auction Prices For Beef Calves
It's Not Voodoo! Veterinary Acupuncture Can Be A Helpful Tool For Beef Producers
Temple Grandin Explains Animal Welfare Problems With Beta-Agonists
Rebuilding Your Herd, At What Cost?
Subscribe to Our Newsletters
BEEF Magazine is the source for beef production, management and market news.
You May Also Like
---