Young farmers use Wagyu to beef up business
Young farmers use Wagyu to beef up business
Whether purebred or crossbred, Japanese beef cattle are finding their place on U.S. farms.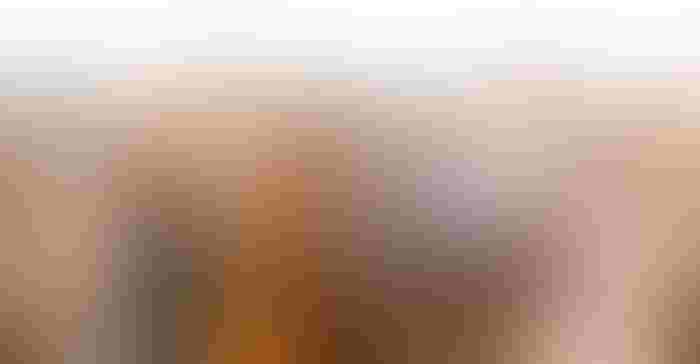 Whether out at a restaurant or around the family dining room table, Americans continue to look for a great eating experience that features beef. This sophisticated palate offers a unique opportunity for young farmers to get into the beef industry by raising and selling their own products direct to customers.
One niche that is gaining interest centers around Wagyu. This Japanese beef cattle breed was originally used as draft animals in agriculture. Its genetics led to more intramuscular fat cells or marbling, which in today's restaurant and consumer market continues to garner higher prices.
Two Missouri farm families took a chance on this emerging beef business and introduced Wagyu into their operation. However, the young farmers chose two different production paths.
The purebred experience
In 2016, Tim and Kalise Lischwe founded the Hiroshi Ranch in Kaiser, Mo., where they specialize in raising full-blood Wagyu cattle. The couple started with only 25 females and one bull. Six years later, the ranch has more than 200 head in its spring- and fall-calving herd.
Cattle at Hiroshi Ranch have access to unlimited grass, grain and hay when needed. This combined with genetics, Kalise says, give the Wagyu its unique marbling. The diet also consists of organic cacao powder, flax seed oil and pirella oil mixed with molasses. This mixture, she explains, adds flavor to the meat, giving it a hint of chocolate taste.
It takes longer to finish the purebred Wagyu calf. "The best marbling happens after two years with this breed," Kalise says. "That is when we get that really intense marbling in our meat."
However, reaching that two-year mark can be difficult. Kalise says it is hard to keep calves alive, adding that this is where some traditional cattle breeders coming into Wagyu struggle.
"The moms aren't the best milkers," she notes, "so you have to be as dedicated as possible to bottle-feeding, just to keep those calves alive." The couple implants purebred Wagyu embryos into Angus cows, just because of their mothering ability.
The Lischwes say the extra work is worth it. Currently, they butcher only steers. Females are retained and placed back into the herd. But those steers are producing cuts of meat that garner a higher price.
Marketing the meat
Hiroshi Ranch remains flexible in marketing its products. They have an online store. "When COVID hit and people couldn't go the grocery store, we were slammed with requests for meat from across the United States," Kalise says.
But with restaurants back open, the couple has been able to sell their 100% Wagyu products once again to that space.
Kalise says it is important for buyers to know that as little as 47% Wagyu genetics can be labeled in the U.S. as Wagyu. The American Wagyu Association is pushing for change to disclose the percentage and allow only 100% Wagyu to be on the label.
"I feel like this type of labeling should be disclosed so buyers know what they are eating," she says. "Not all Wagyu is the same."
Austin and Ashley Bailey agree. The couple raise and market Wagyu-influenced beef at their farm, Bailey Beef Co., in northeast Missouri.
"Our product is Wagyu-influenced beef," Ashley says. "There are so many people out there selling online with so many different names and claims that it is a bit of a challenge for consumers to know what they are really getting."
Amp up commercial herd
In 2017, the Baileys moved to Ralls County and starting their own Angus-Charolais commercial herd. Realizing they did not have a big enough cow herd or pasture footprint to be a large commercial cattle producer, Ashley says, they had to add value to their operation.
"In 2019, we introduced the Wagyu genetics by purchasing two bulls," she explains.
"We also purchased some bred heifers," Austin adds. "We wanted to get into delivering on Wagyu beef a little quicker."
Their first Wagyu-influenced calves hit the ground that year. "They were quarter-blood Wagyu babies that turned out well for us," Austin says. "There was a significant enough difference from our conventional steers that we went full on into Wagyu crosses that started breeding more cows."
The Baileys agree with the Lischwes that raising Wagyu calves takes a little more time to finish out. So, they are working on the right mix of Wagyu genetics in the cattle to produce quality while not delaying profitability.
Search for balance
The couple backgrounds calves on grass to 800-900 pounds and finishes them on grain. After a little on-farm experiment, the Baileys found that the one-eighth-blood Wagyu take about a month longer to finish than traditional steers. So, it increases costs due to extra time on feed.
But when marketing Wagyu-influenced beef, Ashley knows it comes down to tastes. So, does one-quarter or one-eighth make a difference?
"We feel you can still taste the difference with that one-eighth blood," she says. "Beef producers have tried it and given us compliments. … That is when you know you have a premium product."
Still, the young farmers are working toward a one-quarter-blood Wagyu-influenced end product.
"It's a give and take," Austin says. "Ultimately, we want to bring a quality product at a price point that is acceptable for most families, and we feel like adding a little bit of Wagyu gives them an even better taste and tenderness that that they can enjoy."
Building a customer base
The Baileys sell primarily through Facebook and at a few local farmers markets. They are also setting up a farm website. Still, Ashley says, most of their marketing is done by word of mouth.
"People try our product and like it," she notes. "And now customers are glad they can purchase something local. They want to know where their beef is coming from."
The Baileys found that sometimes it is the "little something extra" that motivates customers to buy Wagyu-influenced beef. The couple introduced macaroni and cheese, Wagyu-influenced beef burnt ends in a waffle cone during a farmers market.
"It was sweet, salty and savory," Ashley says. "It went over really well. It is about showing our customers how you can use our products in everyday meals or fun ones."
For both the Bailey and Lischwe families, adding Wagyu to their cattle operation created a niche in the beef business — one that allows them to stay on the farm for generations to come.
Subscribe to Our Newsletters
BEEF Magazine is the source for beef production, management and market news.
You May Also Like
---