How to write the right cow-calf nutrition plan
How to write the right cow-calf nutrition plan
Will you have enough forage to meet cattle nutrition requirements next winter? Calculate and prepare now before you face a shortage of hay in the future.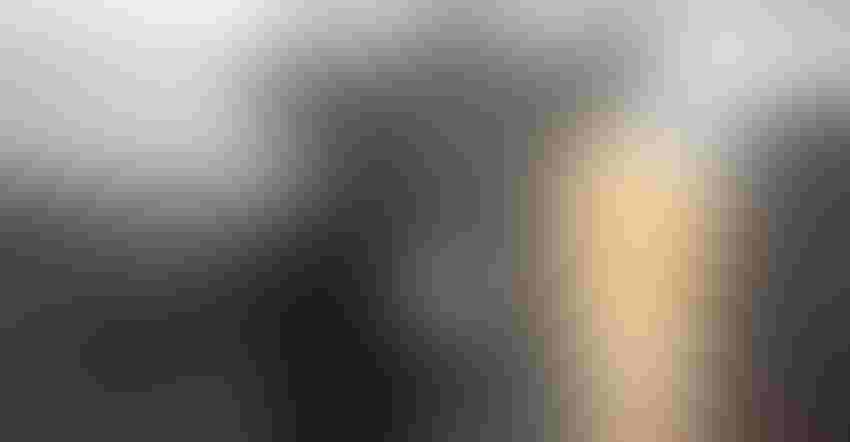 AT THE HAY FEEDER: When it comes to developing the right nutrition plan for your herd, consider cattle requirements for body weight maintenance, forage inventory and nutrient costs.
Sierra Day
Like it or not, beef producers often must adapt to market fluctuations and weather variations such as drought, long winters and late springs. Sometimes herd nutrition suffers when producers don't prepare for these potential changes. But you can determine the long-term goal of your herd and use nutritional concepts to help your nutrition plan withstand unforeseen circumstances.
That's advice Anna Taylor and Wesley Moore, beef nutritionists at Cargill Animal Nutrition, shared with producers during Cattlemen's College at the 2022 National Cattlemen's Beef Association convention. Their discussion focused on helping producers create a cow-calf nutrition plan for the winter.
"One thing we do know is there is always change," Taylor said. "Be proactive when it comes to developing nutritional plans. That's going to be 10 times easier than being reactive and trying to make adjustments when you're in the thick of things."
As you create a dynamic nutritional plan, have a long-term vision for your herd, whether it's growth, diversity or expansion, she explained. Then, consider short-term application of variables such as feed ingredients and infrastructure improvements, which may change each year.
Plus, use sound nutritional principles such as cattle requirements, current resources and nutrient costs to guide your annual nutrition plan, Taylor said.
Determine what you have
First and foremost, producers should have a grasp on the number of cattle they will feed and feed resources available, Moore said.
Count cattle on feed. Inventory is more than the number of cows on feed, he said. Producers should also think about what those cows weigh to understand the pounds of feedstuffs required to maintain body weight. And production stage matters, too. For example, a 1,300-pound lactating cow has a dry matter intake of 32 pounds per day and her calf has a DMI of 7 pounds per day. In comparison, a 1,300-pound cow in the third trimester only has a DMI of 29 pounds per day.
Match cow to environment. Taylor reminded producers to think about whether cows, and their production cycles, match their environment. If you live in North Dakota, fall calving doesn't work well because cows are in peak lactation and higher nutritional requirements in colder months such as December. And an 1,800-pound cow may not fit best in a New Mexico environment.
Calculate forage inventory. Most producers know how many bales of hay they have on hand, Moore noted. But cows consume forage in pounds of dry matter, not in number of bales. Bale size and density varies between operations. Take the time to determine the average weight of your hay bales, if you can. This will help solidify a more accurate forage inventory.
Also consider how much harvested forage will be left due to dry matter loss that occurs during storage. When round bales are outside, uncovered and in contact with the soil, there's 16% to 18% dry matter loss. If bales are outside and uncovered but have no soil contact, there's only 12% dry matter loss. And if you store hay in a barn, you can expect 2% to 4% dry matter loss.
Verify forage quality. Moore also reminded producers to ensure forage will meet cows' dietary needs in terms of nutrients such as protein, energy and minerals. On average, a forage analysis on a bale of hay only costs $12.
Adjust accordingly
Once you determine inventory, calculate how much forage is required for your herd and if ends will meet, Taylor said. Plan for an average year, like when your herd may need a mineral supplement or when you turn them out to pasture. But establish how you will react if scenarios such as an early winter or late spring increase the number of days cattle will need to be fed.
On average, beef cows require 2% of body weight in DMI per day, she added. So, take the average herd weight and multiply by 2% to calculate DMI per cow for a day. Then, multiple the result by the number of winter days to find how much hay you will need for one cow.
If you don't have enough forage to meet cattle requirements, or unforeseen circumstances extend the feeding period, get creative with how you can make the situation work, Taylor said.
Stretch inadequate inventory. Moore suggested limit feeding to make current hay inventory last longer. Limit feeding is almost always the most cost effective when producers face a shortage of hay. Plus, this feeding method targets optimal nutrition due to the focus of meeting nutritional requirements daily while reducing feed waste. On the flip side, limit feeding may require infrastructure such as bunks and a total mixed ration mixer or forage processor that some cow-calf operations don't have.
Purchase off-farm nutrients. Of course, producers can buy forage that fits the existing feeding infrastructure to replace inadequate inventory, Moore said. But purchased feeds such as byproducts, commercial feed and forage extenders can also fill the inventory gap. When making off-farm nutrient purchases, consider whether the nutrient and quality are worth the cost.
Maximize efficiency. Way ahead of winter, evaluate practices such as time of hay harvest to ensure optimal nutrient content and proper hay storage to reduce dry matter loss, Moore added. Also, improve equipment to be more efficient. Open hay feeders result in nearly 20% waste, while bottom sheet feeders and cone feeders result in 15% and 10% waste, respectively.
Plus, keep in mind that technology can maximize productivity within the rumen, he said. The use of ionophores improves forage utilization up to 10%, meaning cattle can get 10% more out of the same amount of feed.
In the end, strive to recognize the need to make ends meet with forage inventory as soon as you can, Moore said. It's easier to reduce 10% of forage use every day than reduce 50% in the last 60 days of feeding.
Last resort
Sometimes, producers just can't make the current forage inventory work to meet cattle nutrition requirements or budget for additional feedstuff and forage purchases, Taylor said. Unfortunately, this means a tough decision for cattle enthusiasts — reduce the number of mouths on feed.
How? Cull open cows and old cows that may present problems in a few years. Turn to production records if you need help with this decision, she said. Consider weaning calves early to reduce forage intake.
And don't be afraid to ask for help.
"Find a good nutritionist who can help you, because you don't have time to do it all," Taylor said. "This can be the difference of being profitable or going under."
Subscribe to Our Newsletters
BEEF Magazine is the source for beef production, management and market news.
You May Also Like
---