Limit-fed, high-energy stocker receiving diets require fasts starts, quick steps
Limit-fed, high-energy stocker receiving diets require fasts starts, quick steps
Limit-fed, high-energy receiving diets offer multiple benefits to growing stocker cattle.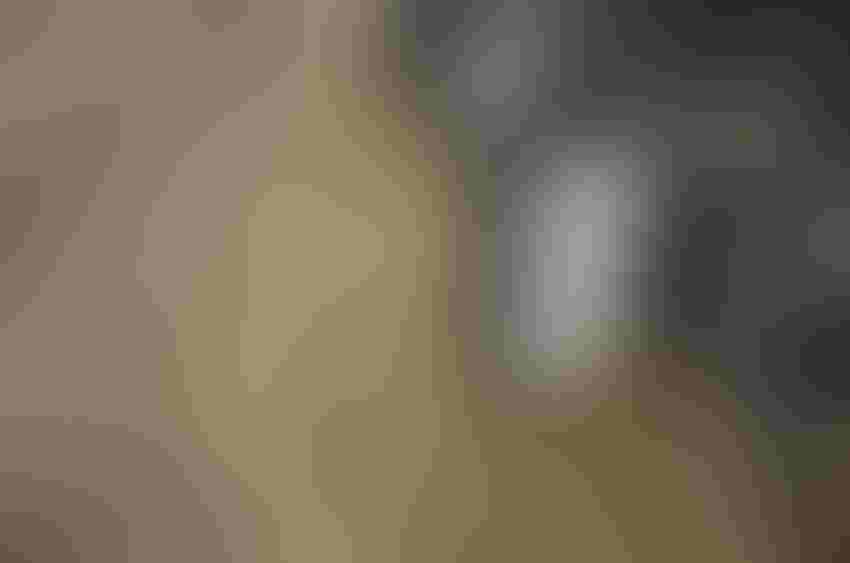 Contrary to long-standing, popular dogma, you can start calves on a high-energy, limit-fed diet without compromising cattle health.
At least you can when swapping out some of the energy derived from fermentable carbohydrates in the diet (starch, primarily) with energy from fermentable fiber, such as that in wet corn gluten feed (WCGF), or the fermentable fiber and fat in wet distillers grains with solubles (WDGS).
That's the bottom line of four progressive, nonsponsored research trials conducted at Kansas State University's (KSU) Beef Stocker Unit (BSU).
Think here in terms of a diet that provides 60 megacalories (Mcals) of net energy for gain (NEG) per 100 pounds of dry matter, fed at 2.0 to 2.5% of body weight.
The notion of cattle gaining more as dietary energy increases is nothing new, of course. It's the idea of starting cattle on high-energy diets that makes some folks squirm.
Seminal research conducted 20 to 30 years ago suggested that morbidity increased with energy levels in receiving diets, stemming from acidosis and other metabolic disorders. That's when corn was the main energy source in cattle-receiving diets, and ad libitum feeding was the most common strategy.
"Cereal grains are high in fermentable carbohydrates, including starch," explains Tyler Spore, who led the KSU research. He is currently a doctoral student at the University of Nebraska. "Subacute and acute ruminal acidosis are most often caused by excessive fermentation of readily fermentable carbohydrates, the most common being starch."
So, the understandable avoidance of much starch in receiving diets and the promise of fermentable fiber.
"People sometimes confuse starch with energy," says Sean "Monty" Montgomery, a consulting nutritionist with Corn Belt Livestock Services, who is based in Papillion, Neb. "We can maintain a high-energy diet at receiving without risking starch overload by replacing some of the starch with energy from the fermentable fiber in wet corn gluten feed, or fermentable fiber and fat in wet distillers grains with solubles."
Montgomery and one of his clients, in particular, figured that out when grain prices skyrocketed in 2008, and they were looking for a way to cheapen diet costs. They found their way with science and common sense, but there was little, if any, published research about using byproducts in high-energy receiving diets.
Montgomery also happens to be a KSU adjunct professor who served on Spore's advisory committee. Dale Blasi, KSU Extension beef stocker specialist, was Spore's major professor and also served on Montgomery's doctoral committee.
Energy boosts feed efficiency
The first KSU trial set out to quantify and compare the performance of starting high-risk calves on a high-roughage, low-energy diet, fed ad libitum, versus a high-energy, low-roughage diet that provided most of the energy via fermentable fiber — WCGF, specifically.
For perspective, Spore explains that common receiving diets in the industry offer 48 to 52 Mcals of net energy for gain.
This study included 370 high-risk, crossbred heifers assembled from sale barns in Tennessee and Alabama and hauled to the BSU. There were four treatments: 45, 50, 55 and 60 Mcals net energy for gain per 100 pounds of feed.
The 45 Mcals treatment, fed ad libitum, provided the baseline to determine the amount of feed offered in the limit-fed diets. The three treatment groups were fed at decreasing levels relative to the baseline, from 95% for the 50-Mcal group to 85% for the group receiving 60 Mcals.
Compared to calves fed ad libitum with 45 Mcals net energy for gain, those fed with 60 Mcals were significantly more efficient during a 55-day feeding period, gaining 0.14 pounds per day more on 1.26 pounds less feed per pound of gain.
"The increase in efficiency was linear between treatment groups," Spore says.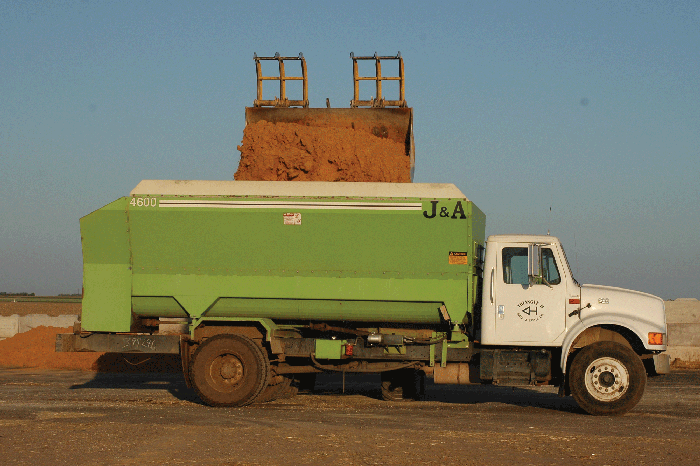 Plus, Spore emphasizes, there was no increased morbidity or mortality associated with the higher energy levels.
"Results from this trial indicate that limit feeding and the increased energy in the limit-fed diets does not affect stress or immune function in healthy or sick animals, when compared to lower-energy, high-roughage diets fed for ad libitum intake," Spore explains.
For reference, the 60 Mcals ration used here and in most of the studies that follow included, on a dry matter basis: 40% WCGF (Sweet Bran), 38.8% dry-rolled corn, 8.2% low-energy supplement (10% crude protein, or CP), 6.5% alfalfa hay and 6.5% prairie hay.
The sweet spot
"No one is going to feed one group a high-roughage, low-energy diet in order to determine how much to feed another group receiving a high-energy diet," Spore explains. "So, in the next trial we wanted to see if we could achieve similar results by feeding as a percentage of body weight."
This trial included 370 single-source Angus-Brahman cross heifers from central Florida that were shipped to the BSU. One group received a high-roughage, low-energy diet (50 Mcal net energy for gain per 100 pounds of dry matter), offered at 2.4% of body weight. The other group received the 60 Mcal diet at 2.2% of body weight. The performance was the same.
"Limit-feeding a diet formulated to supply 60 Mcals net energy for gain at 2.2% of body weight in order to target similar average daily gain is a more efficient feeding strategy than offering a higher-roughage, lower-energy diet at 2.4% of body weight," Spore says. Plus, he explains, there was no stepping up to the diet. Calves received long-stemmed hay when they arrived, rested overnight and began on the diet the next day.
That's not saying calves will eat 2.2% of their body weight immediately. In his experience, Montgomery says it will likely be 1.0% to 1.1% for the first few days or so. But the fact is that calves are ingesting more nutrients quicker.
"We struggle with intake on calves that are weaned on diesel smoke," Montgomery explains. "You're often trying to meet their nutrient requirements on half the intake when they first arrive. With limit feeding, we're restricting intake, not nutrients."
Target gain with the same ration
Next came a look at feeding the same 60-Mcal diet at increasing levels of controlled intake in order to determine if the same diet could be used to target different levels of gain.
The BSU received 400 fancy black baldy heifers from Montana for the trial. Treatments consisted of the 60-Mcal diet offered daily at 1.9%, 2.2%, 2.5% or 2.8% of body weight on a dry matter basis.
As expected, average daily gain increased with the overall increased energy intake as more feed was offered (see Figure 1 on Page 17).
What was unexpected, Spore says, is that there was no change in feed efficiency among treatment groups. That means you can achieve various levels of gain by adjusting the amount of feed, using the same diet.
"We saw linear gain and flat efficiency," Spore explains. "So, you don't have to worry about giving up efficiency if you offer more feed. You can project how much you want them to gain and adjust how much you feed. We think 2.25% would work for most people."
"Around 2.2% of body weight seems to be the sweet spot," Montgomery says. "More than that, and the calves can get fleshy. Less than that, and they can get too hungry."
Calves receiving limit-fed diets in these trials were fed once each day.
Along with decreasing feeding time and cost, Spore explains limit feeding also makes it easier to identify sick animals earlier and more accurately. "In these trials, bunks were slick within two hours of feeding. Cattle are hungry the next morning, so you know there's a good chance cattle are sick if they aren't waiting at the bunk."
As well, Montgomery says, "With limit feeding, we're training cattle to eat as a single group. It helps to decrease diet sorting." When feed is always in front of cattle, he explains, some will select different portions of the diet. Along with the wastage associated with ad libitum feeding, he explains that diet sorting means different groups in the same pen are getting different diets.
"With limit feeding, every bite they get is high-calorie and consistent," Blasi says. "When you limit feed and have a slick bunk, there's no doubt that what you're feeding is going into the cattle, including minerals and feed additives."
In the case of these trials, Spore also emphasizes the convenience of feeding a single diet composed of five ingredients.
Or in the case of a feedlot, Montgomery explains, it means dealing with only two diets — a starter and a finisher. He adds that stepping calves up to full feed is easier when they start on the high-energy ration.
Plus, Montgomery says, "You're getting more gain on less feed. That means hauling fewer loads. With one diet, you don't have to haul partial loads."
Blasi adds that feeding a single diet minimizes the potential for error that comes with manipulating transition diets. "With this, you're limit-feeding, but you're also program-feeding using the same diet," he says.
Wet distillers grains work, too
Remember, all of these trials used WCGF in the diet, an ingredient less accessible to many producers than distillers grains. So, Spore and his crew conducted one more trial, comparing WCGF in the diets with WDGS.
Three hundred-twenty single-source steers were delivered to the BSU from Texas and New Mexico. There were four treatment groups — two receiving the ration with WCGF and two getting the ration with WDGS. For each byproduct, half of the diets included whole-shelled corn; the other half included dry-rolled corn. All diets were formulated to provide 60 Mcals of net energy for gain per 100 pounds of dry matter, and contain 40% of their respective byproduct.
Each group was fed at 2.0% of body weight on a dry matter basis, once daily, targeting 2 pounds of average daily gain across 70 days. Spore notes this was a maintenance diet used to prepare calves for turnout on Flint Hills, Kan., pasture.
Bottom line: Gain and efficiency of gain were similar across all groups.
"The idea of setting them up to gain on pasture by putting some stretch and frame on them first makes a lot of sense," Blasi says.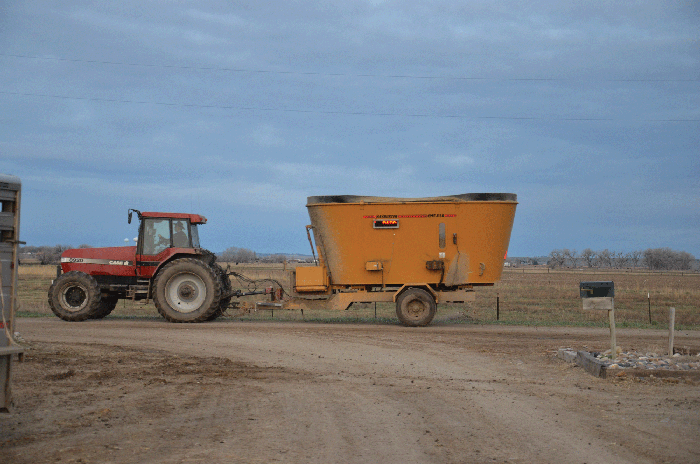 Montgomery points out that the low-roughage nature of the diet means there's less hay to store, handle, grind and waste.
Spore adds that the low-roughage diet also reduces manure production significantly.
Of course, starting calves on a limit-fed, high-energy diet like the one described here won't fit every situation.
"You have to know the weight of the calf, understand the dry matter you're feeding and how moisture content relates to dry matter intake," Montgomery says. "You need to understand feeding behavior and bunk management. Cattle are creatures of habit. If we limit feed, we need to be cognizant of getting them fed on time every day."
Subscribe to Our Newsletters
BEEF Magazine is the source for beef production, management and market news.
You May Also Like
---