Sporadic cow supplementation is better than no supplementation
Sporadic cow supplementation is better than no supplementation
A cow's performance may not be quite as good as with more protein provided more frequently, but the performance may be acceptable.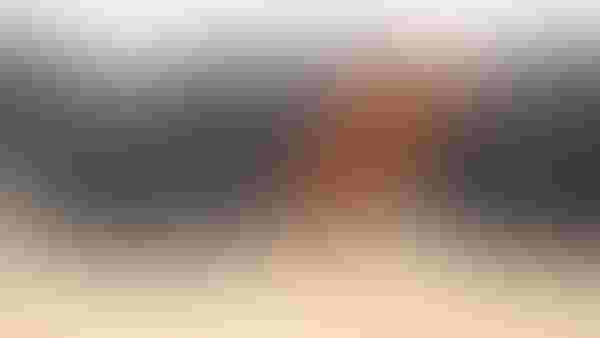 David Bohnert, Oregon State University (OSU), says research at OSU, Kansas State University and Texas A&M University indicates cattle can be supplemented infrequently, as opposed to every day, with the cow still utilizing low-quality forage beneficially.
"It means we can put out tubs or blocks periodically, or even feed alfalfa or distillers grains sporadically. Research shows that feeding alfalfa every other day, or even just twice a week, is adequate to meet the cows' protein requirements," he says.    
Bohnert says the answer may rest in old-time management philosophies. "Some people were feeding alfalfa once or twice a week, and it worked. Some of the methods currently being studied are things producers have known and done for a long time," he says.
There's no absolute right or wrong way to supplement pregnant cows, he adds. It depends on the individual situation, including the protein level in available forage, and the rancher's ability to get protein to the cattle. Providing protein sporadically is better than not supplementing at all, because rumen microbes use protein to break down and digest more of the low-quality forage.
"We've looked at this from a physiological standpoint," Bohnert says. "When we supplement infrequently we still get the benefit."
Bohnert says cattle have adapted over time to be able to conserve nitrogen. Thus, cattle on a low-quality diet alter how they use nitrogen.
"Crude protein is assumed to contain 16% nitrogen. We've shown that you can decrease the amount of protein provided per cow when supplementing infrequently, and those animals can use it more effectively than a larger amount provided on a more consistent basis," Bohnert says.
A cow's performance may not be quite as good as with more protein provided more frequently, but the performance may be acceptable, based on management and economic objectives. "Basically, with ruminants consuming protein-deficient diets, you're improving their efficiency of nitrogen use by extending the supplementation interval," he explains.
"If ruminants are on a good-quality diet all the time, or are supplemented daily, they have a 'normal' efficiency of nitrogen use. By contrast, if they're consuming a low-quality, nitrogen-deficient diet, data indicates they're able to conserve nitrogen, decreasing the amount of nitrogen excreted in urine," Bohnert adds.
At the same time, the amount recycled back to the rumen for use by the animal is increased, he says. "By altering the amount and frequency of supplementation, we can change how cattle use supplemental protein, and take advantage of how that animal can function with the nitrogen she is getting."
That means cattle can be strategically supplemented to meet management objectives. "We can look at supplementation intervals, type of supplement, etc. to determine how to best utilize the resources we have – to get to an objective that we want," he says.
Heather Smith Thomas is a rancher and freelancer based in Salmon, ID.
You might also like:
Breathtaking photos of winter on the ranch
The cattle market found its bottom; where to from here?
4 ways to raise better beef in 2015
15 photos of cowboy hats in action
8 tips for being a better ranch manager in 2015
Top 20 beef industry events of 2014
Subscribe to Our Newsletters
BEEF Magazine is the source for beef production, management and market news.
You May Also Like
---