Veterinary-led research, management has perfect feeder calf as end goal
Veterinary-led research, management has perfect feeder calf as end goal
Bovine veterinarian takes on management and research role at the J.R. Simplot Company.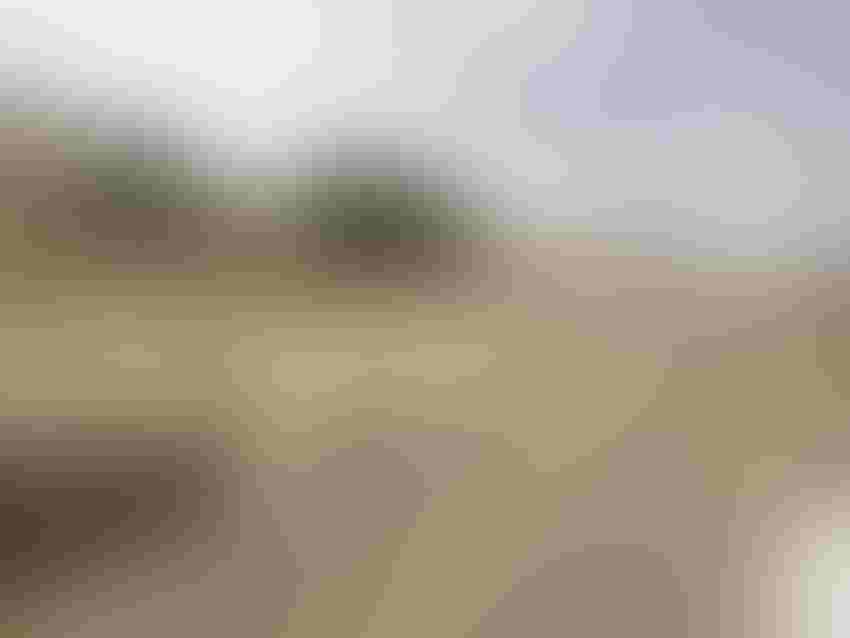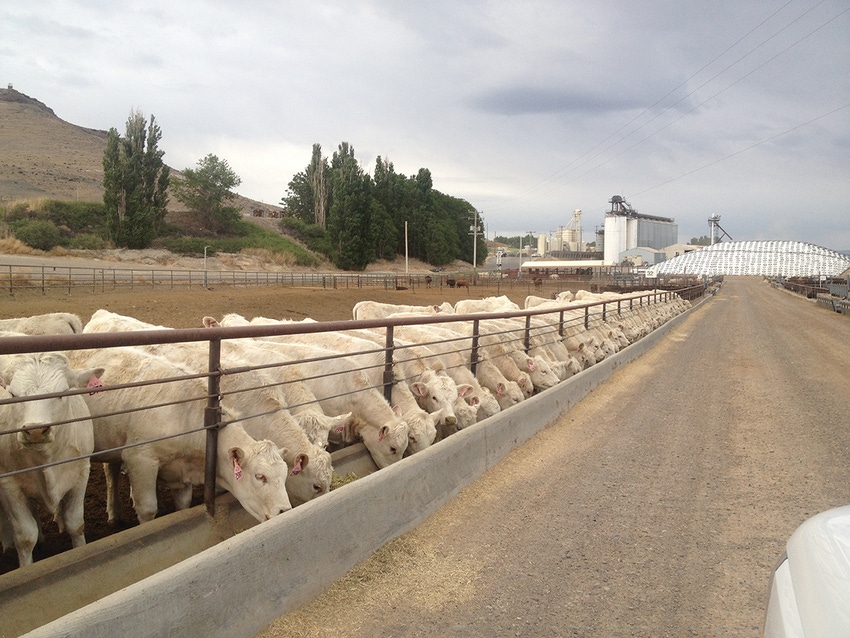 According to the USDA-Economic Research Service, 550 pound steers sold in November 2014 for $302.66 per hundredweight; in October, 800-pound steers sold for $238.80. Yet, Randall Raymond, DVM, at Simplot Land and Livestock, is working hard to create an even more valuable, profitable feeder calf. How? He is using a systems-based approach to select for economically important traits and anticipate traits that will be economically relevant in the future.
Dr. Raymond is the director of research and veterinary services for Simplot. He handles all the animal health concerns for two large commercial feedyards (200,000 head feeding capacity) and 15 commercial cow-calf ranches, manages the genetics program for the company's registered Charolais herd (450 head) and directs the internal and sponsored research programs.
With feedlots in Grand View, Idaho, and Pasco, Wash., Simplot positions itself in the top ten feedlots in the country for size.
Systems management
Simplot's livestock management scheme is basically a limb on a tall, tall agriculture tree. There are joints on the limb where branches head different directions, but overall, the limb's purpose is growth toward the ideal feeder calf.
Seedstock: The first branch is the seedstock program. Simplot's own registered Charolais bulls are bred, raised and transferred to the cow-calf system as commercial herd sires. Purebred Charolais heifers re-enter the seedstock herd.
Recently, the seedstock enterprise has expanded enough to offer a calf buy-back program. Charolais bulls can be purchased or leased, at a set price, by commercial producers. Those bulls' offspring are then under contract to be fed to finish by Simplot.
"I see that program expanding in the next few years. We're just now getting to the point where we can supply bulls and expand into additional operations," says Dr. Raymond. Simplot wants to work with "producers that have an interest in feeding their calves, that have an interest in seeing the benefits of increasing the value of their feeder calves."
Commercial cow-calf: Simplot's 30,000 Angus/Hereford mama cows raise Charolais-cross feeder calves on Idaho range before the calves are shipped to either the Grand View or Pasco feedyard. Black baldy mother cows are ideal. "We want our cow herd to be moderate and versatile. We're trying to capture as much hybrid vigor or heterosis as we can manage," says Dr. Raymond. The Angus and Hereford influence make cows that fit the environment and add carcass value to the Charolais-cross calves, he adds.
Feedyard: In addition to feeding its own commercial calves, Simplot offers feeding options for outside beef producers, as well. Ranchers are given their choice of retained ownership, partnering 50/50 with Simplot on the cattle, or selling their calves to the feedyard based on the fat cattle market.
"Grand View is probably one of the best locations in the country to feed cattle," says Dr. Raymond. The desert region gets six to eight inches of precipitation per year and has a long growing season. The temperature ranges from 21 degrees Fahrenheit to 91 degrees Fahrenheit without much humidity.
"Pasco is right next door to the Tyson packing plant, which adds a tremendous advantage to moving the fat cattle to harvest without any trucking costs," he explains.
Development: Simplot develops its own seedstock bulls and heifers and provides custom development for outside beef seedstock enterprises, as well as dairy heifer development.
Research: Thanks to its significant investment in the GrowSafe Feed Intake and Behavior Monitoring System (900 head capacity), Simplot conducts its own proprietary research and research for other private sectors of the beef industry. The GrowSafe system is an individual feeding system. It uses radio frequency identification (RFID) ear tags and feed bunks set on scales to capture feed intake, time in the bunk, bite size and several bunk behavior traits.
The GrowSafe system is a useful tool for seedstock selection. Simplot sends its own seedstock cattle through GrowSafe, as well as their customers' Angus and Hereford seedstock. Dr. Raymond says sire selection is heavily influenced by the feed intake data GrowSafe gathers.
Feeding profitable cattle
"We entered the seedstock business to try and improve the feed performance of our [commercial] cattle," Dr. Raymond clarifies. "At the end of the day, we are cattle feeders and we want to feed profitable cattle, so we're using that program to try improve the feeding quality of our own cattle."
All of the company's Charolais-cross calves enter the GrowSafe system and some Angus/Hereford-cross calves do, too. Thanks to the systems-based approach, Dr. Raymond tracks his calves every step of the way.
"Our [cow-calf] ranches maintain ownership through the entire system, so we are able to track those calves by ranch origin all the way to the packing house," he says.
The research entity really has two arms, explains Dr. Raymond.
Commercial research is conducted for sponsors like pharmaceutical companies, feed additive companies, seedstock customers, breed associations and artificial insemination companies.

70+ photos showcasing all types of cattle nutrition
Readers share their favorite photos of cattle grazing or steers bellied up to the feedbunk. See reader favorite nutrition photos here.
"We test a lot of market-ready products or products that are already in the market and identify how to use them best. That data is owned by those individuals who approached us," states Dr. Raymond.
Some of the data is published in tech bulletins; other data is kept for the sponsor's internal records.
Simplot's proprietary research is used to differentiate the business from competitors, to test new management strategies or to try the latest technology, says Dr. Raymond.
He says a by-product of all this research is that the company learns what products and strategies work in their system. If it works economically in the system, it's incorporated.
"A lot of research that gets done at universities is small and it is small because those facilities are able to handle small numbers. Cattle are expensive as are changes in management systems necessary to execute well-designed trials," he explains.
"I think it's important to make sure that we recognize that there is a lot of good work being done by universities in very small numbers," he says.
"The advantage that we have on our operation is we have a lot of cows. We can do some projects with a lot of power, with a lot of numbers. We go try that (research) out in 'the real world' to see if we can still pick up enough differences to make economically sound decisions in a real production environment."
Navigating the system
Each branch of the livestock limb (the seedstock, the cow-calf and the GrowSafe system) plays a part in producing the most profitable feeder calf. Dr. Raymond explains the "research focus (for Simplot) is trying to identify what traits are going to be important in the future, and how can we create cattle that have the traits that are going to be profitable?"
He foresees feed efficiency as the top trait for the market because it affects every producer. He says other important traits will probably be consumer driven, so he is working to answer questions like:
"How can we make beef, in general, more healthy? How can we make it more palatable? How can we make it more desirable? How can we keep it at a reasonable cost point, so the consumer has beef as a choice?"
Thanks to Dr. Raymond's overarching role, he is well positioned to ensure progress is made in answering those questions. In addition to handling animal health protocols for the entire system, Dr. Raymond has input in management decisions.
"As a veterinarian, I do some protocol training and try and do some training with the crews on identifying sick cattle, treating sick cattle and low-stress cattle handling. I try and work with managers and employees to put into practice principles that are important," he says.
The systems-based approach enables Dr. Raymond to play a key role in every branch of the operation.
"My position gives me the opportunity to really influence some of the decisions that happen all the way from conception, and even before that, until the time those calves are feeding someone's family," Dr. Raymond states.
He recognizes that a great steak or a profitable feeder calf starts with sire selection and the dam's nutrition prior to breeding and during her pregnancy. It transitions to management of day-old calves and getting adequate immune responses to allow calves to reach their genetic potential. At the feeder level it's the presentation of nutrition, the transition between different energy levels and rations. Managing health and reducing stress is intertwined throughout the entire system.
"There are many talented people in our operation that are involved in all of that," says Dr. Raymond. "I get a chance to work with all of them and influence some of those key places where you can have huge impacts on health, huge impacts on performance."
With such a large responsibility, Dr. Raymond says he has become a better problem solver.
"A lot of the challenges we deal with in these cattle are created long before the challenge actually presents itself. For example, we know that we can expose calves or manage calves while they are in utero and that has profound impact on that calf as a feeder calf," he explains.
"You have to think about what the real issue is and go and address it. To really fix the problem it's not necessarily prescribing a different antibiotic, although, sometimes, that's really important. It's about identifying what the problem is today, and addressing the crisis, but then going back to what the root issue is and really addressing that.
"A lot of bovine practitioners don't have that luxury. Most of them understand that issues presented today were created by something a long time ago. Sometimes, it's difficult to have influence that far back in the system," he adds.
In a traditionally segmented industry, Dr. Raymond has the advantage of working closely with each of Simplot Land and Livestock's branches. Essentially tying them together into one continuum that can be edited as needed for optimum performance—a system well on its way to creating a differentiated and profitable feeder calf.
You might also like:
6 Trending Headlines: 3 years, 3 million cows, PLUS: Idaho's ag-gag law gets gagged
How to prevent foot rot in cattle
21 ATV, UTV and side-by-side units for 2015
When is the best time to wean? It might be younger than you think
How to get more than a preg-check from the vet's preg-check visit
Subscribe to Our Newsletters
BEEF Magazine is the source for beef production, management and market news.
You May Also Like
---