Why adequate winter nutrition, including water, is important
Why adequate winter nutrition, including water, is important
Don't short your cows when the weather gets cold.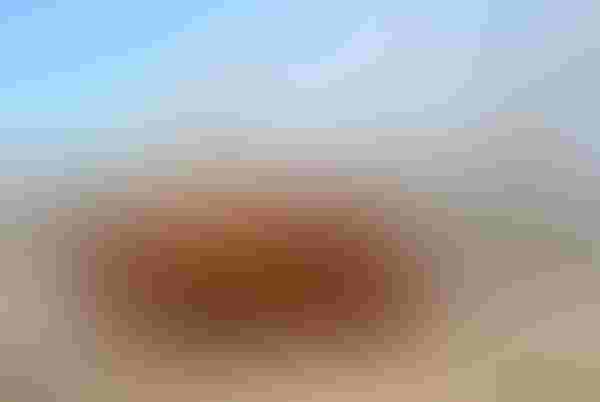 Winter is nigh, and for some, the first snows have already dusted the landscape in a prelude of what's to come. Julie Walker, South Dakota State University beef specialist, says as long as cattle stay dry, they can tolerate very cold winter temperatures.
"If the heavy winter coat is dry, they are comfortable at lower temperatures than if hair is wet. Also, they do best if they have a chance to grow a good hair coat before extremely cold weather. If we go through a normal progression into winter they can deal with it much better than when we had the blizzard in October 2013. Those cows were still in a transitional stage with short fall hair," says Walker.
"A rule of thumb we use is that for every 1 degree (F) below a cow's lower critical temperature, she requires an increase of 1% in feed to keep warm—if she has winter hair. Typically, if she has a dry coat, critical temperature is about 19 degrees F. If she has a wet coat (losing insulating quality), that critical temperature goes up to about 60 degrees Fahrenheit."
Feed intake must increase to generate enough body heat. "In the range from 23 to 41 degrees F, the increase would be 3% to 8%. If temperature is between 5 and 23 degrees, we're looking at 5% to 10% increase in feed.  If temperature is lower than 5 degrees, it would be 8% to 25% increase," says Walker.
It just depends on how cold it gets and whether or not cattle have wind protection—since wind chill effectively lowers the temperature these animals can handle. It also helps if you can provide bedding in some situations, so they are not lying on frozen ground and suffering more heat loss.

Clinton and Trump: Where they stand on ag
As the election nears, find out where the candidates stand on agriculture, including their plans, potential farm bills, trade and more. Get the details.
Having cows in adequate body condition before winter is crucial. "This helps them handle the cold much better than if they are thin, with little fat covering. The impact of cold is totally different for a cow in a body condition score 3 compared to one with a condition score 6." The additional fat not only serves as insulation but also provides energy to draw from for heat production when temperatures drop.
And, as recent research has shown, adequate winter nutrition is important for other reasons as well. "We used to just look at cow condition, but research on fetal programming suggests that periods of poor nutrition—which could be caused by poor water intake—can have adverse impacts on the developing fetus," says Trey Patterson, general manager of the Padlock Ranch, Ranchester, Wyo. "This can affect weight and future performance of calves that were in utero when their dams were experiencing periods of nutritional stress."
If cows become dehydrated, they can't get the protein and energy necessary for maintenance and pregnancy. "The fetus is primarily water, muscles and bones. It depend on the dam for all nutrients (vitamins, energy, proteins, etc.), in order to grow," says Charles Stoltenow, Extension veterinarian at North Dakota State University. "If the cow decreases feed intake because she's short on water, she will be short on all nutrients. This shortchanges the fetus for growth and also there is inadequate protein for the dam to make adequate colostrum and immunoglobulins," he explains.
We are learning more about fetal programing and importance of proper nutrients (including water) for the dam during pregnancy. "We know that at certain stages of pregnancy, if feed is limited and then we feed the cows better after that, the mammary tissue develops better, the daughters have more reproductive efficiency, etc. But that's not water restriction," he says. 
"There are many things we still need to learn about fetal programing and some of the research we are doing seeks to find those keys and unlock some mysteries. Why does it work this way, and how does it translate to producers, to help them be more efficient and better stewards of their animals?" says Stoltenow. "We want better conditions for that fetus and for that mama cow, rather than just borderline where she is struggling to maintain herself and grow a fetus."
Seven keys to ranch profitability
How to cull the right cow without keeping records
Burke Teichert's top 5 tips on bull selection
Young ranchers, listen up: 8 tips from an old-timer on how to succeed in ranching
4 tips for grazing corn stalks this fall
Head fake: September fed market fooled just about everybody
3 keys to success in family ranching business
Subscribe to Our Newsletters
BEEF Magazine is the source for beef production, management and market news.
You May Also Like
---