Battle For Grass Calves Stretches Prices Further
Battle For Grass Calves Stretches Prices Further
Although demand for calves and feeders should soften as orders are filled, AMS analysts note, "Many market watchers feel there is still some fuel left in these rockets with available supplies of feeders seasonally tightening and ample on-farm feed storage."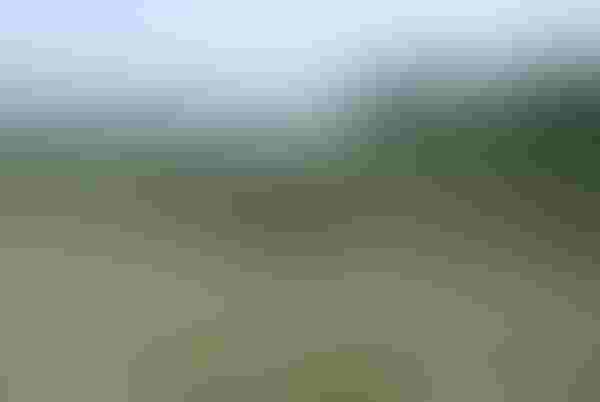 "Record-high price levels continue to be posted daily, and each time rationale draws a line in the sand, cash prices at auction cut a trench right through it," say analysts with the Agricultural Marketing Service (AMS). "First, it was 5-weight calves bringing $2/lb. and then it was 6-weight calves yielding $2/lb. This week several Midwestern sales pushed and surpassed $2/lb. for 700 lb. steers."  

Overall, feeder cattle traded $1-$4/cwt. higher and up to $8 higher near major grazing areas for thinner-fleshed stockers suitable for grass, according to AMS.

"Direct markets were very active this past week and posted the full advance on feeder cattle, despite CME cattle futures being under pressure early in the week," AMS analysts explain. "Corporate feeders are pushing the market in the country as competition in the auctions heats up and sale barn receipts are starting to dry up."

New-crop calves are starting to lose some steam though. They sold unevenly steady, especially across the lower tier of Southeastern markets. The AMS folks say this could indicate grass buyers are running out of time to get these lighter calves ready for turnout.

Sign up now for BEEF Daily and get all the latest hot topics straight to your inbox!
Although demand for calves and feeders should soften as orders are filled, AMS analysts note, "Many market watchers feel there is still some fuel left in these rockets with available supplies of feeders seasonally tightening and ample on-farm feed storage."  

Andrew P. Griffith, agricultural economist at the University of Tennessee, says in his weekly market comments, "Seasonally, prices for steer calves weighing 400-600 lbs. have a tendency to decline 5-6% from April to July, which in the current market is $10-$12/cwt. resulting in $50-$60/head less revenue. Similarly, prices for those same weight cattle tend to decline an additional 5-6% from July through November, resulting in $100-$120/head less for 400-600 lbs. calves if marketed in November relative to those marketed in March or early April. Alternatively, feeder cattle prices tend to escalate this time of year and remain strong through the middle of August before they start tapering off."

Demand for cash fed cattle softened this week as packers turned squeamish with tumbling wholesale beef values. Trade was limited with live sales $2-$4 less than the previous week at $148/cwt. in the Southern Plains and $150 up North. Dressed sales in Nebraska were $5 less than the previous week at $239-$240/cwt.

Choice boxed beef cutout value was $5.72/cwt. lower week-to-week, ending Friday at $228.74/cwt. Select was $9.97 lower week-to-week at $217.37. The Choice-Select spread increased $4.25 week-to-week to $11.37.

"Carcass values have continued to drop while the April live cattle futures price remains at a hefty discount relative to cash prices, which is all the more reason for packers to press for lower prices," Griffith explains "However, feedlot managers still feel they hold tremendous leverage due to the tight supply of market-ready fed cattle. Packers and feedlot managers may wage similar battles the next few weeks, but the packer will start to gain some leverage as seasonal fed cattle supplies increase in future weeks. The increased supply of market-ready cattle should bring some slight relief to packer margins."

Griffith also notes that increased volatility in wholesale beef prices appears to be firmly entrenched for now.

"In the first four weeks of 2014, Choice beef prices increased 18.7% before declining 12.4% the following three weeks and then rebounding 16.1% by the third week of March," Griffith explains. "Over the last two weeks, the Choice beef price declined more than 5% with little to no reason except for grilling season to slow it down."

 "Though beef demand appears to be holding strong thus far, there is considerable uncertainty about how it will hold up through the middle of the year as more of the higher wholesale beef values get passed through to retail," says Derrelll Peel, Extension livestock marketing specialist at Oklahoma State University, in his weekly market comments.

Cattle futures came under heavy pressure to end the week. Live Cattle sank sharply with the continued sell-off in the Lean Hog pit, sputtering wholesale beef values and pressure on cash sales. That and the CME Feeder Index being on top of the board helped push Feeder Cattle to a sharp decline Friday.

Feeder Cattle futures closed an average of 61¢ lower week-to-week through the front five contracts (22¢ to 80¢ lower) and 35¢ to $2.40 higher in the back three contracts.

Live Cattle futures closed an average of $3.06 lower in the front four contracts week-to-week;  an average of $1.33 lower in the next three; and then 40¢ lower and 35¢ higher at the back.

"Fed cattle prices may be at the spring peak but are expected to decrease more slowly through April and into May/June peaks in fed cattle marketings," Peel says. "Feedlot margins will also be squeezed over the next few weeks with building seasonal fed cattle price pressure. Record high feeder cattle prices in recent months will keep feedlot breakevens high in the coming months."
More articles to enjoy:
Without Expansion, The U.S. Beef Industry Is Unsustainable
Industry At A Glance: A Year's Look At Mexican Feeder Imports
9 Nifty New Products For Cattle Producers
Monthly Market Outlook: Signals Favorable For Higher Cattle Prices
Kick Off Your Morning With NEW Rubes Cartoons!
I Don't Appreciate What I Do Being Called "Farmed & Dangerous"
Ag Lender Advises Cattlemen To Lock In Interest Rates Now
2014 Feed Composition Table For 280 Byproduct Feeds Of Cattle And Sheep
Subscribe to Our Newsletters
BEEF Magazine is the source for beef production, management and market news.
You May Also Like
---