Beef exports set all-time record
Beef exports set all-time record
U.S. beef exports set record for volume and value in 2022, with expectation to continue into 2023 — even with tighter cattle supplies.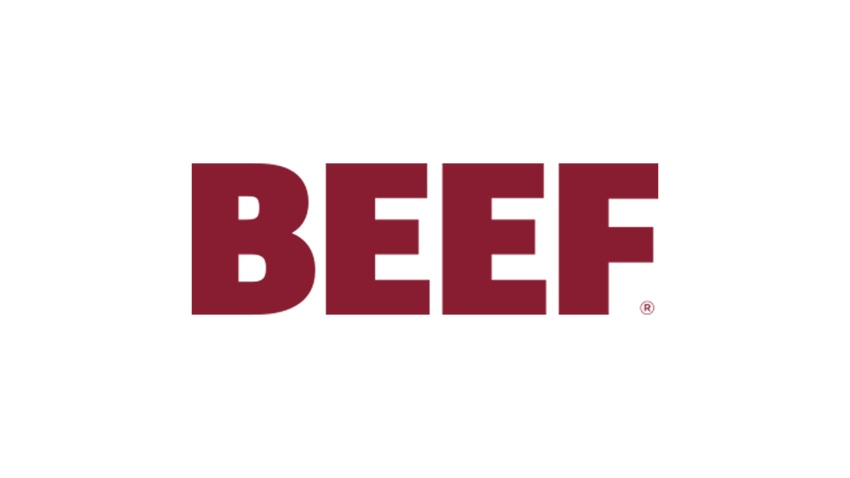 BEEF DEMAND: U.S. beef demand in Japan continues to be high, as seen by the crowd around this beef display.
Photos and chart courtesy of U.S. Meat Export Federation
Global beef exports have hit an all-time record for volume and value, adding more value to U.S. beef cattle and providing markets for products not currently used in this country.
Those international markets for beef variety meats boosted exports by 15% in 2022 compared to 2021, accounting for $1.24 billion of the total $11.68 billion in U.S. beef exports. John Hinners, senior vice president of industry relations for the U.S. Meat Export Federation, says, "Beef exports add nearly $450 per head of fed slaughter value. Global export value is up 10% from the previous record and nearly 40% above the previous five-year average."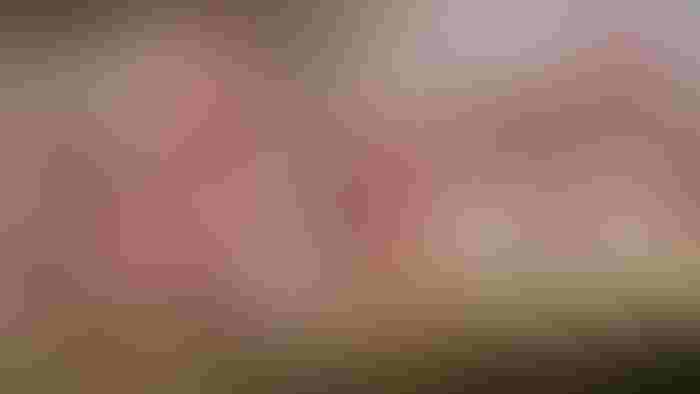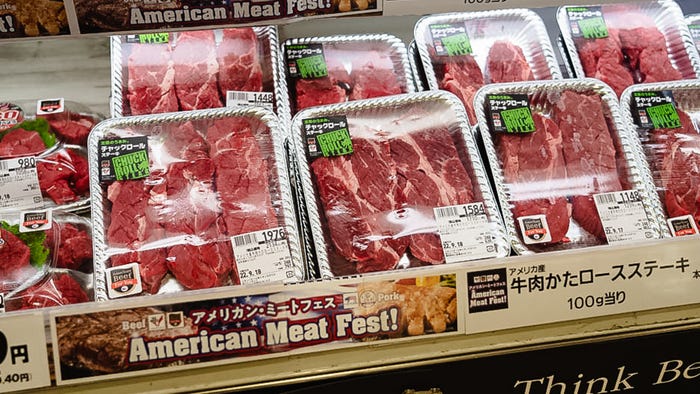 HIGH QUALITY ON DISPLAY: U.S. beef is for sale in a Japanese meat counter. Japanese consumers desire high-quality beef from America.
Total U.S. beef exports in 2022 hit 1.47 metric tons. The top eight importers of U.S. beef include South Korea, China/Hong Kong, Taiwan, the Philippines, Singapore, Colombia, Guatemala and the Dominican Republic.
"Exports are at all all-time high in both volume and value," says Norman Voyles Jr., former Cattlemen's Beef Board chair. "And the really great thing about that is it's not necessarily rib-eyes and T-bones that are going overseas. There's demand for beef lips that are bringing $1.30 per pound, or tongue that's bringing over $2 a pound, and in the U.S. those parts of the beef animal would likely be rendered."
CBB partners with the U.S. Meat Export Federation (USMEF) to develop international demand for U.S. beef in prospective markets through USMEF's 17 offices worldwide. 
Added value
"We're adding a lot of value to that beef animal," Voyles says. "Exports have added somewhere in the neighborhood of $450 per fed animal back to the industry." 
Japan, China/Hong Kong and South Korea were the three largest export markets for 2022, and exports remain strong to Canada and Mexico. New markets have also been added in recent years in South America, the Mediterranean, the Caribbean and Dubai.
The vast majority of edible beef variety meats are exported, amounting to nearly 25 pounds per carcass. Per carcass, Hinners says those extra meats look like this:
1.92 pounds of tongues to Japan, adding $18.63 per carcass

3.83 pounds of tripe, adding $6.95 per carcass

5.5 pounds of liver, adding $4.31 per carcass

1.89 pounds of lips to Mexico, adding $2.01 per carcass

1.78 pounds of hearts to Mexico, adding $2.02 per carcass

0.79 pounds of tripe and intestines to Japan, adding $1.86 per carcass
"What's so exciting for the beef industry is we have added that much value in 2022. Customers around the world continue to demand and buy our product," Hinners says. "We will never be the cheapest, nor do we want to be, but we have so many stackable attributes with our product — branding, supply of a variety of cuts, impeccable food safety, and one of the best stories in the world as far as commitment to our livestock."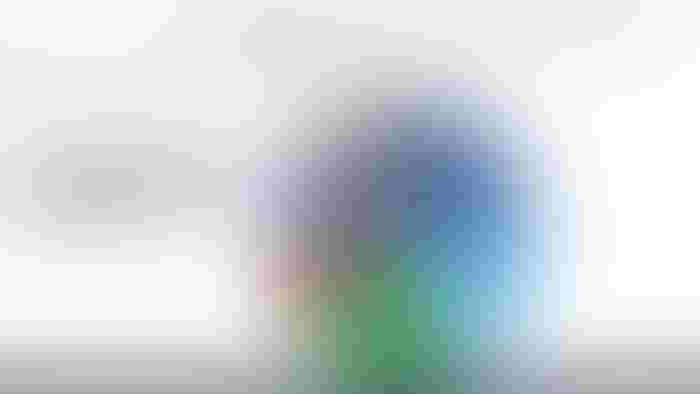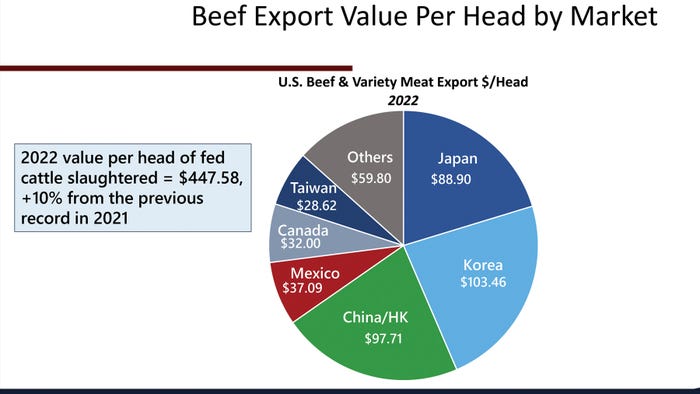 South Korea leads meat export value totals per head with $103.46, followed by China/Hong Kong at $97.71, Japan at $88.90, Mexico with $37.09, Canada at $32, Taiwan with $28.62 and all others at $59.80, for a total of $447.58 added value per carcass.
How future looks
The steep increase in 2022 has led to challenges in 2023, as shrinking herds cause beef supplies to tighten.
"We are going to have to focus on the underutilized cuts —the round and chuck —and how those and the variety meats can be used in food service as more restaurants and food service comes online around the world," Hinners says. "We have opportunities out there, and not everyone is going to buy the high-end steaks."
The demand for high-quality protein is expected to continue, and while supplies tighten due to fewer cattle on feed, using less popular cuts should help keep values strong.
Voyles expects exports to remain strong into 2023 as international demand grows for U.S. beef. "They realize that U.S. beef is safe, that we are a dependable shipping partner, and U.S. beef has the flavor and texture that consumers desire," he explains. 
Other strengths
Increased meat exports mean more demand for meat animal protein and therefore, more demand for the feedstuffs to grow them. Roughly 90 million bushels of soybeans are fed to hogs that are exported. A total of 503.4 million bushels of corn is fed to beef and pork animals headed to export.
"When you think about every ham sent out of the U.S., we are also sending out 1.25 bushels of corn, 4.1 pounds of DDGs [dried distillers grains] and 15.22 pounds of soybean meal. Meat is a great way to use grains to add value to meats," Hinners says. "That's why we have support from the corn checkoff, soybean checkoff, Pork Checkoff and Beef Checkoff to add value to all the commodities."
Subscribe to Our Newsletters
BEEF Magazine is the source for beef production, management and market news.
You May Also Like
---