Projections of cow herd expansion vary in depth and breadth
Projections of cow herd expansion vary in depth and breadth
The Food and Agricultural Policy Research Institute projects the U.S. beef cow herd growing 1.7 million head in the next four years before trending lower again. USDA's 10-year projections call for steady growth and more cows.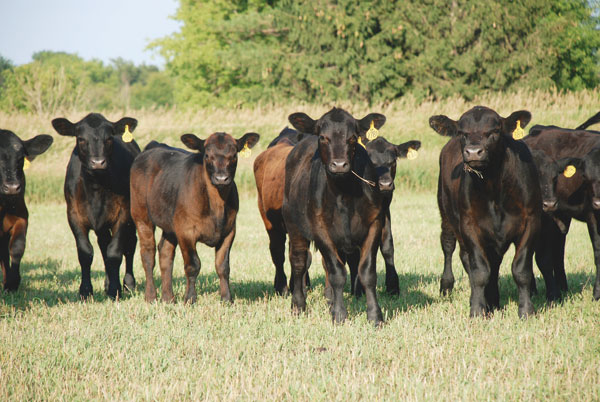 Historically high net returns per cow this year and next set the stage for U.S. producers growing the national beef cow herd by 1.7 million in the next four years, say analysts with the Food and Agricultural Policy Research Institute (FAPRI) at the University of Missouri, in the latest U.S. Baseline Briefing Book.
According to FAPRI's 10-year projections, the nation's beef cow herd will grow to 31.3 million in 2019 and then decline to 30.3 million head in 2024.
Compared to the USDA Cattle report of 29.7 million head Jan. 1 this year, that would mean having just 600,000 more beef cows a decade from now or 2% more than when the year began.
FAPRI has the total cattle inventory growing by 6.9 million head through 2019 (+7.8%) to 95.2 million head and then declining 3.1 million head (-3.26%) to 92.1 million head by 2024. Compared to the 89.8 million head Jan. 1 of this year, that would mean 2.3 million more cattle (+2.6%) than what began this year.
For the sake of comparison, USDA Agricultural Projections to 2024 in February projected significantly more expansion. According to USDA estimates, the beef cow herd will grow steadily to 33.697 million in 2024—that's 16.5% more than began this year.
USDA projections have the total cattle herd increasing 7.3% (6.427 million head) by 2024 to 94.1 million.
All told, USDA projects 10.1% more beef cows (3.39 million head more) in 2024 than FAPRI. USDA projects the total cattle inventory in 2024 to be 2.15% more (2.03 million head) than FAPRI.
FAPRI estimates net returns per cow at $447.75 this year ($408.31 last year), $346.84 in 2016, $202.17 in 2017 and $94.57 in 2018. It reaches the cyclical nadir in 2020 at $14.18 per cow and then grows back to $73.73 by 2024.
FAPRI estimates steer calf prices (600-650 pounds OKC) this year at $234.16 per cwt, $219.45 in 2016 and $191.68 in 2017. They decline to a projected low of $157.87 in 2020 and then grow back to $175.05 in 2024.

BEEF Seedstock 100
Looking for a new seedstock provider? Use our BEEF Seedstock 100 listing to find the largest bull sellers in the U.S. Browse the Seedstock 100 list here.
On the other end of the equation, FAPRI estimates fed steer prices (5-area direct, all grades) at $156.07 per cwt this year, $149.83 in 2016 and $136.29 in 2017. It declines to a low of $121.62 in 2020 and then rises back to $129.31 in 2024.
In the meantime, declining beef cow and heifer slaughter continue to underscore the current pace of expansion.
According to the most recent monthly Livestock, Dairy and Poultry Outlook, heifer slaughter was 35% of the fed cattle slaughter mix in January. That's 2% less than a year earlier.
"The reduction of heifer slaughter in the steer and heifer mix is likely a result of producers retaining some extra heifers for breeding purposes," say analysts with USDA's Economic Research Service. "Thus far in 2015, commercial cow slaughter appears to be largely of dairy cows, which—due to their larger size—has resulted in higher average dressed weights.
"However, commercial beef cow slaughter was down by 24%, leaving total January commercial cow slaughter down by 11% year-over-year, but indicative of efforts to rebuild the beef-cow herd. January 2015 monthly commercial dairy cow slaughter was up 2% year-over-year."
You might also like:
7 common fencing mistakes to avoid
60 stunning photos that showcase ranch work ethics
What you need to know about cattle ingesting net wrap
8 tips for being a better ranch manager in 2015
Subscribe to Our Newsletters
BEEF Magazine is the source for beef production, management and market news.
You May Also Like
---