4 stocking stuffers for ranch kids; PLUS: Donate to Farm Toys for Tots
4 stocking stuffers for ranch kids; PLUS: Donate to Farm Toys for Tots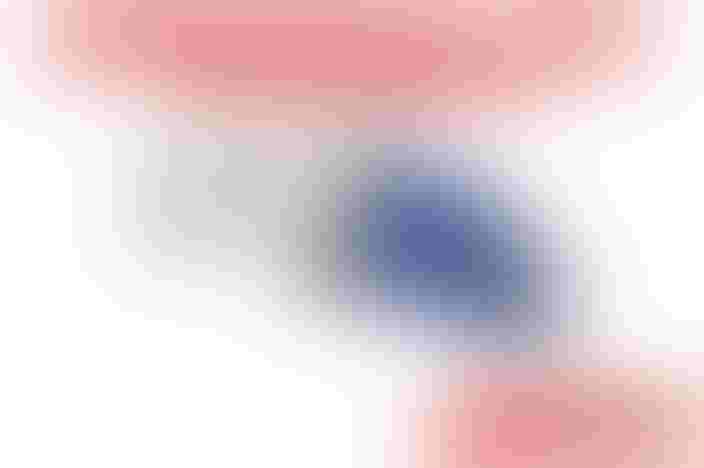 With just 22 days until Christmas, many folks are scrambling to find that perfect gift for that special someone. This year, I'm having a ball shopping for my 18-month old daughter Scarlett. Her love of toys ranges from cow figurines, to tractors, to stickers, to baby dolls. Needless to say, I've had to restrain myself from spoiling her too much.
If you have a little one to shop for this year, here are four stocking stuffers to consider for ranch kids:


Photo Credit: Mattel


Photo Credit: Mattel
If your kids are fans of the game Minecraft and they love cattle, then this toy is for them. This plush cow can be turned inside out to turn into a slab of raw beef, just like in the game. This toy is not only fun, but it's realistic too, and can get the important conversation started about where our beef comes from. It also comes in a plush Pig-to-Porkchop option.
2. Little Buster Toys — Prices vary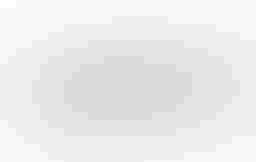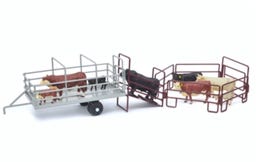 Photo Credit: Little Buster Toys
For the aspiring rancher, Little Buster Toys offers realistic toy versions of everything on the ranch, including livestock, gates, panels, corrals, feeders, trailers, rodeo sets, roping arenas, loading ramps, barns and even mineral feeders! Had I had this as a kid, I think I would have thought I died and gone to heaven! Individual cows are priced at $5.45 and accessories go up from there. There are bundles and deals-of-the-day, too, so shop often to take advantage of price savings.
3. Stuffed Toy Steer from Maine Aim Ranch — $150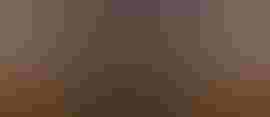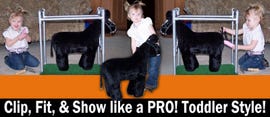 Photo Credit: Maine Aim Ranch
This stuffed toy steer is the perfect size for the aspiring toddler showman who isn't quite big enough to get out in the ring. You can personalize your steer in many colors, and show accessories including a blocking chute, blower, show stick, barn and fencing are available for purchase, as well. For the 4-Her who shows everything, there are also stuffed pigs, goats and sheep.
4. Melissa & Doug Fold & Go Wooden Barn — $38.96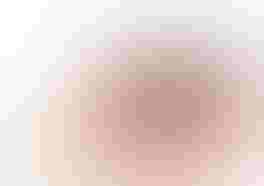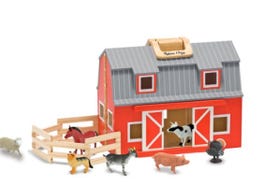 Photo Credit: Melissa
This barn includes sliding doors and a folding corral, seven farm animals including a sheep, horse, goat, pig, cow, turkey and dog, sturdy carrying handles, and the ability to open and close easily for storage and play access. I love wooden toys for my daughter, and it's rated 4.5 stars on Amazon.
Finally, if you don't have a little one to shop for this year, follow the lead of several ag advocates and purchase a toy to donate to the Farm Toys for Tots program. The ag advocated formed Farm Toys for Tots in response to vegan outcry over what they termed Walmart's "slaughterhouse truck," a semi and livestock trailer toy being sold by the giant retailer. Farm Toys for Tots, which has closed its fund drive, gathered up more than $7,000 that they will use to purchase the tractor-trailer rig and then donate it to needy kids. Purchase the semi-truck and livestock trailer from your local Walmart and donate it to a toy drive in your community.
What's on your shopping list this year for the ranch kid in your life? Share your ideas in the comments section below.
The opinions of Amanda Radke are not necessarily those of beefmagazine.com or Penton Agriculture.
You might also like:
13 new utility tractors for the ranch in 2015
Crunch the numbers before you buy those heifers
5 tips for managing feed intake in calves
What's the secret of a profitable cow? Burke Teichert shares
Seven keys to ranch profitability
Subscribe to Our Newsletters
BEEF Magazine is the source for beef production, management and market news.
You May Also Like
---