A farmer's letter to anyone sharing the road
A farmer's letter to anyone sharing the road
Here are 10 things a farmer hopes you will consider when you are the motorist following equipment on the road.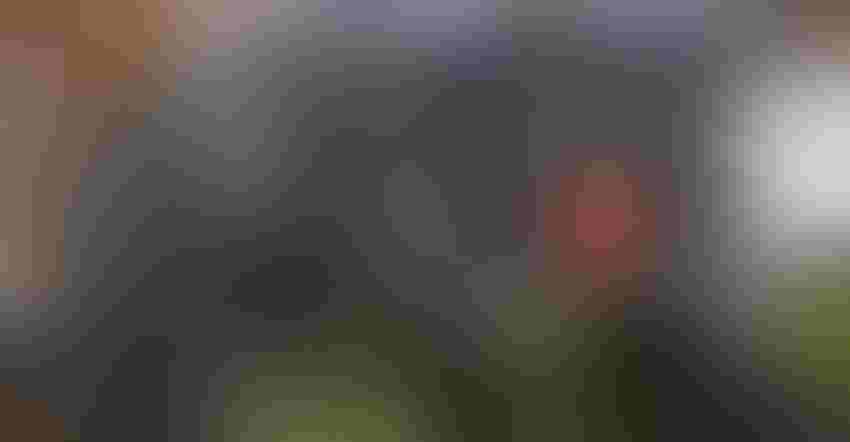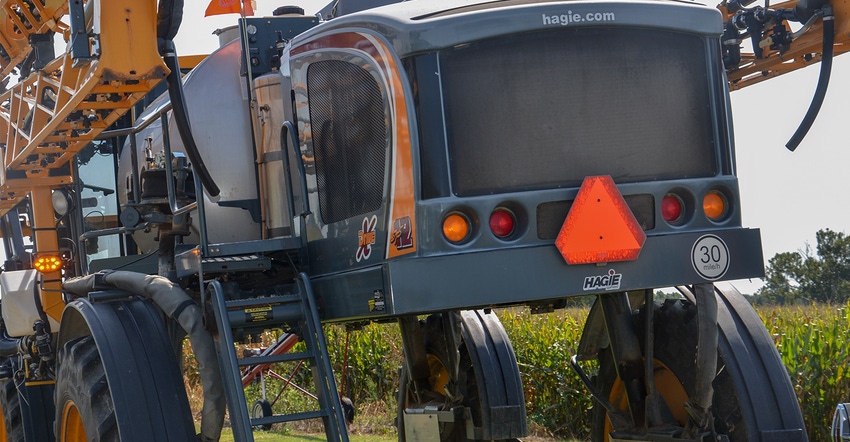 HOW WIDE IS IT? Even if you are a farmer or farmwife, do you know how much of the road this sprayer will take up once the driver pulls out? Most nonfarm motorists certainly don't know!
Dear motorist sharing the roadway with me:
You might be a teenager who just got his or her license. Maybe you're a mom or dad picking up kids at school. You could even be a fellow farmer or farmwife. Here are 10 things I wish you would think about before driving on a rural road.
1. I have the right to use the road, too. It's the only way I can get my equipment from one field to another.
2. This is not my dad's combine, tractor or sprayer! You've likely seen an 8 N Ford or a John Deere 4020 tractor. My equipment is much larger, longer and wider. My top speed may be 15 to 20 miles per hour, or 35 to 40 mph in a sprayer. If you're driving at 50 to 60 mph, you'll come upon me quickly.
3. It may be impossible to keep my machine on one side of a two-lane rural road. The math doesn't add up. If my sprayer is 14 feet wide and the entire road is 24 feet wide, I'm often going to be over the center line. Many rural roads have lots of mailboxes and utility poles.
4. My vision may be limited. If I'm driving a high-clearance sprayer or a combine, I may not always have clear vision to my right or left — and certainly not behind me.
5. My thoughts wander as I head to the next field. You may be thinking about your upcoming date or swapping stories at work. I may have just learned corn dropped another dime per bushel. Both our minds are on other things.
6. Stay off your cellphone, and I'll stay off mine! They're tremendous tools, but not when both my concentration and yours should be on the road.
7. Watch for my lights and slow-moving vehicle sign. It's up to me to make sure all required lights work and my SMV emblem is visible. In return, please realize these lights and SMV sign indicate there's a slow-moving vehicle ahead.
8. I may turn into a lane or driveway. Sometimes that will be a left turn, which means I will be slowing down. I will use my left turn signal if possible. Give me time to make my intentions clear before trying to pass.
9. Some days we're both in a hurry! I want to get to the field, and you want to get school, work or maybe the corner store. I pledge to remember that it may take five more minutes to get to the field, but I'll get there safely. Would you agree that if you arrive a couple of minutes later, life will go on?
10. We all want the same thing — to get where we're going safely and quickly. We can if we all stay alert to our surroundings, make sound judgments and think through what we're doing before we act. I want to meet you someday, but not in the hospital.
Sincerely, a farmer wanting safe travels for everyone!
Subscribe to Our Newsletters
BEEF Magazine is the source for beef production, management and market news.
You May Also Like
---