American Foods Group turns shovel on new beef processing plant
American Foods Group turns shovel on new beef processing plant
Missouri's ag director says increasing beef processing offers opportunity for next generation.
BEEF BOOST: American Foods Group began construction on its 2,400-head-per-day cattle processing facility in Warren County in eastern Missouri.
Courtesy of AFG
"A dream come true for so many Missouri farm families." That is how Missouri Department of Agriculture Director Chris Chinn described the state's newest beef processing facility — America's Heartland Packing LLC.
"This is a big day for Missouri agriculture," Chinn said during a groundbreaking ceremony Sept. 12 in Warren County. "Our cattle industry has struggled not just for the last few years but for decades. It's been really hard to find new opportunities to bring that next generation back home to the family farm or ranch."
America's Heartland Packing is the latest endeavor of Wisconsin-based American Foods Group LLC, owned by Rosen's Diversified Inc. "The Rosen family could see that we had potential in the state of Missouri, but they also knew that we love agriculture," Chinn said.
AFG started construction on the $800 million state-of-the-art beef harvest facility near Foristell in eastern Missouri. Company owners said it will start receiving cattle in 2024.
The 775,000-square-foot greenfield project will include a harvest floor, carcass chillers, fabrication area, rendering, further processing area, storage coolers, freezers and loading docks. Once fully operational, it is projected to process over 2,400 cattle per day. It fulfills the need for more shackle space for beef producers across the region.
Related: Missouri makes cut for new beef processing plant
"We love cows," Chinn said, "but we also send our cows someplace else to be finished out."
She noted the new beef processing facility offers both young and established cattle producers a new opportunity to finish their own cattle within the state borders. America's Heartland Packing adds one more tool to their marketing toolbox.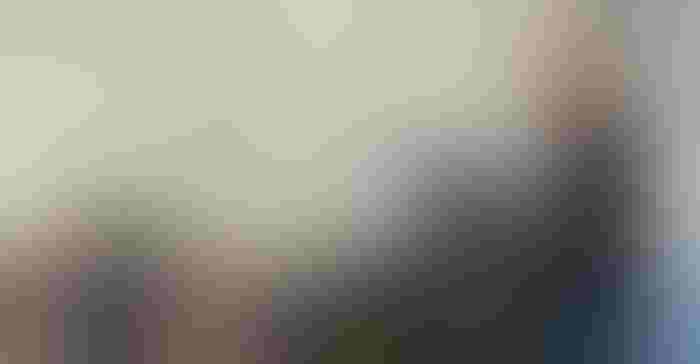 NEW OPPORTUNITY: Missouri's ag director, Chris Chinn, speaks during a groundbreaking ceremony Sept. 12 for a new cattle processing facility in the state.
And while AFG chose the eastern side of the state, Chinn said the plant serves all of Missouri.
Investment in state, agriculture
The $800 million investment will have a ripple effect on the agriculture community. "We're creating more jobs in rural Missouri," Chinn said. "We're going to add value to our cattle market and to our grain market."
"Today marks the start of our future in Warren County, Mo., the addition of industry-needed hook space, and fulfilling the needs of our customers, partners and consumers for beef demand," said Steve Van Lannen, president and chief operating officer of AFG, a family-owned, U.S. beef processor with locations throughout the Midwest.
Missouri Gov. Mike Parson, a third-generation farmer and cattleman, said AFG is a development that will benefit Missouri's agricultural producers and consumers for years to come.
"With $94 billion contributed to our economy annually, we appreciate that agriculture is our No. 1 industry," he said. "AFG's investment in Missouri further signals to the nation and world what we've known all along — that Missouri is the best place for companies to grow and expand. We couldn't be more excited for AFG's expansion in Missouri."
Chinn added that the groundbreaking is "just the beginning" of a partnership between AFG and the state's agriculture community. "We are going to keep working hard to support American Foods Group. We can't wait to be here in two years when we get to see the first cattle go through the plant doors."
The American Foods Group LLC contributed to this article.
Subscribe to Our Newsletters
BEEF Magazine is the source for beef production, management and market news.
You May Also Like
---