Biden takes on climate challenges with greater urgency
Biden takes on climate challenges with greater urgency
Executive orders do call for cooperation with stakeholders including farmers.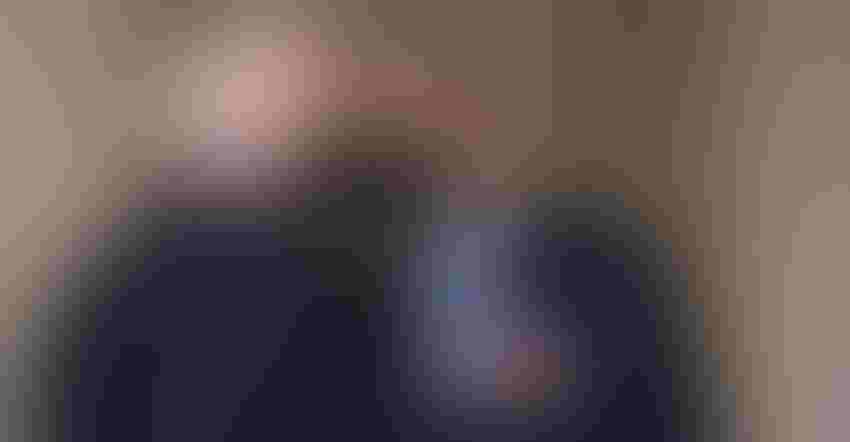 President Joe Biden greets Special Presidential Envoy for Climate John Kerry as he arrives to speak on climate change before signing executive orders on Jan. 27, 2021.
MANDEL NGAN/AFP/Getty Images
In comments made Wednesday, President Joe Biden says his climate team plans to deal with the issue of climate change with a "greater sense of urgency" as the nation has already "waited too long to deal with this climate crisis." He says this is why he signed the executive order to "supercharge our administration's ambitious plan to confront the existential threat of climate change."
The executive order also makes it official that climate change will be at the center of the Biden administration's domestic, national security and foreign policy. 
Last year, wildfires burned more than 5,000 acres in the West. More intense and powerful hurricanes and tropical storms pummeled states across the Gulf Coast and along the East Coast. Historic floods, severe droughts have ravaged the Midwest, Biden says.
"When we think of renewable energy, we see American manufacturing, American workers racing to lead the global market.  We see farmers making American agriculture first in the world to achieve net-zero emissions and gaining new sources of income in the process," Biden says.
In a follow up press briefing, National Climate Advisor Gina McCarthy and Special Presidential Envoy for Climate John Kerry discussed the path forward they see to tackle what they view as a climate crisis.
McCarthy explains the executive order establishes a White House Office of Domestic Climate Policy. "It directs everyone who works for the President to use every tool available at our disposal to solve the climate crisis, because we're going to take a whole-of-government approach," she says.
Kerry says Biden rejoined the Paris agreement quickly, but "he also knows that Paris alone is not enough — not when almost 90% of all of the planet's emissions — global emissions — come from outside of U.S. borders.  We could go to zero tomorrow and the problem isn't solved," Kerry says.
Kerry notes China is 30% of the emissions of the world; the United States contributes about 15% of the emissions of the world.  You add the EU to that, and you have three entities that are more than 55% or so.
A White House fact sheet says: "In signing this executive order, President Biden has directed his administration to advance conservation, agriculture and reforestation.
The order commits to the goal of conserving at least 30% of our lands and oceans by 2030 and launches a process for stakeholder engagement from agricultural and forest landowners, fishermen, tribes, states, territories, local officials, and others to identify strategies that will result in broad participation.
Stakeholder feedback
The order directs the secretary of agriculture to collect input from farmers, ranchers and other stakeholders on how to use federal programs to encourage adoption of climate-smart agricultural practices that produce verifiable carbon reductions and sequestrations and create new sources of income and jobs for rural Americans.
American Farm Bureau President Zippy Duvall appreciated the desire to seek input from America's farmers and ranchers as the administration works on new climate solutions. The Executive Order outlines broad goals without details of how they will be achieved. AFBF says it will be closely monitoring federal implementation efforts to ensure all proposed policies and programs are responsible, fair-minded and enable farmers, ranchers and rural America to thrive.
"It's crucial that as new strategies are implemented our leaders listen to the people who will be affected the most. While the president has invited us to the table, we'd like to invite him to the table we've already set through the Food and Agriculture Climate Alliance (FACA)," Duvall says. Co-chaired by AFBF, FACA has outlined more than 40 recommendations to guide the development of federal climate policy founded in policy that is science-based, voluntary and market-driven programs.
National Farmers Union President Rob Larew also welcomed the economy-wide climate plan laid out by Biden. In a statement, Larew notes National Farmers Union is especially encouraged by the administration's focus on climate-smart agriculture, whose capacity for mitigation and adaptation has been largely overlooked until recently.
"We are also pleased that President Biden has instructed the USDA to solicit input from farmers and other stakeholders as they develop and carry out climate programs; though lawmakers and administration officials are generally well-intentioned, they may not always recognize policies' unintended consequences," Larew adds. "By offering food producers a seat at the table, they can ensure that programs are feasible and beneficial for all parties involved."
As the administration works to carry out the executive orders, the National Cattlemen's Beef Associations says it remains committed to ensuring that cattle producers have the resources and freedom they need to continue producing the world's most sustainable beef.
"NCBA looks forward to working with President Biden and his Administration as they recognize the positive role agriculture plays in addressing climate concerns. U.S. cattle producers use advanced technologies, genetics and grazing management to make their herds the most sustainable in the world," said NCBA CEO Colin Woodall. "We appreciate the outreach and opportunity to provide feedback, demonstrating U.S. cattle producers are the model for global, sustainable beef production."
Chris Gibbs, board president of Rural Voices USA (formerly Rural America 2020), notes as the Biden administration begins their effort to address climate change, he's pleased that they are prioritizing soliciting the input of rural Americans whose jobs and income are on the line.
"We must be valued and vocal partners for this effort to have any chance at success," Gibbs says.
"At Rural Voices USA, we will be working to ensure the conversation on climate and rural America explores a range of options, everything from different agronomics practices to carbon sequestration. A smart climate policy can provide new sources of income to our farmers – helping us to continue farming and get paid to sequester carbon," Gibbs notes. "We will also be fighting to ensure that low carbon biofuels like ethanol play a prominent part in climate solutions. Prioritizing low-carbon biofuels an obvious and important way to protect rural income and jobs while adopting climate-smart agricultural policies."
Subscribe to Our Newsletters
BEEF Magazine is the source for beef production, management and market news.
You May Also Like
---