Commodity groups weigh in on Sec. of Ag choice
Commodity groups weigh in on Sec. of Ag choice
We round up the statements from several groups that were issued on news that Sonny Perdue will be picked to head USDA.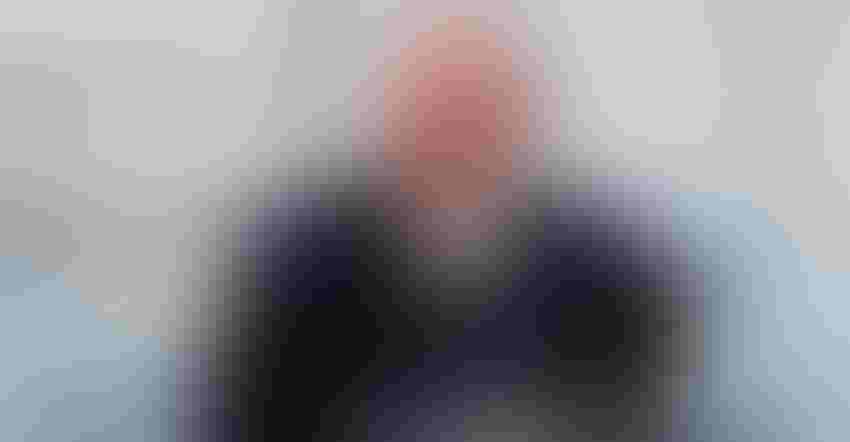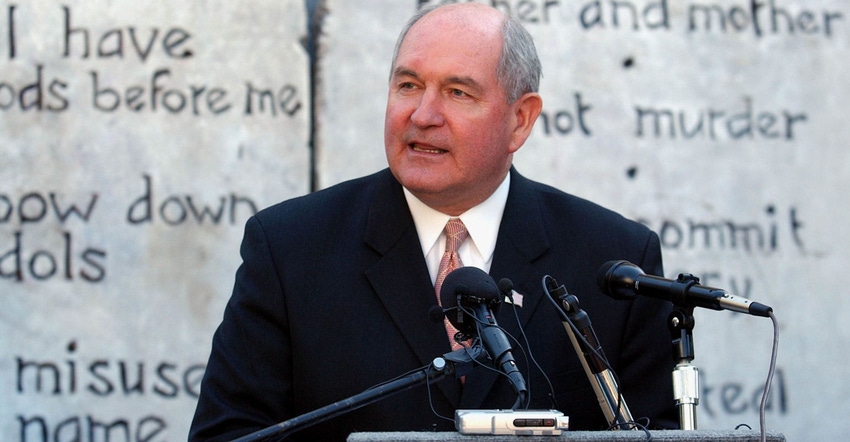 Erik S. Lesser/GettyImages
Ag groups have been patiently waiting for news that President-Elect Trump had finally filled that last cabinet position. It was a long wait, but Wednesday night, news broke that former Georgia Governor Sonny Perdue would get the nod for the top spot at USDA. It didn't take long for key groups to start issuing statements. Here's what we've received so far and we'll add more as they come in. These are being posted here as received with no editing.
The first in was issued by Zippy Duvall, president, American Farm Bureau Federation:
"The nomination of former Georgia Governor Sonny Perdue for Secretary of Agriculture is welcome news to the nation's farmers and ranchers. Gov. Perdue will provide the strong voice that agriculture needs in the new administration. He is an outstanding nominee.
"I have known Gov. Perdue for years. I've seen firsthand his commitment to the business of agriculture as we worked together on issues facing farmers and ranchers in our home state of Georgia. He understands the challenges facing rural America because that's where he was born and raised. He is a businessman who recognizes the impact immigration reform, trade agreements and regulation have on a farmer's bottom line and ability to stay in business from one season to the next.
"The American Farm Bureau looks forward to continuing our work with USDA under Gov. Perdue's leadership. When farmers and ranchers are free to access cutting-edge technologies, reach new markets and make decisions that protect their businesses and resources, we all are better off."
In Iowa Monte Shaw, Iowa Renewable Fuels Association executive director made the following statement:
"Obviously we will work constructively with former Gov. Purdue to promote renewable fuels production and consumer access to higher ethanol and biodiesel blends. And we appreciate that President-elect Trump has shared his pro-renewable fuels standard (RFS) views with each Cabinet nominee. Having said that, there is concern in the Midwest that no Cabinet pick has a demonstrably pro-RFS track record and that there is no Midwestern representation in the Cabinet. We are grateful for President-elect Trump's support of the RFS and remain committed to working with him to enact his pro-RFS policies. However, we sincerely and emphatically urge President-elect Trump to create internal balance with his next round of agency leadership appointments, especially within the EPA. Ensuring some top appointees will bring pro-RFS views to any leadership discussion within EPA would go a long way to easing the increasing worries being expressed privately in many ag circles regarding Trump's agency picks."
American Soybean Association President and Illinois soybean farmer Ron Moore issued this statement:
"Congratulations to Governor Perdue. USDA touches the lives of every American, and it is among the most crucial government functions for farmers across the United States. For soybean farmers, USDA serves us in so many ways. From working to implement a viable risk management framework to helping expand our markets overseas, to investing in agricultural research here at home, these are critical elements of the farm economy, and we look forward to working alongside USDA under Secretary Perdue to ensure that the department continues to serve American soybean farmers in the most effective manner possible."
Tracy Brunner, president of the National Cattlemen's Beef Association, released the following statement:
"Governor Perdue's an excellent pick to head the Agriculture Department. As a lifelong agri-businessman and veterinarian, as well as the two-term governor of a state where agriculture's the largest industry, Gov. Perdue has a unique and expert understanding of both the business and scientific sides of agriculture. In a time of increasing regulations and a growing governmental footprint, we have no doubt that Gov. Perdue will step in and stand up for rural America so that we can continue to do what we do best – provide the safest and most abundant food supply in the world."
In addition, Kyle Gillooly, a seedstock cattle farmer in Wadley, Ga., and president of the Georgia Cattlemen's Association, released the following statement:
"The Georgia Cattlemen's Association is excited to hear the selection of Gov. Sonny Perdue to lead the USDA. Governor Perdue has always been a strong supporter of agriculture. His background in agribusiness and as a veterinarian will bring a wealth of knowledge and real-world common sense to a department that is vitally important to the success of our nation. As a graduate of the University of Georgia College of Veterinary Medicine, he understands the issues we face in the livestock industry and he is a true believer in the land grant university system, their mission, and how they impact the cattle industry across the nation. His experience leading the State of Georgia, with its large agriculture heritage, will be invaluable to the Trump Administration."
Roger Johnson, president of the National Farmers Union, released the following statement:
"Given the challenging state of the farm economy, more than ever, family farmers and ranchers need a champion in Washington. I am hopeful we will find that champion in Sonny Perdue. USDA is more than agriculture's agency; it is America's agency. We look forward to working with Mr. Perdue and the new administration to create and defend a strong farm safety net and provide meaningful farm policy solutions for producers, particularly dairy farmers and cotton growers, in the next farm bill. We will also ask that USDA take a proactive approach to building opportunities for rural America, increase support for conservation as a way to manage risk on the farm, and expand market opportunities for all types of agriculture production."
National Corn Growers Association President and Texas farmer Wesley Spurlock released the following statement:
"The National Corn Growers Association congratulates Governor Perdue on his nomination to lead USDA. We look forward to his confirmation hearing, and learning more about his positions on issues important to corn farmers and the entire agriculture industry. Agriculture is the backbone of rural America, and we need strong leadership within USDA to keep moving the industry forward through difficult economic times. That means protecting risk management programs, continuing to grow the renewable fuels industry, expanding foreign markets and increasing demand for U.S. agricultural products throughout the world. We stand ready to work with President-Elect Trump and the new USDA leadership to move agriculture and our country forward."
Joel G. Newman, president and CEO, American Feed Industry Association, issued the following statement:
"The American Feed Industry Association is pleased with President-elect Donald Trump's latest, and final, cabinet selection--former Georgia Gov. Sonny Perdue as secretary of agriculture. AFIA works with USDA on a broad slate of issues such as trade and implementation of the farm bill. We believe Gov. Perdue's political and agriculture-related background make him a sound fit for the role. Gov. Perdue holds a doctorate in veterinary medicine, and following his service as a captain in the U.S. Air Force, he became a successful small business owner, concentrating in agribusiness and transportation. We look forward to working closely with the new agriculture secretary, assisting him and his staff on animal food-related topics, and how our industry relates to other agriculture sectors and to consumers. This will be particularly important as Congress, the administration and industry come together to draft and enact the new farm bill."
National Grain and Feed Association president Randy Gordon, issued the following statement:
"Gov. Perdue is an accomplished, innovative, problem-solving and proven public servant, and is an excellent choice to serve as secretary of agriculture. He has strong rural roots, having grown up on a row-crop and dairy farm, and is a person of impeccable character, trustworthiness and integrity who is an energetic, passionate and tireless advocate for U.S. agriculture and for America. Gov. Perdue also is a very open and receptive person who seeks out and listens to advice. He also possesses the business acumen, experience, common sense and sound policy-making background that will serve him extremely well as a member of the president's cabinet."
National Pork Producers Council president John Weber, a pork producer from Dysart, Iowa, issued the following statement:
"Well, we don't have a lot of pork production down in Georgia, but Sonny Perdue is from a farm family and he's a veterinarian. As head of the U.S. Department of Agriculture, he'll be very good for America's farmers and ranchers.
"You know, the last guy we had at the head of USDA was from the No. 1 corn, egg and pork producing state in the nation, and that didn't do us much good," he added.
"NPPC believes Sonny Perdue will make a great secretary," Weber said. "He knows farming, he knows exports are vital to U.S. agriculture and he knows you need to run USDA like a business, not like the bureaucracy it's been for the past eight years. We strongly support him, and we urge the Senate to confirm him as the 31st secretary of agriculture."
Jim Mulhern, president and CEO of the National Milk Producers Federation, had this to say:
"America's dairy farmers are looking forward to working with Secretary of Agriculture-designate Sonny Perdue, whose role as the chief advocate for farmers and rural America is absolutely crucial in the new Trump Administration, especially when milk prices have been in a prolonged slump.
"Former Gov. Perdue is well-qualified to run the U.S. Department of Agriculture as a result of his eight years of executive experience as Georgia's governor, and his career as a state legislator and small businessman. His educational training as a veterinarian also gives him unique insights into the important issues facing America's livestock producers in the areas of animal health, food safety and the environment.
"Dairy producers, like most other farmers and ranchers across America, have experienced significant economic challenges for more than a year. Starting right away in 2017, NMPF will seek to collaborate with Secretary Perdue on ways to strengthen the safety net for dairy farmers, relieve regulatory burdens and enhance opportunities to keep and grow markets abroad for our dairy exports.
"In particular, we will continue to advise the Agriculture Department on efforts to improve the dairy Margin Protection Program to best benefit America's dairy producers. We will also continue our dialogue with USDA and others in the Trump Administration on the importance of enforcing previous trade agreements, as well as pursuing future well-negotiated trade agreements that bolster our ability to serve consumers in foreign markets.
"We're excited to work with Gov. Perdue on these challenges and opportunities in the days ahead."
The 25x'25 Alliance, a diverse alliance of agricultural, forestry, environmental, conservation and other groups working to advance the goal of securing 25% of the nation's energy from renewable sources by 2025, had this to say about Perdue's nomination:
"Given the ongoing downturn in commodity prices and land values, we believe that the continued growth of renewable energy, including that driven through USDA programs, will play a critical role in keeping our rural areas economically viable. We look forward to working with the new secretary in finding ways to further demonstrate that wind, solar, biofuels, biomass and other renewable energy development makes good economic sense for rural America."
Related story: 7 things to know about Sonny Perdue
Subscribe to Our Newsletters
BEEF Magazine is the source for beef production, management and market news.
You May Also Like
---