EPA Flyovers Raise Questions, Concerns
EPA Flyovers Raise Questions, Concerns
As more and more becomes known about the Environmental Protection Agency's (EPA) aerial surveillance of feedlots in Nebraska and Iowa, more and more questions and concerns arise.Vote in this week's poll question on EPA aerial surveillance here.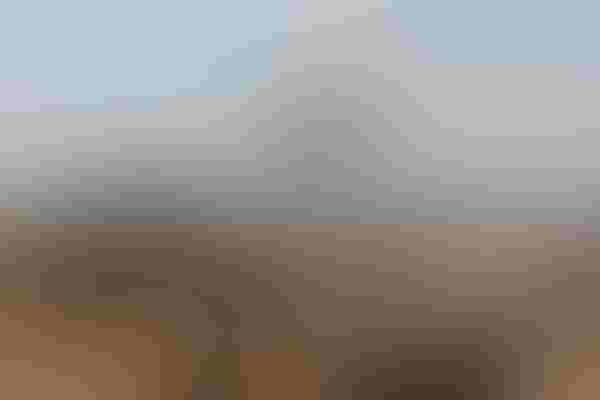 Nebraska beef producers first learned that the Environmental Protection Agency (EPA) had been conducting aerial surveillance of feedlots just a few months ago, and then only by chance. To say that raised some concern and questions would be an understatement.
"We were never alerted that the flyovers were occurring and we still haven't been today," says Kristen Hassebrook, director of natural resources and environmental affairs for Nebraska Cattlemen, the state cattlemen's association in the state. "However, once producers were inspected by EPA, in communication producers got from EPA, mention was made of aerial photographs. That obviously got folks' attention and turned some heads."
Since that time, cattlemen have been asking questions and raising concerns specifically in three areas, she says.
"One, we feel it's fairly intrusive, because someone's home is located on the same property where a livestock operation is. That's personal privacy space and I think all citizens of this country would prefer that the government not be indirectly taking pictures of them sitting on their deck."
That's the difference between surveillance of livestock facilities and the Supreme Court ruling that EPA says gives them the authority to conduct their flyovers. Dow Chemical sued EPA over its aerial surveillance and the case went to the Supreme Court. The High Court determined, since it was a business, there was no expectation of privacy on the roof.
"However, a chemical manufacturing plant is very different from where we raise livestock," Hassebrook says. "Where we raise livestock, someone lives on that property; they raise their children on that property. So it's a little bit more concerning when the government's flying around taking pictures of your home."
Hassebrook also says the flyovers are unnecessary. EPA has delegated the authority to carry out the Clean Water Act to the Nebraska Department of Environmental Quality (NDEQ) and that agency has inspectors who focus specifically on livestock compliance. "They inspect producers every year. And we have a good track record in Nebraska."
Since both EPA and NDEQ can inspect any facility at any time without notice, Hassebrook says that, even if the flyovers indicate a potential problem, inspectors still have to make on an onsite visit, which they already have the authority to do. "We don't really see the need for this extra step. EPA's extensive presence on these flyovers is doubling up on what our state DEQ is already doing, which means they're doubling up on taxpayer dollars."
According to Kris Lancaster, EPA spokesman, the agency has used aerial surveillance for nearly a decade to verify compliance with environmental laws in impaired watersheds. "Region 7 initiated this program (for CAFOs) in March of 2010 in Iowa," Lancaster tells BEEF. "The completed flyovers include three in Iowa in 2010, five in Iowa in 2011, and one in Iowa in 2012. In Nebraska, the completed flyovers include six in 2011, and three in 2012 to date," he says. Region 7 consists of Iowa, Kansas, Missouri and Nebraska.
No enforcement actions resulted from the flights alone, he says. "The flights have identified potential problems and, in some cases, serious contamination that were subsequently investigated through onsite inspections."
Those inspections have resulted in some producers receiving penalty orders. Lancaster says a penalty order is based on a facility that is not diligently working with the state to correct issues related to impairments in the water based on discharges into a stream. "In region 7, there were eight penalty orders in 2010, four in 2011 and five in 2012," Lancaster says. "Aerial overflights were related to penalty orders for two CAFOs in 2010, four in 2011 and four in 2012."
Lancaster says the flyovers aren't restricted to just Nebraska and Iowa. "The majority of our other regional offices throughout the country have completed flights looking at various facilities, not only CAFOs but facilities like chemical manufacturing facilities and other facilities that EPA is required to regulate."
Outside of Nebraska and Iowa, however, no one is aware that flyovers specifically looking at CAFOs are happening. Both the Texas Cattle Feeders Association (TCFA) and the Kansas Livestock Association say they haven't received any reports from feedyards about low-flying aircraft.
However, in a post 9-11 world, low-flying aircraft buzzing a feedyard are a concern, says Ben Weinheimer, vice president and head of environmental affairs for TCFA. And he understands the aircraft fly at 1,200-1,500 ft. That, he says, is pretty snug to the ground.
"We're still very much in an agroterrorism defense mode, preparedness and response, and we've engaged in all this work with the Department of Homeland Security and the FBI," he says.
Harkening back to the truck-burning incident recently at Harris Ranch in California, he says bioterrorism is a threat both domestically and internationally. He wonders who has access to the information EPA collects. He also wonders if EPA is prepared when a feedyard calls law enforcement to report a potential bioterrorism strike.
With the Supreme Court ruling in its favor, EPA seems confident it can continue the aerial surveillance. However, EPA has a June 10 deadline to respond to a congressional letter from Sen. Mike Johanns (R-NE) and others asking 25 specific questions about the practice. What comes of that remains to be seen.
"Obviously we'd like see the flyovers ended," Hassebrook says. "We just don't think they're an appropriate use of EPA authority. But this brings up an opportunity for agriculture to talk about what a good job we're doing in the realm of environmental quality and to point out that regulatory burdens are immense and that something needs to be done when they're not reasonable."
Subscribe to Our Newsletters
BEEF Magazine is the source for beef production, management and market news.
You May Also Like
---