Exclusive BEEF Survey: Challenges and opportunites in finding good help
Exclusive BEEF Survey: Challenges and opportunites in finding good help
BEEF's wage and benefit survey reveals challenges, opportunities in ranch labor.Download the complete PDF survey results here.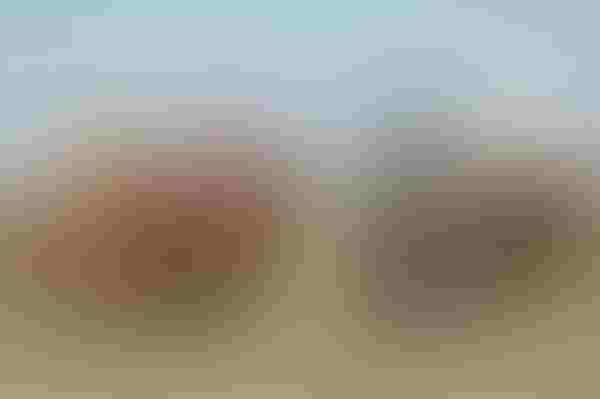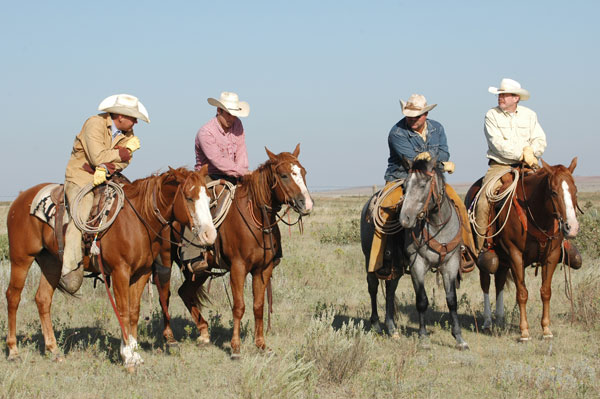 "Finding people with a good work ethic."
That, in a nutshell, summarizes the frustration expressed by BEEF readers when we asked what you consider the biggest challenge in finding and hiring employees.
Close behind? Paying a competitive salary. "Any employee I would want can make more money somewhere else, versus what I can afford to pay them," lamented another reader, summarizing another challenge ranchers face in finding and keeping good help. While some readers indicate they don't have any trouble keeping good help around, most find hiring and retaining good employees to be a major obstacle.
In fact, when asked, "Do you have more difficulty finding qualified employees now than five years ago?" 66.4% of respondents who hire full-time help said yes, while 33.6% said no. Of the outfits that hire three or more employees, 76.6% indicate they have more trouble now than in the past finding qualified applicants, and 66.5% of operations with one to two employees indicate a problem (Figure 1).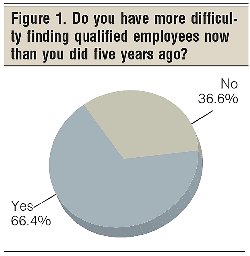 Of the readers who responded to our wage and benefit survey, 46% employ non-family help on their operations and 54% don't. Of those who don't hire non-family employees, 8% expect to add a non-family employee to the payroll in the next five years, and 26% aren't sure. Expansion (65%), age (49%) and loss of family help (42%) are among the reasons these folks are looking to add hired help to the operation. The numbers add up to more than 100% because of multiple answers.
Of those who hire non-family help on their outfits, 33.5% don't have any full-time employees, relying instead on part-time help and day workers. The majority, 49.4%, have one to two full-time employees. Of those operations that employ three or more people, the majority of them, at 49.4%, have three to four, while an equal number, at 13% each, employ five to six and seven to eight employees. Interestingly, of those operations with three or more employees, 22.1% employ more than 10 people (Figure 2).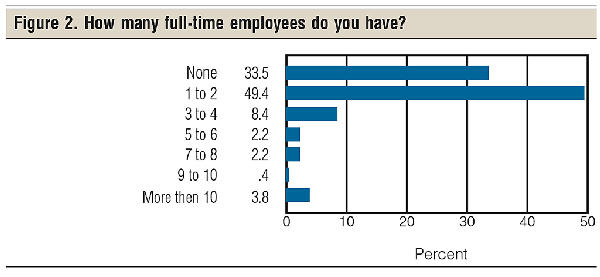 Of operations with full-time employees, 32.4% conduct a formal pre-employment interview, while 67.6% don't. However, outfits with three or more employees are much more likely to have a formal interview process — 72.4% do so, versus 33.9% of operations with one or two employees (Figure 3).
Along those same lines, 56.5% of outfits with full-time employees provide prospective hires with a job description, while 43.5% do not. Operations with three or more employees, however, do so more often, with 81.6% checking that box versus 60.2% of outfits with one to two employees (Figure 4).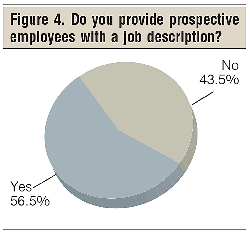 Here are some other survey results from those who hire full-time help.
• Do you have an orientation program to acquaint new employees with your business and the community? Of operations with three or more employees, 39% have such a program, and 28.1% of those with one to two employees do so.
• Do you have a training program for the job for which you are hiring? Among operations with three or more employees, 50.6% do, as do 31.7% of outfits with one to two employees.
• Do you have a plan or program in place to increase wages over time? Of larger operations, 75.3% do, as do 60.8% of operations with one to two employees.
• Do you conduct performance reviews? Among operations with three or more employees, 64.9% have a formal job performance review process, compared with 38.3% of smaller operations. Of those who conduct performance reviews, the majority, at 63.3%, do so annually, followed by 18.4% that do so biannually.
• Do you offer performance bonuses? Among large operations, 62.3% offer a performance-based bonus opportunity, as do 51.8% of smaller operations.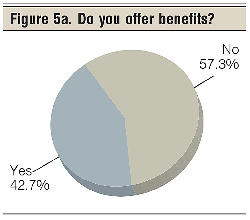 However, bonuses are just part of a package of incentives that an employer can offer, beyond a paycheck, to attract and then keep employees. When BEEF asked respondents if they offer other benefits, 75.3% of large operations employing three or more people said yes, as did 49.5% of outfits hiring one to two employees.
Paid vacation is the most popular benefit, with 72.3% of all respondents checking that box. It's followed by housing at 60.7%, vehicles at 55%, insurance at 52.9% continuing education at 36.1% and horses at 30.9%. (Figures 5a and 5b). The total is more than 100% because of multiple answers.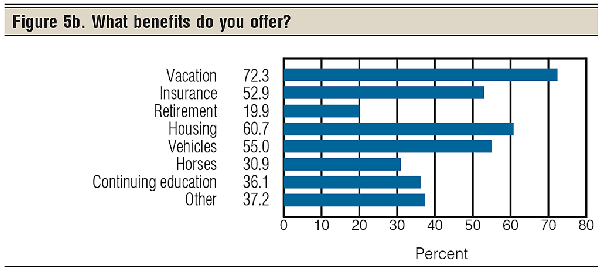 Paycheck is important
However, while bonuses and benefits are important, it's an employee's salary that pays the bills. BEEF asked readers who hire full-time employees to pick one employee on their outfit and answer a series of questions with that person in mind.
What we found is that, in aggregate, a salary is slightly more popular than hourly wages when compensating employees, with 62% of all respondents paying a salary and 38% paying by the hour. Of operations with three or more employees, 68.8% compensate their chosen employee with a salary, as do 59.6% of smaller outfits (Figure 6).
Of those employees who are paid by salary, the range is fairly wide. Looking at the responses in aggregate, most of the chosen employees, at 29.3%, make from $30,001 to $40,000 a year, followed by $20,000 to $25,000 at 22.7%, $25,001 to $30,000 at 21.5% and $40,001 to $50,000 at 16.6%. And, as expected, the range is skewed slightly to the high side when comparing large operations with smaller outfits (Figure 7).
And in general, these employees are not long-term hands. In aggregate, 43.2% have been on the payroll for one to five years and 27% have been on the job for five to 10 years (Figure 8).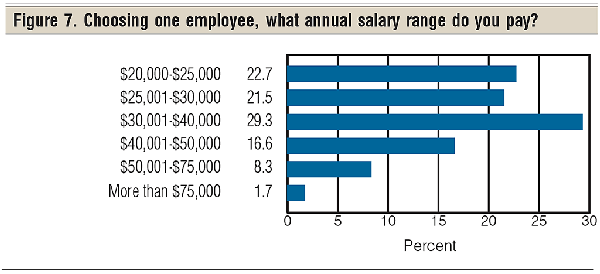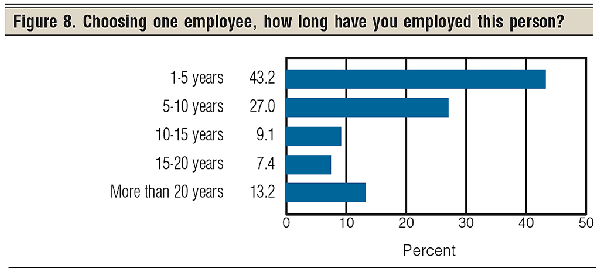 For hourly employees, the pay range is fairly widely distributed. Most, at 30.4%, make from $10.01 to $12 per hour, followed by 28.6% who are paid $14.01 to $18 per hour, 17.9% who are paid $12.01 to $14 per hour and 16.1% who bring home $8 to $10 per hour. A few, at 5.4%, make more than $18 per hour, and only 1.8% make less than $8 per hour (Figure 9).
While many respondents indicate that competing with non-ranch employers — even Walmart — on the size of the paycheck is a major obstacle, some indicate there are ways to work around that.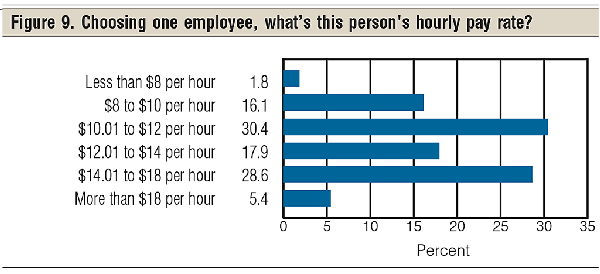 "I'm in the process of building a home for a manager with family," says one reader. "With education from the King Ranch Institute, I've developed a strong employee agreement. I've also developed a thorough manager's orientation program. My adult kids are likely to not return, so I'm looking for a young family with ag experience and education. I know there is one out there, and we have begun the search."
Another reader is looking beyond the ranch for help in creating an atmosphere that will encourage home-raised talent to stay. "The workforce is small, as most of the youth have gone to the city where there is social activity," the reader says. "This county has engaged in economic vitality through the Main Street Program and now has advanced to 'Startup' level."
This reader says that local leaders believe the community must be economically healthy, attractive and offer amenities such as movie theaters, cafés, bars and other gathering places in order to retain youth to live and work in the place they were raised.
"The holistic approach included completion of an equestrian center built by the school district. This asset creates a couple of jobs and provides year-round access to horse-related activities as well as concerts, etc. It is important to design a community to draw youth back home. It is a big challenge and here the progress is measurable," this reader says.
You might also like:
7 ranching operations who lead in stewardship, sustainability
Trending Headlines: 10 tips for cutting cattle feeding costs
5 tips for managing feed intake in calves
Photo Gallery: Laugh with Rubes cow cartoons
Cattle feeders are enduring record losses
Feed and bed your cows without all the waste
Subscribe to Our Newsletters
BEEF Magazine is the source for beef production, management and market news.
You May Also Like
---