How many clean-up bulls do I need after artificial insemination?
How many clean-up bulls do I need after artificial insemination?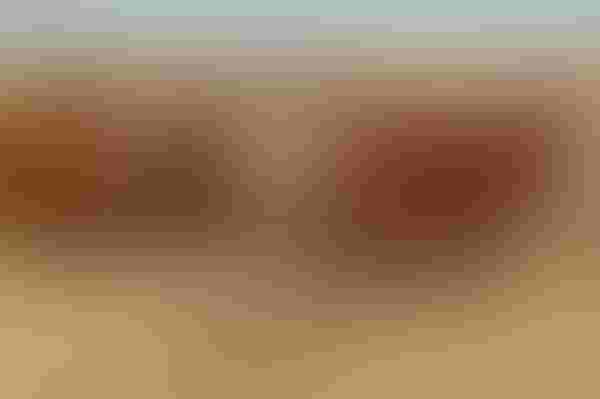 With the breeding season in full swing for many ranchers, it's time to kick start estrus synchronization protocols, purchase semen for artificial insemination (AI), and figure out how many clean-up bulls you'll need after breeding.
Without a doubt, artificial breeding not only allows ranchers to affordably introduce new genetics to their herds, but it also gives breeders an opportunity to cut down on the number of bulls they need to buy or lease each year.
In a recent article for the University of Nebraska-Lincoln BeefWatch newsletter, Hazy Nielson of Nielson Reproductive Service, and Rick Funston, reproductive physiologist, share research which evaluates the number of herd bulls producers need to cover cows after synchronization and AI. 
"Research has indicated cows not conceiving to AI will return to estrus over a 12 day period following a single timed AI," say Nielson and Funston. "The most active day had 18% of the herd in estrus, with the remainder of the distribution a bell curve. Each cow's estrous cycle is slightly different. Some cows have two follicular waves during the estrous cycle, while others have three. This results in a natural variation in cycle length, causing the non- pregnant cows' return to estrus to vary."
So what is the perfect ratio? Can I reduce the number of bulls in my battery if I plan to synchronize and AI?
Nielson and Funston evaluated various protocols and the bull to heifer ratios needed to cover the non-pregnant cycling females.
They explain, "No effect of bull to female ratio or number of females expressing estrus per bull on pregnancy rate was found when comparing bull to heifer ratios ranging from 1:7 to 1:51 in heifers synchronized with Synchro-Mate B. In a comparison of bull to heifer ratios ranging from 1:16 to 1:50 in herds of 100 heifers synchronized with melengestrol acetate (MGA)- PG and immediately exposed to bulls, the optimal bull to heifer ratio for synchronized heifers was 1:25 based on both biological and economic criteria. If the optimal bull to heifer ratio in a synchronized natural service setting is 1:25, it can be extrapolated with a hypothetical AI pregnancy rate of 50%, the number of clean- up bulls needed is decreased by 50%."
One thing to consider is whether your bull is a yearling or experienced bull, as age and experience can make an impact on how many cows a bull can cover. Additionally, Nielson and Funston said to keep in mind the pasture size and terrain when considering how many cows and how much ground you're asking your bulls to cover.
"Producers utilizing estrus synchronization and AI should keep in mind the similarity between final pregnancy rates when using a 1:25 bull to female ratio and 1:50 bull to female ratio," they say. "Producers need to evaluate the cost difference of purchasing and maintaining twice as many bulls to maintain a 1:25 bull to female ratio following estrus synchronization and AI."
Be strategic when calculating how many bulls you need in your summer breeding line-up. In my opinion, it's probably best to err on the conservative side when factoring bull needs as conception rates through AI can vary, and the hot summer grazing months combined with rough, hilly terrain can slow your herd bulls down.
What's your perfect bull to heifer ratio? Which factors do you consider when planning your pairings for the summer breeding season? Share your strategies in the comments section below.
The opinions of Amanda Radke are not necessarily those of beefmagazine.com or Penton Agriculture.
You might also like:
10 photo finalists celebrating spring
Burke Teichert: How to manage your way out of a hard-calving cowherd
2016 market outlook: Here's what to expect
Getting first-calf heifers ready for the breeding
Subscribe to Our Newsletters
BEEF Magazine is the source for beef production, management and market news.
You May Also Like
---