New Roxor utility vehicle hits the market
New Roxor utility vehicle hits the market
Mahindra redesigns rugged machine, targets farm and rural lifestyle market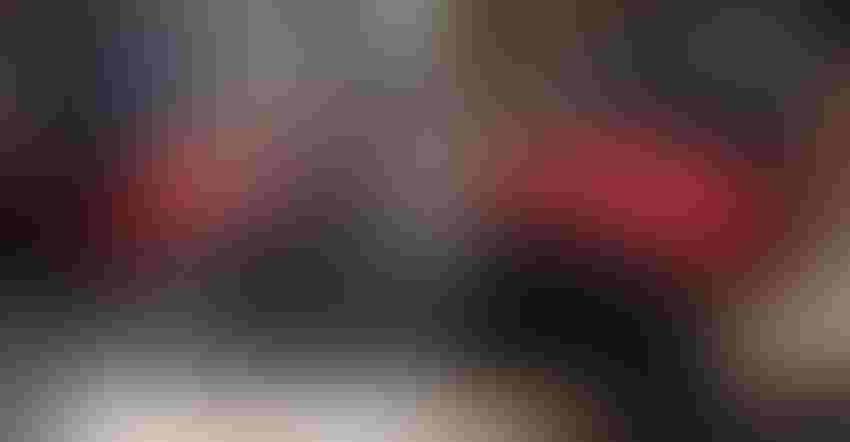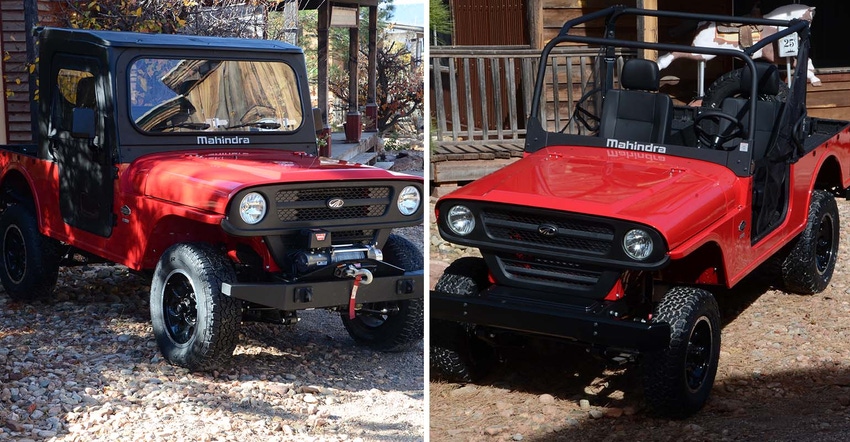 NEW ROXOR: On the left is the new Roxor All Weather with a full cab and HVAC system. On the right is the Base model. Both feature a 2.5-liter, 62 hp turbodiesel, steel frame and a five-speed manual transmission. The two colors offered are red and black.
Willie Vogt
When Viren Popli, president and CEO of Mahindra North America, introduced the newly restyled Roxor utility vehicle, his opening statement offers customers a peek at what's a head. "It's a side-by-side unlike any other," he says.
The Roxor, which was first introduced in 2019, has been restyled. A dispute with what was then FCA over its "too much like a Jeep" original look took Mahindra and Roxor designers back to the drawing board. And while the body is restyled, the chassis and underpinnings of this tough machine remain the same.
Adds Popli: "The Roxor is a great opportunity for us. It complements our long-term tractor business as we work with rural lifestyle customers all over the United States."
During the redesign process, the Roxor team surveyed customers who bought the original to find out what could be better. The new machine is not a "clean sheet" restart, but rather builds on the key features of the original.
Adds Rich Ansell vice president of marketing for the Roxor brand: "This machine has unparalleled toughness with a box steel frame, a 2.5-liter turbodiesel engine and a fresh, exciting look. This is a rugged workhorse, and the vehicle underneath has not changed."
Tough-built steel design
A long-time side-by-side user will find that the Roxor is bigger than you might first expect. It's just over 60-inches wide, so still as narrow as many competitors. But it's 148-inches long, with a 96-inch wheelbase. The steel body, bolted to that full steel frame, uses a design approach that has been around in the pickup and off-road market from the beginning.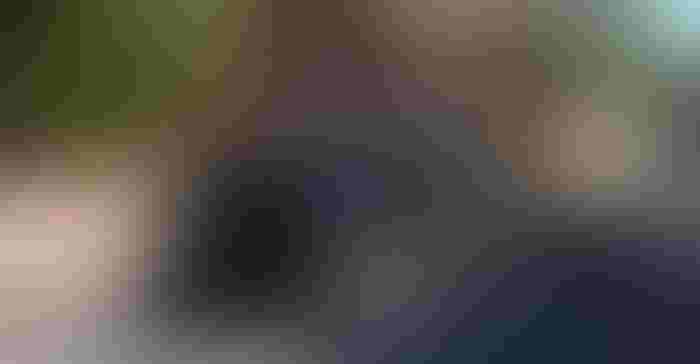 TOWING POWER: The restyled Roxor maintains its industry leading 3,490-pound towing capability. That's a one-ton bale and a full size trailer maxing out the towing capability. This was pulled at idle around the Imus Ranch as part of the in-field demonstration.
That initial Roxor machine was met with greater demand than Mahindra anticipated, Ansell says. "We want to build on the success we've had in this segment and for the last couple of years we've found that the market for this vehicle is bigger than initially thought," he says.
To meet that need, Roxor marketing will concentrate on just how tough that machine is. That full steel design means it can tow more than competitors – officially rated at 3,490 pounds. It can carry a payload of 349 pounds, plus driver and passengers. Standard ground clearances for all models is 9-inches, a lift kit is available as an option that raises that to 12-inches.
The 2.5-liter turbodiesel provides 62-hp of smooth-riding power at 3,200 rpm but max torque of 144 pounds-feet is available at 1,400 to 2,200 rpm. It can be run at lower rpm, and in a test drive at the iconic Don Imus Ranch near Sante Fe, N.M., riders were challenged to "put it in second and just let off the clutch." Using that technique, the machine had a smooth start because of that of low-end torque in that engine.
The only transmission available from Roxor in this new line is a 5-speed manual, which during an in-field driving experience – over some rugged trails – proved to be a smooth shifter. Ansell adds, digging a little on the competition: "That transmission won't leave you with a belt failure at the edge of a field," he says. That 5-speed is also mated to a two-speed, four-wheel drive transfer case.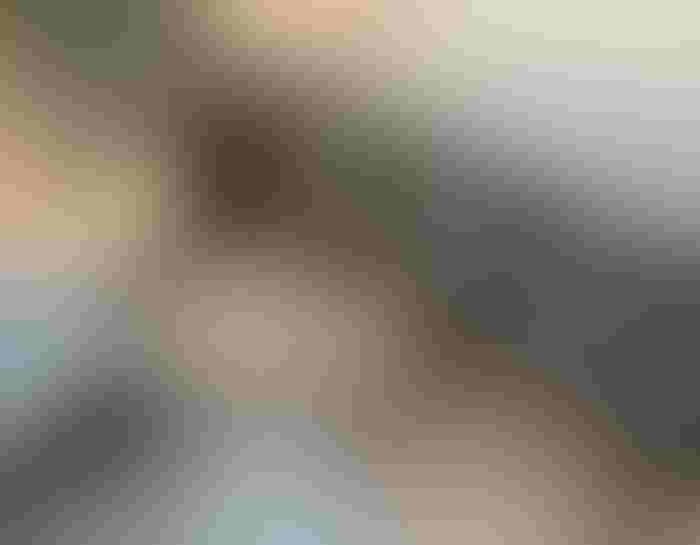 CLEAN INTERIOR: Well perhaps not clean after some trail riding, but the layout of the operator and ride station on the new Roxor is open. There's limited storage space, but note that the interior can be cleaned simply by hosing it out.
All models feature a solid axle and a leaf spring suspension system and 11-inch front and rear brakes.
The clean design of the interior offers limited storage – though there is a lockable box under the passenger seat. It's also designed to be hosed clean after a tough day's work.
Two 'Roxor models available
Mike Dragojevic, vice president of sales and service, Roxor, outlined the two machines to be offered in the restyled lineup.
The Base machine is an open-platform design with 16-inch Goodyear tires and priced at $18,999. "The base is a blank canvas to add whatever you want," Dragojevic says. "Customers will enjoy the simplicity."
The second model, the All Weather machine, features a full cab with standard heating, ventilation and air conditioning. The windscreen of the cab features a polycarbon design engineered for Roxor for durability. The All Weather also gets an upgraded steel bumper and Warn 8,000-pound winch, and aluminum wheels. Price for this model is $26,299.
The machines are available in two colors red or black.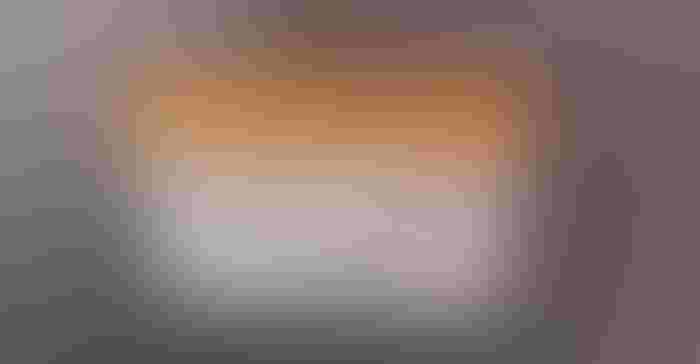 ESSENTIAL INSTRUCTIONS: On the dash is a sign that is popular with farmers and dealers alike. It does encourage commonsense use of the machine.
Dragojevic explains that the new-model rollout is being phased to manage around global supply issue. Roxor machines start in India with final assembly in Auburn Hills, Mich. "We're meeting on a daily basis to gauge demand and work with dealers to introduce the machines," he says.
Dealers are excited about the new machine and early orders are exceeding initial estimates. The mix of models – Base and All Weather – is a little different than first anticipated. "We though we would be around 80% Base and 20% All Weather," Dragojevic says. "We're about 73% Base and 27% All Weather."
One feature on the dashboard of the new machine is a sticker that pretty much sums up the attitude for the new machine. It says: "Warning: Don't do anything stupid!" reminding the user to read the Operator's Guide. "Dealers love that sticker and they want it on T-shirts," Ansell says.
Learn more about the new machine at roxoroffroad.com.
Subscribe to Our Newsletters
BEEF Magazine is the source for beef production, management and market news.
You May Also Like
---