Six operations honored for land stewardship
Six operations honored for land stewardship
28th annual Environmental Stewardship Awards names six regional winners for great resource stewardship.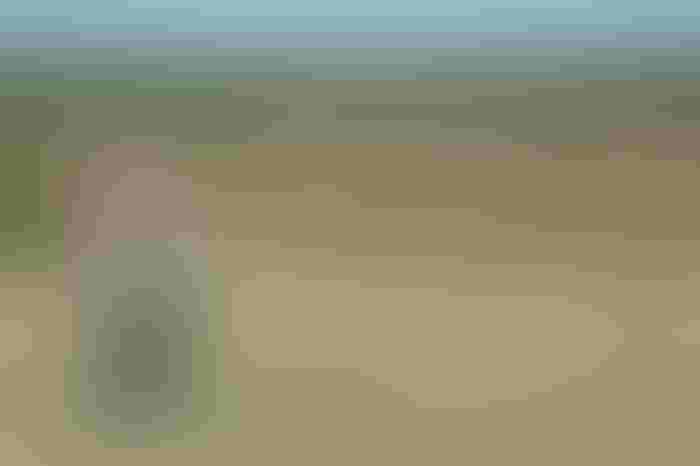 Emry Birdwell and Deborah Clark are among six beef operations honored for innovation and resource stewardship in the latest Environmental Stewardship Awards Program.Baxter Communications
By John Wallace
Six cattle operations across the nation were honored August 1 in the annual Environmental Stewardship Awards Program (ESAP) as outstanding stewards of their natural resources.
The program will name its 28th national winner from this group on January 30, 2019, at the Cattle Industry Convention in New Orleans.
Here is a summary of the attributes of each ranch.
Thunder View Farms
Grahamsville, New York, Region I
Philip and Richard "Dick" Coombe
Thunder View Farms is a 130-cow operation producing seedstock, cow-calf and freezer beef on 1,500 rolling acres 100 miles north of New York City

The farm is located in a watershed draining to Rondout Reservoir, through which flows more than half of New York City's drinking water. Therefore, protecting water quality in the area is a major concern.

When proposed regulations threatened the viability of area farms, Dick led an effort to develop a voluntary watershed protection program. Now 90% of farms in the watershed have enrolled.

Other than some purchased grain for cattle finishing, Thunder View Farms is totally forage-based.

The family fenced streams and rented 15 acres to the federal government for a riparian buffer. Planting 3,000 trees in the buffer has helped organisms remove more nutrients from the water.

For winter feeding, the farm installed heavy-use pads of compacted gravel on geotextile fabric. The pads are placed more than 1,000 feet from any stream to protect surface waters. They also allow 2,000 tons of manure to be collected and applied according to a nutrient management plan.

The family installed 5,000 feet of pipeline to gravity-flow water to pastures and feeding areas.

Excluding cattle from streams and providing clean water sources has improved cattle health.

Cattle graze rotationally during the growing season, moving every four to five days, which has improved forage quality for better cattle performance and extended the grazing season.

Cattle raised on forage and finished on 45 to 60 days of grain capture $3 per pound of carcass weight for the farm.
Landuyt Land and Livestock
Walnut Grove, Minnesota, Region III
Mike and Kari Landuyt, George and Kris Landuyt
In southwest Minnesota Mike and his father, George, farm nearly 2,200 acres and custom-farm another 400 acres. They also finish about 1,400 fed cattle per year in a hoop barn and a monoslope barn. Mike is the fourth generation on the operation.

The Landuyts use reduced tillage and cover crops to improve soil health. Cover crops have provided either hay or more organic matter for the following year's crops.

The family takes soil tests on each 2.5 acres of cropland (grid sampling) to fine-tune inputs.

Their corn crop is fed or sold to a local ethanol plant which provides them distillers grains for feeding.

They use corn stover as bedding for cattle in their barns and apply it back to crop land with manure from the barns as fertilizer.

The family tests all manure annually to determine nutrient value. With soil tests and manure values, they can apply fertilization where it's best used.

The family uses integrated pest management, low-drift sprayer technologies and tissue sampling that together have provided both environmental and economic benefits.

As an alternative to grassed waterways, 15 sediment-control basins with tile lines control runoff. Another water retaining structure controls runoff from a 110-acre watershed to prevent flooding.

The family maintains native prairie on the banks of Plum Creek. In the book, On the Banks of Plum Creek, a sequel to Little House on the Prairie, Laura Ingalls Wilder wrote of her childhood in the area.
Birdwell and Clark Ranch
Henrietta, Texas, Region IV
Emry Birdwell and Deborah Clark
Birdwell and Clark bought their ranch in north-central Texas in 2004 and have operated it following the holistic resource management principles advocated by Allan Savory.

They typically run 5,000 stocker cattle per year in a time-managed one-herd grazing program.

That herd rotates through about 340 paddocks on 14,200 acres. The couple created 140 of those paddocks by adding a one-wire electric fence to existing fencing.

They chose stocker cattle to achieve the stock density and hoof action they desired to knock down old plants, break up the soil surface and incorporate litter and manure into the soil.

Plant diversity has increased to include eastern gama grass, "queen of the prairie grasses," a highly palatable, native perennial long ago grazed out on most Texas ranches.

When drought emptied earthen stock tanks, the couple installed 25 miles of water pipeline. As part of that system, Birdwell built a mobile watering trough from a surplus propane tank.

Vegetation now grows to the water's edge in those earthen tanks (ponds) and water quality has improved.

The ranch produces 100 to 120 pounds of beef per acre per year, about twice the county average.

After adopting the one-herd system, the couple reduced the grazing period to nine months from year-round, grass gets complete rest in the fall and the total gain remained almost the same.

Since the couple bought the ranch, 95% of bare ground has been covered, and they have tripled carrying capacity.

Plant diversity has increased in pastures, improving habitat for deer, turkey, dove and quail.
The Hahn Ranch
Townsend, Montana, Region V
Chuck, Dusty and Buck Hahn, Cory and Jennilee Bird, Bev Bird, John Hahn, Dorothy Hahn
The Hahn Ranch has operated for 110 years in southwestern Montana. Four generations currently live on the ranch, including matriarch Dorothy Hahn, 92. Two generations are active in the business.

The operation comprises 27,760 acres, including deeded, public and private lease land. The 550-cow herd grazes 23,000 acres. Irrigated alfalfa, wheat and malt barley are cash crops.

With a 60-day calving season, 87% of the ranch's calves are born in the first three weeks.

Their ideal is a moderate-framed cow capable of weaning at calf at 210 days weighing 50% of her weight at a body condition score of 5.

Minimum-till, cover crops and composted fertilizer have improved soil organic matter. It once averaged 3% across the ranch, it now approaches 5%. The increase in soil organic matter saves about 0.25 acre-feet of irrigation water per acre.

Through the Hahns' work with private and public interests, Deep Creek was delisted as an impaired waterway for sediment. In addition, stream-flow temperature and fish populations have improved. Riparian fencing, off-stream stock water systems and noxious weed control continue to be key components in a watershed restoration plan.

The Hahns maintain 39 water tanks to distribute grazing and lure cattle away from stream banks.

Pivot irrigation has reduced water use on cropland by two-thirds. Soil probes monitor moisture.

The family uses both herbicides and biological agents to manage noxious weeds.

The family replaced four miles of old fence with new, wildlife-friendly fencing.
Haleakala Ranch
Makawao, Hawaii, Region VI
Peter Baldwin; Greg Friel, vice president-livestock; Charlene Ka'uhane, media contact.
Haleakala Ranch occupies 29,000 acres on the eastern slope of Haleakala, a dormant volcano on the island of Maui; the ranch is the island's largest and oldest landowner. Haleakala Ranch is owned by more than 100 family shareholders.

The ranch maintains valuable open space and vast diversity, ranging from near sea level to 9,500 feet in elevation, dry leeward coast to subtropical rainforest, temperate pastureland to alpine forest.

Grazing lands currently support more than 1,200 brood cows, mostly black and red angus. The ranch is rebuilding cow numbers as it recovers from drought in 14 of the last 20 years.

The ranch's 13 fixed pasture monitoring stations document pasture trends and recovery.

Haleakala Ranch is a partner in Maui Cattle Company which sells locally raised, grass-fed beef.

In 2015, the U.S. Fish & Wildlife Service exempted 8,700 acres of the ranch from Critical Habitat designation because of the ranch's voluntary conservation activities. These activities protect 55 endangered/threatened plants and two endangered forest birds. The ranch also has increased Geranium arboretum, an endangered plant native only to Maui. Haleakala Ranch hosts a recovery facility for the nene, Hawaii's state bird and the world's third-rarest goose.

Three full-time employees are tasked with controlling invasive plants threatening native ecoystems.

They use a combination of targeted grazing, mechanical, chemical and manual treatments. One strategy to control invasive plants has been to plant fast-growing acacia koa trees in pastures.
Moes Feedlot LLC
Watertown, South Dakota, Region VII
John and Donita Moes
John started with 20 cows grazing rented pasture in 1987. He became a full-time producer in 1999. Today the operation in northeastern South Dakota comprises a 250-cow commercial herd, row crops and a feedlot permitted for just less than 2,000 head.

Fed cattle typically are harvested at 13 to 14 months of age, grading high Choice. Through selective breeding, John has improved the number of calves qualifying for Certified Angus Beef from 25% to 65% in four years.

A system of sediment basins, holding ponds, a solid-manure stacking area, piping, diversion dikes, channels and nearly three acres of drainage area allows collection of nutrients from the feedlot. Those nutrients are applied to more than 1,200 acres of cropland.

John tests soils for nitrogen annually to fine-tune manure applications as fertilizer. Applications of feedlot manure have improved organic matter to as much as 4.5% which improves soil water-holding capacity.

Pastures are in a 10-year conservation easement with 230 acres in a perpetual easement.

John worked with Pheasants Forever to cross-fence and install 900 feet of water line to pastures to implement rotational grazing and keep cattle away from surface water, improving water quality.

Rotational grazing has increased carrying capacity by 10-15%.

The family has planted shrubs, native grasses and food plots to benefit wildlife.

Ducks Unlimited recognized John for preserving nesting habitat along Lonesome Lake.
(Region II had no nominations)
ESAP is administered by the National Cattlemen's Foundation and funded by Corteva Agriscience, the Agriculture Division of DowDuPont; McDonald's Corporation; USDA Natural Resources Conservation Service and the U.S. Fish & Wildlife Service. It was established by the National Cattlemen's Beef Association in 1991. Winners are selected by a committee of experts from both within and outside the cattle industry. Selection committee chooses a regional winner from nominations in each of NCBA's seven regions. Regional winners then compete for the national award. Nominations for each year are due in March.
Wallace runs John Wallace Communications and contracts with Corteva.
Subscribe to Our Newsletters
BEEF Magazine is the source for beef production, management and market news.
You May Also Like
---