Skills FFA kids possess that make them super marketable to employers
Skills FFA kids possess that make them super marketable to employers
Do you run an agricultural enterprise? Here's what you should know about FFA kids and why you should hire one as a summer intern or employee.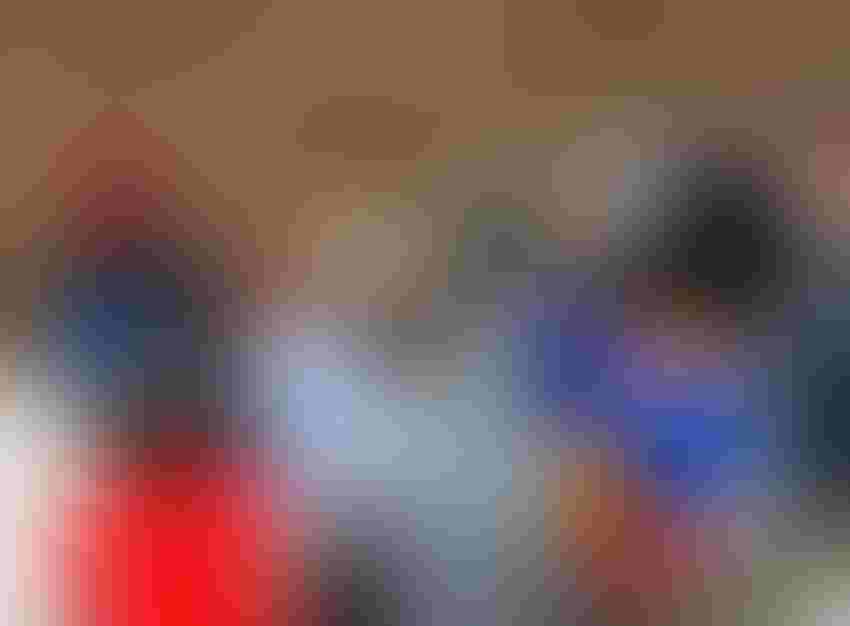 I recently dodged a day of calving out bred heifers to travel to Valley City, N.D., for the North Dakota Winter Show, where I spoke to FFA students about the power of sharing their authentic agricultural stories and how they can utilize social media to not only connect with consumers but with future employers, too.
And while being in the calving barn, wearing old coveralls instead of a tailored blazer, is definitely my preferred default mode, I always enjoy anytime I have the opportunity to work with FFA students.
The North Dakota Winter Show attracted many regional FFA chapters, and I loved being able to recap some of my favorite memories from my FFA days. There were many experiences with plenty of failures and successes that helped shape me into the person I am today.
There was that time I was so distracted by my new FFA friends during a contest that I filled in my card wrong as a first-time competitor and got zeroes on several classes in the livestock judging contest.
There was that time my friend and I went for a pizza run during a break in a district Career Development Event, and I got a flat tire on the way back. Some farm boys came and saved the day, and we got back in time for our contest.
There was the time I tried something new, something I never thought I would do — nursery landscape. I didn't know a darn thing about trees, but with a good coach and plenty of studying, I won state and earned a chainsaw as my trophy.
There was the time I polished up my resume, practiced my interview skills and earned a trip to nationals in the Job Interview contst.
There was the time I made a ton of new friends because even though I'm somewhat of an introvert, I decided to be brave and run for a district office and attend a summer FFA camp.
There was the time our team lost a state contest by just a few points, after months of preparating, and we collectively made the decision that we would work even harder next year, determined to win.
There was the time I learned to weld, woodwork, fundraise, connect with agribusinesses, explore new subjects (dairy, floriculture and food science). Through these experiences, I learned to ask questions, research new topics, connect with professionals who had expertise in these areas, work together as a team, think critically and grow as an individual.
There was that time I led a peaceful walkout at an FFA concert featuring Carrie Underwood in protest of her support of the Humane Society of the United States, an organization that wants to abolish animal agriculture and eliminate meat, dairy and eggs from the dinner table.
And there was the time I completely doubted myself. My advisor took me to watch the final four in the National FFA Extemporaneous Speaking Contest. I watched as these kids effortlessly presented speeches on topics that they had randomly drawn with only 30 minutes to prepare. I told my advisor, "I could NEVER do this contest."
Three years later, I not only tried this contest, but I ended up winning the National FFA Extemporaneous event -- complete shock to me and a reminder that sometimes the only person who stands in the way of you achieving your wildest dreams is yourself!
With each of these experiences, I grew as a person, and it's thanks to FFA that I realized where my talents and passions lie. This organization allowed me to apply these skills and interests to a career in agriculture, and I'm forever grateful!
So when I speak to FFA kids, I want them to know the sky is the limit. The only thing stopping them is their personal doubts and fears. There are opportunities to explore. There are new lessons to learn. There will be highs and lows, but that's part of becoming a well-adjusted, multi-faceted, confident adult.
What do I wish every agricultural employer knew about FFA kids? It's simple — these kids are top-notch. They aren't afraid to ask questions. They are willing to try new things. They are coachable. They are knowledgable. They are talented. They live in rural and urban areas. They are inquisitive. They are social media savvy. They know their way around machinery and livestock. They are salesman. They are marketers. They are future inventors and food scientists. They want to help feed the world. They are our next generation, and they will absolutely elevate the industry to achieve things it never dreamed possible.
Want proof of this? Here's an example: Following my speech in North Dakota, an FFA student approached me, firmly shook my hand, asked for my business card, introduced himself and told me one day he would run for the Presidency of the United States. That's a confidence that's been built through youth leadership programs like 4-H, FFA and junior breed associations. In my brief exchange with him, I have no doubt he'll make a successful run in politics and will likely change the world for the better!
As summer approaches, consider hiring an FFA kid as an intern or short-term employee. Take an FFA kid under your wing and mentor them. Invite them to job shadow you or hire them to do a variety of tasks. I guarantee they are willing to step into the role, to meet your expectations and to rise to any challenge you present them.
I'm proud to know these kids. I was one of these kids. And I hope to raise kids just like this. Thanks, FFA — you're one of those top-tier youth organizations that truly gets what it's all about.  
The opinions of Amanda Radke are not necessarily those of beefmagazine.com or Farm Progress.
Subscribe to Our Newsletters
BEEF Magazine is the source for beef production, management and market news.
You May Also Like
---