The pink vets of Texas rewrite stereotypes
The pink vets of Texas rewrite stereotypes
All-women veterinary clinics thrive in tradition-bound, big ranch country in the Texas Rolling Plains.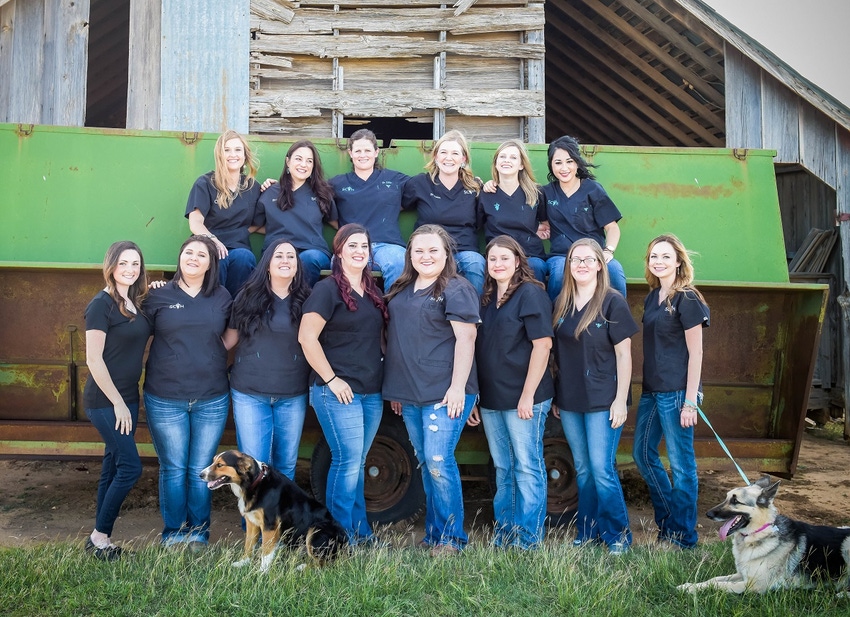 The women of Salt Creek Veterinary Hospital are proving they can succeed as cattle veterinarians in some of Texas's big-ranch country, all the while including marriages and children in their lives.
Salt Creek Veterinary Hospital
By Robert Fears
If you are a student in veterinary medicine and would like to practice on large animals, but feel your desire is unobtainable because you are a woman – think again.
Salt Creek Veterinary Hospital is staffed entirely by women, and half of the employees have children. The hospital operates clinics in the very rural communities of Olney, Seymour and Graham, Texas, with five veterinarians and 13 staff members who rotate among the three clinics.
"We are mothers, wives and veterinarians in a business that revolves around family. Life and family are practiced as one entity," says Dr. Keelan Anderson Lewis, manager of the organization. "Our husbands all work, so they are not available to care for the kids during the day. Operating hours for day care centers in the area are from 7:30 a.m. until 5:30 p.m. which doesn't always fit our work schedules. During the summer, we like to start ranch work early in the morning before it gets too hot, to avoid putting extra stress on the animals. In these situations, we need to drop off our children at a day care center by 7 a.m."
Daycare solved
To fill their need for day care, the business bought a two-bedroom home within two miles of the Olney vet hospital and across the street from the local elementary school. About a year later, Shanda Hope was hired as a nanny. Hope rotated among the mother's houses for the first nine months while the home was retrofitted as a day care center. Only employee children can attend the day care center, usually about six at a time. Their ages range from 6 weeks to 5 years.
Hope is a salaried employee of the hospital and receives the same benefits as the rest of the staff. She works the same hours as the vets but has weekends off, as well as Thursdays, which coincides with moms' day off, which is time allotted for mothers in the organization taking children to the doctor and other non emergency needs and completing tasks generated as result of raising children. It also gives Mom time with the kids.
"If I leave the house at 6 a.m., Hope is at the day care center at 6 a.m.," says Lewis. "When I can't return by 6 p.m., one of the other clinicians picks the kids up for me and I return the favor when they are in the same situation. Hope is paid extra when she works over 40 hours per week."
Salt Creek staff operate as a family. When someone takes pregnancy leave or is away from work for any reason, the rest of the staff covers for them. Each veterinarian is on emergency call one night a week and every fifth weekend. They work on one holiday per year, which is different every year. Work days from 5 in the morning until 10 at night are not uncommon.
"If emergencies occur at night, weekends or holidays, the husband cares for the children," Lewis says. "Clinic employees, who clean the kennels and walk dogs, are also called on to babysit if someone gets in a bind. When working on Saturday mornings, most of the practitioners bring their children with them. Our clientele understands Salt Creek Veterinary Hospital as a family business."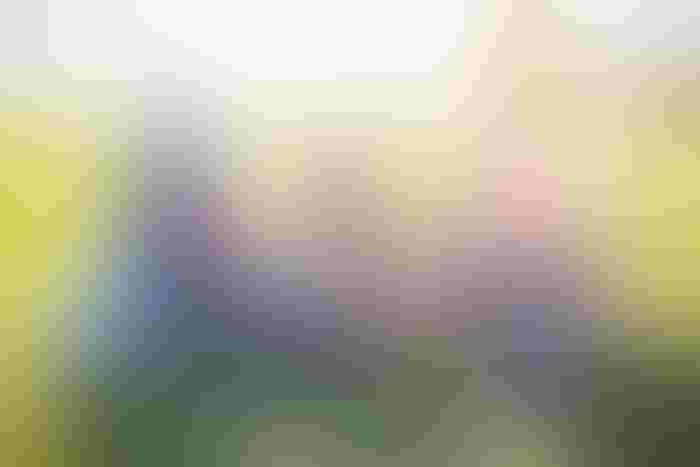 Breaking tradition
The Salt Creek trade area is the eastern edge of big ranch country where cowboy culture of the 1800s still exists. Cowboys think of women as being weak, timid, domestic, dependent and pure. The pink vets are changing that tradition.
"On my first visit to a big ranch, a cowboy came running up to my truck as I entered headquarters," said Lewis. "When I rolled down my window, he said, 'Ma'am, I am supposed to carry all of your stuff for you. That is my job for today.' He opened all the gates for me and wouldn't let me lift anything.
"Today, when I work on the ranch, I carry my equipment and am told, 'Hurry up and get in the chute and go to work. We need to get these cattle back to pasture.'"
Salt Creek vets pride themselves on delivering effective and efficient animal care, but at the same time they want to retain their feminine identity. They wear pink caps and scrubs and carry pink tote boxes. Some of the vets hang bootees on the rear-view mirrors in their pickups.
"We readily admit that we can't do everything men can do. The other night I was asked to assess the health of a pen of cattle at one of the local auction sales. They were the wildest cattle I had ever seen. They were trying to crawl over the fence and were completely out of control. It was a good time to be a lady," said Lewis. "I let the cowboys put the cattle in the chute."
The pink vets at Salt Creek Veterinary Hospital say they have proved beyond a doubt there is a place for women veterinarians in the cowboy world.
Filling the need for large-animal practitioners
Dr. Lewis is a big a proponent of large-animal practices, as well as female vets. She says one reason for a shortage of large-animal practitioners of either sex is the difficulty in making a decent living as a vet in small towns.
Up-to-date diagnostic equipment is very expensive and a small practice cannot afford it. Salt Creek Veterinary Hospital is growing because the three clinics are operated as one business. Some of the most expensive equipment is shared by the clinics and personnel are shifted among locations as needed to cover the workload.
"To be successful, a veterinarian has to care for all animal species," Lewis says. "This morning we have seen two pigs, three dogs, a bull and a rabbit. With the variety of work, there is an advantage in the opportunity for us to consult with each other on various cases. We also frequently contact veterinarians at Texas A&M on unusual situations."
Fears writes from Plano, Texas.
Subscribe to Our Newsletters
BEEF Magazine is the source for beef production, management and market news.
You May Also Like
---