Trade issues dominate ag forum with Moran, Roberts and Perdue
Trade issues dominate ag forum with Moran, Roberts and Perdue
Ag leaders met with Kansas farmers to address 2018 Farm Bill prospects and trade concerns.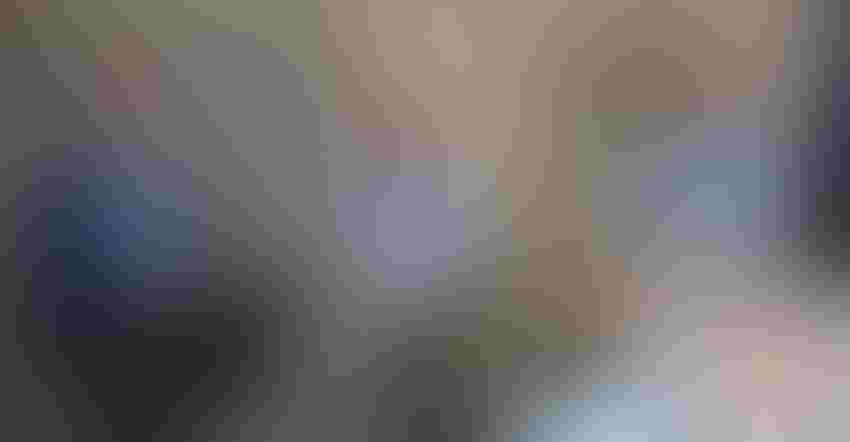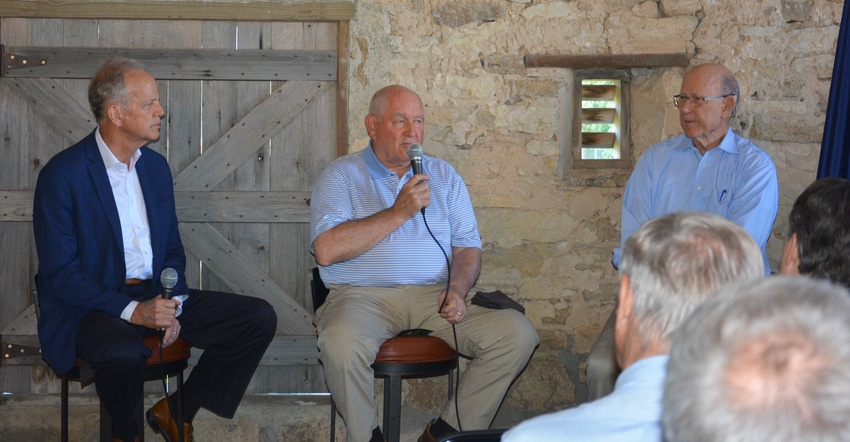 FARM FORUM: Sen. Jerry Moran (left), Agriculture Secretary Sonny Perdue and Sen. Pat Roberts take questions from farmers and commodity leaders May 30 during a forum in Manhattan, Kan.
Kansas Sens. Pat Roberts and Jerry Moran joined U.S. Secretary of Agriculture Sonny Perdue to hold a forum Wednesday with Kansas farmers, ranchers and rural advocates in Manhattan, Kan.
Roberts told the group that Congress is fully aware of the serious challenges farm country is facing, both from the weather, with almost a quarter of the state still mired in drought in spite of recent rains, and from a fifth year of low commodity prices and farm income that is down 54% from two years ago.
He promised action on a new farm bill, saying it will on President Donald Trump's desk before the current bill expires Sept. 30. Moran, who sits on the Senate Appropriations Committee, said Congress is committed to making sure that there is funding in Fiscal Year 2019 for conservation, crop insurance, research and rural development programs.
But it was trade issues that brought the most questions and concerns from the farm leaders present at the forum.
Perdue said his administration is committed to negotiating solid trade agreements and finding the resources necessary to fight whatever tariffs China may impose as trade talks are carried out.
"Agriculture is lucky in that we inherited a good career staff of people dedicated to America's farmers," Perdue said. "There is no 'deep state' in the Department of Agriculture, just a bunch hard-working men and women."
EXPRESSING FAITH: U.S. Secretary of Agriculture Sonny Perdue told farmers and commodity leaders at a forum on the Farm Bill and trade issues that he has faith that President Trump's "unique negotiating style" will bear positive results as trade talks with China continue.
Lee Reeves, President of the Kansas Livestock Association said 20% of the production of Kansas stockmen is exported and that additional export markets are essential to keep producers in business.
"The president is very aware of the importance of ag exports," Perdue said. "We are optimistic that we are getting close on NAFTA. We are closer to agreement with Mexico than with Canada. Canada's protection of its domestic dairy industry continues to be a stumbling block."
Perdue said trade meetings with China in Washington in late May were a good start, with China agreeing to increase imports of agricultural products by $8 to $10 billion. But he acknowledged that the agreement isn't a sure thing.
"President Trump has a unique negotiating style and he has been very successful," Perdue said. "But certainty and predictability are not there yet on trade."
There are positive developments, such as an agreement to end the 179% tariff on U.S. sorghum in retaliation for U.S. tariffs on washing machines and solar panels, but more retaliation could be in store as tariffs on steel and aluminum are implemented.
Roberts said that Trump has suggested a program that would compensate farmers for lost trade, offering about $15 billion in aid for those impacted.
"We have made it clear that our farmers don't want another program or a trade subsidy. They want more markets," he said. "The trade representatives are headed to China in the coming weeks and I have confidence in Bob Lighthizer and Greg Doud to get the job done."
Moran said he has been working to make sure the administration understands that China is not a "captive" buyer for U.S. ag products.
"There's a popular notion among some people that China can't afford not to buy U.S. ag products," he said. "But the reality is there are plenty of options out there for China and for others to obtain farm products."
He cautioned that once U.S. ag customers find alternate suppliers, there is always a danger that they won't come back.
"Putting it simply, trade is the key to farm survival," Moran said. "There is nothing more important than trade. And it is not just ag. I was in Wichita last week for a ceremony commemorating a milestone in the delivery of Boeing 737 fuselages from Spirit Aviation. That airplane is 100% aluminum. Big increases in the price of aluminum is not a good thing for that production."
Moran said he is among a number of leaders who have explained to the president that the best weapon the U.S. has in the competitive struggle with China is membership in the Trans-Pacific Partnership. One of Trump's first actions was withdrawal from the agreement, which took years to negotiate and includes seven other nations.
SHARING CONCERNS: Jay Armstrong, left, with Armstrong Farms, takes advantage of the chance to share his thoughts with U.S. Secretary of Agriculture Sonny Perdue following a forum on the 2018 Farm Bill and trade issues May 30 in Manhattan, Kan.
Both Roberts and Perdue agreed that rejoining the TPP would give the U.S. a badly needed edge in the battle with China for markets, especially in Asia and South America.
Perdue expressed hope that might happen, but he said the administration needs to "rack up some wins" first.
"Basically, I just want to sell stuff," he said. "I think it is just a matter of time for TPP. But we need to get the steel and aluminum tariffs resolved and some wins on China. We need some wins on the board."
Moran said while trade issues dominate the conversation and farmers are concerned about the 2018 Farm Bill, he still has concern about the need to improve infrastructure with new roads, bridges and waterways to help provide relief for rural hospitals and expand technology.
"There's a lot of work ahead of us," he said
Subscribe to Our Newsletters
BEEF Magazine is the source for beef production, management and market news.
You May Also Like
---