Trump & Biden clash on ag policy
Trump & Biden clash on ag policy
Reactions to the first debate between Biden and Trump have been mixed, but the real question remains — which candidate is better for agriculture?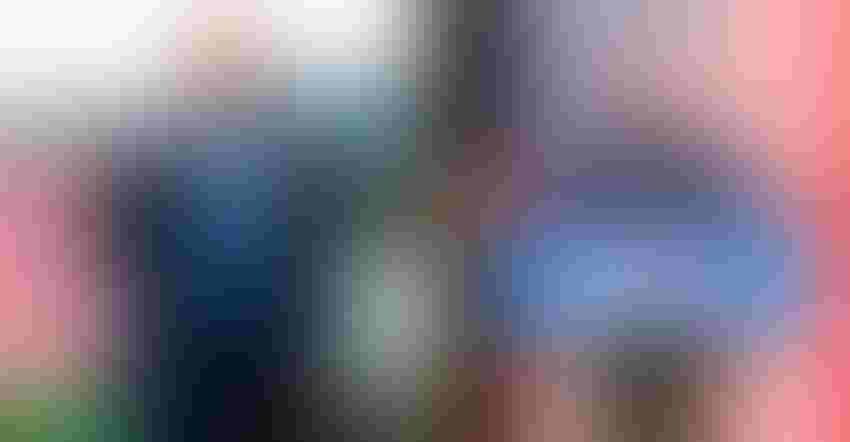 Official White House Photo by Shealah Craighead/Courtesy of Biden campaign
More than 27 million viewers tuned into the first of three debates between Trump and Biden earlier this week.
The debate was more of a debacle riddled with mistruths, pandering, huffing and puffing and what many were calling an "embarrassment" to the American people.
Now, I could certainly deep-dive into the political points scored on both sides of the aisle. However, there was so much tit-for-tat, name-calling and speaking in circles without saying anything at all that it might take all day to decipher and unpack what was really said. And despite what the mainstream media is rolling with, I don't think there was a runaway winner in the debate.
I could also comment on moderator Chris Wallace's complete inability to keep the debate moving forward in a productive manner. From my vantage point, he failed to remain unbiased. He let the politicians run the room. And his questions were craftily written to evoke knee-jerk emotional responses instead of thoughtful discussions on actual policies that shape this country.
As a side note, I saw a suggestion that perhaps in the next debate a work-from-home mom who has been homeschooling all year during the pandemic would be able to handle the task of moderating the next standoff between Biden and Trump. I humbly offer my services as the next moderator. I promise when it comes to childish tantrums, this mama doesn't take any bull.
All of that aside, as I put on my rancher's hat, I know I wasn't the only one wishing we could see a true debate on agricultural issues from these two leading candidates for the presidential seat.
Having covered previous elections during my tenure at BEEF, I've got to admit this cycle feels a little bit different. Every topic feels polarizing. Every tweet is overanalyzed. Every truth seems to be distorted to fit a narrative. And we've got to wade through a lot of manure to get to the facts.
What will another four years under Trump look like for farmers and ranchers? How will things shift if Biden should take the role? Rhetoric, emotions and knee-jerk reactions aside, we must evaluate the policies, actions and records of these men and vote accordingly.
Let's take a look at Trump and Biden's campaign websites for a glimpse at what these candidates have in mind for the future of land ownership, agriculture and food production.
First, let's check out "The Biden Plan For Rural America."
Biden promises to "fundamentally revitalize rural economies," by strengthening the agricultural sector through these actions:
Pursuing a trade policy that works for American farmers.

Supporting beginning farmers.

Fostering the development of regional food systems.

Re-investing in land grant universities' agricultural research so the public, not private companies, owns patents to agricultural advances.

Partnering with farmers to make American agriculture first in the world to achieve net-zero emissions, giving farmers new sources of income in the process.

Strengthening antitrust enforcement.

Expanding bio-based manufacturing to bring cutting edge manufacturing jobs to rural America.

Promote ethanol and the next generation of biofuels.

Invest in wind and solar energy.

Invest $20 billion in rural broadband infrastructure and triple funding to expand broadband access in rural areas.

Invest in green infrastructure nationwide.
For more on his ideas for new green infrastructure, check out "The Biden Plan For A Clean Energy Revolution And Environmental Justice."
According to his campaign website, "Vice President Biden knows there is no greater challenge facing our country and our world. Today, he is outlining a bold plan – a Clean Energy Revolution – to address this grave threat and lead the world in addressing the climate emergency. Biden believes the Green New Deal is a crucial framework for meeting the climate challenges we face.
Next, let's check out Trump's record on agriculture from his first term in office. I'm going to share his most recent actions related to agriculture, but you can browse further back into his term by clicking here.
The Trump administration announced an additional $1 billion for the Farmers to Families Food Box program to help farmers, distributors, and American families from the impacts from the coronavirus. T

The Administration announced that the USDA is investing $46 million to improve critical community facilities to benefit 363,000 rural residents.The Trump administration distributed more than 5 million food boxes in an effort to support American farmers and families who have been affected by the coronavirus.

The USDA announced $1 billion in loan guarantees available to rural businesses to meet working capital needs during the coronavirus pandemic.

The USDA provided assistance to producers of agriculture commodities who suffered a 5% or greater price decline due to the coronavirus.

Sonny Perdue, the Secretary of Agriculture, announced collaboration with businesses in the private sector to deliver nearly 1,000,000 meals a week to kids affected by school closures in rural America.

The USDA announced an initiative to use research and innovation in order to increase farm productivity by 40%, in fulfillment of President Trump's promise to stick up for farmers.

The Trump administration authorized a total of $28 billion in aid for farmers who have been subjected to unfair trade practices.

The Administration protected farmers from unfair trade practices by authorizing $12 billion in aid to the American agricultural heartland under the Commodity Credit Corporation Charter Act.

President Trump authorized the year-round sale of E15 gasoline which provided a boost to America's corn growing communities.

The Administration provided $16 billion in funds to support our farmers against unfair trade retaliation.

President Trump signed a bill that creates five national monuments, expands several national parks, adds 1.3 million acres of wilderness, and permanently reauthorizes the Land and Water Conservation Fund.

President Trump issued changes to the National Environmental Policy Act to reduce regulation and allow for infrastructure and transportation projects moving forward.
To sort through these talking points and to read more on both Biden's and Trump's plans for American agriculture, check out:
The opinions of Amanda Radke are not necessarily those of beefmagazine.com or Farm Progress.
Subscribe to Our Newsletters
BEEF Magazine is the source for beef production, management and market news.
You May Also Like
---