5 questions to ask before harvesting & feeding ditch hay
5 questions to ask before harvesting & feeding ditch hay
Harvesting ditch hay has its pros and cons. Here are five questions to answer before feeding ditch hay to your cattle this year.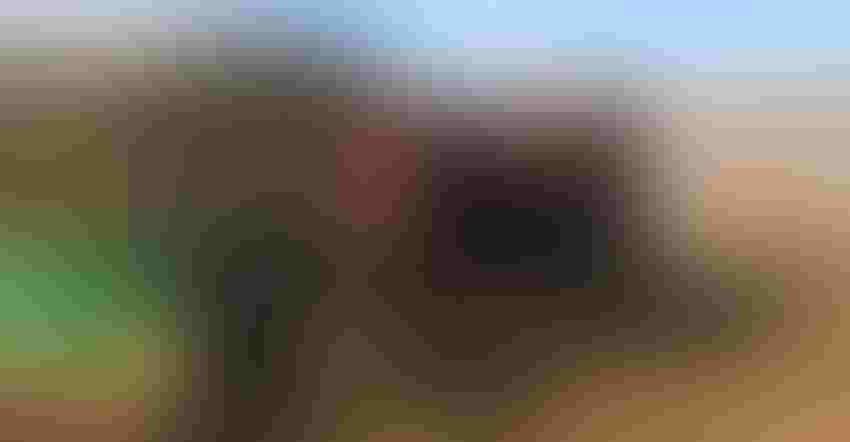 For many producers like myself, finding good quality pasture and hay ground at a reasonable rate is an ongoing challenge.
One way we combat this is by harvesting ditch hay, or the forages that grow in the borrow ditches along roadways. Although it will likely be impossible to bale any ditches this year due to the abundance of moisture we've received so far this summer.
Ditch hay, while not ideal, provides additional hay tonnage to our winter feed supplies. If done correctly, this supplemental hay is a cost-effective alternative to complement your more costly stockpiled forages.
So what do producers need to consider before putting up ditch hay?
Thanks to a recent article written by Alvaro Garcia, South Dakota State University Extension agriculture and natural resources program director and professor, we have some important considerations to keep in mind as we harvest, test and feed ditch hay in the upcoming months.
I've rounded up Garcia's best tips into an easy-to-read list with key questions you should ask before harvesting ditch hay. Keep this handy as you hay this summer season.
1. What is the nutrient quality of the ditch hay?
"Under ideal conditions, it would be advisable to analyze the bales at least for crude protein and TDN and balance diets accordingly," writes Garcia. "It is highly unlikely however that livestock producers will sample ditch hay, particularly during times of feed shortages and/or reduced income. In addition, since there is quite a large variability in nutrient content, using average nutrient composition values can oftentimes result in unbalanced diets and reduced cattle performance.
"Assessing the feeding value of ditch hay poses challenges since it is highly variable in nutrient content. The reason for this variability, however, doesn't seem to be as much the plant species composition, but rather the time of harvest."
2. How should I formulate a feed ration using ditch hay?
Since it's common for producers to skip nutrient testing on ditch hay, Garcia offers this potential solution:
"One alternative to overcome the lack of lab reports is to formulate diets using the lowest likely analytical value for a particular nutrient in the hay and balance the diet also for the lower end of the animal requirements for each particular nutrient," he says. "By using this approach, under the worst-case scenario the requirements of the animal will be covered, and any underestimation in protein and/or energy in the hay will result in increased animal performance.
"Producers can then adjust, gradually cutting supplementation back until the desired growth, body condition and/or weight are attained. Mineral supplements (including white salt) should always be available, as well as enough safe drinking water."
3. Is the ditch safe and clean for baling?
Use commonsense. Ensure the ditch is tractor-safe to avoid dangerous rolling scenarios, warns Garcia.
Also, check the area to ensure it is clean of garbage such as bottles, cans, plastic, etc.
"These materials could end up in the bales fed to cattle or even damage the harvesting equipment," said Garcia. "This last consideration has special relevance if the hay is going to be sold since the reputation of the seller and/or harvester and the satisfaction of the buyer are on the line."
And let's not forget, metals consumed can be deadly to cattle. So this step, while time-consuming and tedious, could save a lot of heartache later on.
4. Has the ditch been sprayed for weeds?
Garcia writes, "Another important consideration is to know whether the roadsides have been sprayed for weeds. There's a two-fold concern with herbicides.
"First, several are not cleared to be used as forage to be fed to livestock. Second, some broadleaf herbicides sprayed on ditch hay fed to cattle are eliminated intact in the manure. Picloram (commercial names: Tordon, Grazon, and Pathway) and clopyralid (commercial names: Stinger, Curtail, and Transline) are popular herbicides used to control broadleaf weeds along roadways," he says.
"If manure from animals fed ditch hay sprayed with these herbicides is applied to the fields, there is a good chance the herbicide will hurt yields or even the whole subsequent broadleaf crop. The same goes for animals supplemented with ditch hay while grazing on corn stalks.
"Both herbicides show unaltered in the manure, and once in the soil they are persistent and mobile and are later translocated into the plants. Current suggestions are to skip at least two growing seasons before planting broadleaf crops to acreage that was fertilized with manure from these animals. There have not been health issues reported in cattle fed hay treated with either herbicide."
5. What other cheap feed alternatives might complement ditch hay?
We live close to an ethanol plant, and as a result, distillers grains are always a cheap feed source. Garcia says these feedstuffs can be used to affordably supplement ditch hay when formulating a ration.
Read his tips for feeding distillers grains, evaluating nutrient content of ditch hay and sourcing these feedstuffs for the right price in Garcia's article by clicking here.
Do you harvest ditch hay? What advice would you add to this list?
The opinions of Amanda Radke are not necessarily those of beefmagazine.com or Farm Progress.
Subscribe to Our Newsletters
BEEF Magazine is the source for beef production, management and market news.
You May Also Like
---