Cattle feed raised indoors
Cattle feed raised indoors
A new system from Grōv Technologies guarantees fresh, green feed every day for beef or dairy cattle.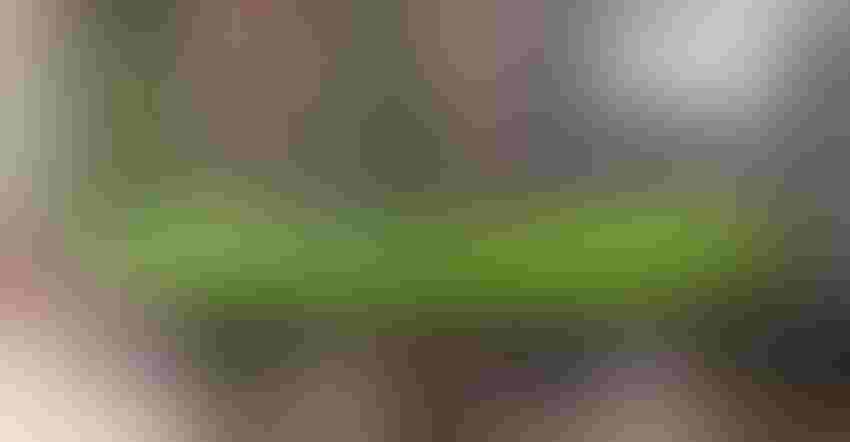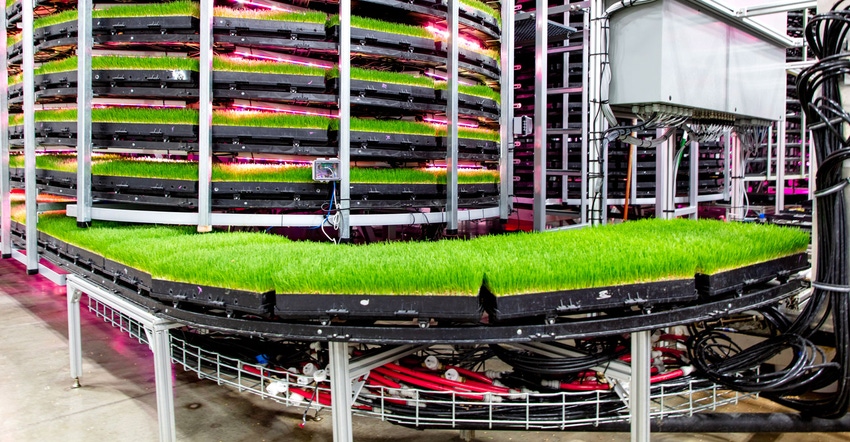 UNDER CONTROL: This unique vertical farming system produces fresh cattle feed every day. The automated system creates feed that's free of pesticides, and the company claims higher feed efficiency too.
Grōv Technologies
"The momentum is undeniable now for what everyone is calling controlled environment agriculture," says Steve Lindsley, president, Grōv Technologies, a Utah-based startup. "Grōv takes the benefits of CEA and focuses it on animals."
You read that right; Grōv is focused on raising feed indoors that's high-quality, consistent and produced in an environment with no need for pesticides. The original idea was to produce that feed to be distributed around the world, but more recently, the approach has turned more local. Really local.
"We've focused on building our technology so that it could provide an autonomous, optimized level of feed every day," Lindsley says. "We're coming to market with our commercial machine that we call the Grōv Olympus Tower Farm."
Farm Progress first encountered the Grōv prototype at CES in January 2020. Since then, the commercial level system has been built and optimized. Lindsley says the company has focused on best-in-class use of robotics, lighting, Internet of Things monitoring and cloud computing to provide a predictable harvest every six days.
"So, we can go from seed to harvest in six days, and we've really been building our science protocol so that we can dial in not only the yield of the machine, but also maintain its efficiency," Lindsley says.
Depending on what you decide to grow in the system, and that can range from barley to wheat to clover to peas, a single tower system can produce the same feed as you can get from 35 to 50 acres of ground. Yet it occupies a tower that is only 875 square feet at the base and 25 feet high.
While there is a six-day harvest cycle, once the machine gets going, it produces 5,000 to 6,000 pounds of sprouted grass per day.
Quality feed, all the time
The Grōv system is showing 99% uptime with initial models, and it runs with very little labor. Trays of seed are placed into the system, then those trays make a trip rising slowly in the tower and making a serpentine course that leads to the bottom at six days when lush, green shoots can be harvested.
This is fresh, low-fiber, high-energy feed that Lindsley says has energy similar to corn, but this is a forage. Combined in a ration with fiber, this is a feed with highly digestible nutrients. In feeding trials, dairy and beef operations have seen feed efficiency gains.
"There are early indications we can achieve up to 5% to 10% feed efficiency where animals are actually eating less on a dry matter per ton basis, but producing as much or more milk," Lindsley says. He notes that those tests were with the new feed at 12.5% of the ration, yet this fresh feed could be boosted to as much as 40% of the ration. More testing is being done there.
Gains for beef averaged between about 2.9 pounds per day on a similar ration, Lindsley says. Note this is essentially a grass-fed diet, but he notes that given these gains it may be possible to raise cattle with this system, achieve grain-fed timelines but have a grass-fed finished product.
An added benefit of that six-day harvest cycle is that users can switch out forage quickly. "If you need to make a change, for whatever reason, it's relatively simple," Lindsley says. "And the speed of data for this system is great. If you're having a feed problem and need to change, it's simple. You don't have a one- or two-harvest cycle you're working with."
In a release announcing the new Olympus Tower, Brad Bateman, owner-partner of Bateman Mosida Farms, says, "It's evident that including Grōv HDN [high-density nutrient] in the cow's diet improves feed production efficiency."
Due to the success of the Grōv -Bateman collaboration, the farm has committed to feed up to 5,000 animals in 2021 using the new system.
Totally new approach
This "feed tower" uses plenty of technology from autonomous movement of trays through the system; artificial intelligence to manage the lighting, water and crop nutrients; and the capture of information about the feed raised.
"And we're impressed with the reliability of this system," Bateman adds. And using this tech, 35 to 50 acres of annual feed output can be produced with about 5% of the water normally needed.
There are other benefits of the new approach, especially the sustainability of the system, which produced what the company calls high-density nutrition. And Lindsley adds an interesting note: "We also believe that the early data suggests that a highly digestible feed such as this super feed will produce less methane from cows," he says. "If you think about it, there's simple math with a beef animal. If it takes less time to produce, you have less methane emitted per animal."
This startup has taken feed production to a new level. Farmers can look at installing single or multiple tower systems. To learn more about the product, its feed test results and how it works, visit grovtech.com.
Subscribe to Our Newsletters
BEEF Magazine is the source for beef production, management and market news.
You May Also Like
---