Kenneth Eng Memoir: Cattle Feeding, Friends & Finance In The Land Of Enchantment
Kenneth Eng Memoir: Cattle Feeding, Friends & Finance In The Land Of Enchantment
In the sixth installment of consulting nutritionist icon Kenneth Eng's memoir on his career and the cattle industry, he discusses 1970s feeding in New Mexico.Read the whole series:Part 1: 50-Year Look At His CareerPart 2: Texas A&M DaysPart 3: Independent ConsultingPart 4: Boom Times in Southern PlainsPart 5: 70's Feedlot Consulting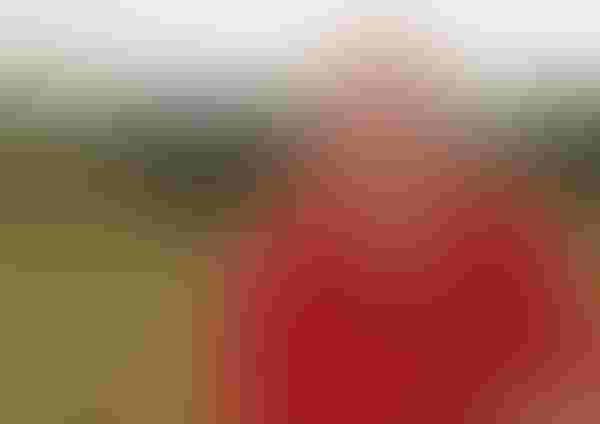 CHAPTER 11
Clayton and Union County, NM – Feedlots, Grass, Bankers and the James Family
In 1970, Clayton Cattle Feeders asked if I would do their consulting. That began a long association with the people and livestock industry in Union County and the surrounding areas of New Mexico. I was contacted because they bought a Cabot Popper to process their milo and I was working with the original feedlot (Veribest Cattle Feeders) that had installed one. Cabot recommended me as a consultant.
Clayton is the only town of significance (population 2,500) in Union County, and was also home for five feedyards plus the center of some of the best short-grass grazing in the U.S. Over the next 30-40 years, I became acquainted with many great people who were also colorful and tough. I fed and grazed over a 100,000 head of personal cattle in the area and I also ended up with partial ownership of two feedlots.
Union County has a unique high-desert climate with 10–15 in. of annual rainfall and low humidity because it is at more than 5,000 ft. in altitude. On average, the climate is great but there are exceptions and extremes. I've seen severe blizzards as early as late-October and as late as mid-May.
For instance, we had a Halloween blizzard one year that killed about 100 of our yearlings on excellent pasture. That storm then went straight across the Texas and Oklahoma Panhandle. The length of the storm was approximately 120 miles and the width only about five miles.
I had a client (Forrest Warren) with pasture cattle north of Stratford, TX, who was scheduled to ship the first of November. There were 504 head in the group he was shipping, and when the blizzard was over, only four were alive. No storm insurance. What made our deal tough is that we had winter insurance, but it did not start until Nov. 1 – the day after the blizzard. This storm occurred in the mid- to late-'70s while we were still recovering from the wreck of '74. We didn't need the added grief.
Another severe blizzard occurred at Easter in the mid-'90s. I had several thousand light yearlings with Benny Gilbert in northern Union County. My wife Caroline and I were in California, and Benny called me about 4 a.m. California time. I asked him, "How's the storm?" His reply was, "Doc, it's not a pretty picture."
He said he was lost and thought he was right on the edge of a canyon in his pickup and didn't dare move. He sat in his pickup for several more hours until his hired man came and, sure enough, his pickup was about five ft. from the canyon edge. We lost about 150 calves in that storm – but more about that later.
The challenge of multiple owners
The ownership of Clayton Cattle Feeders was initially 20 stockholders, each with equal shares. The group was made up of local ranchers and businessmen who were pretty smart and damn tough. After the wreck of '74, several wanted out and three of the stockholders, Charlie James, the manager; Clyde Sowers, rancher and owner of the Union County Leader newspaper; and Bill Shaw from San Angelo; wanted me to buy any stock offered by the other stockholders.
I didn't have much money, but it didn't take much and I wanted to own pens with a couple thousand head capacity for experimental purposes. In the end, it all worked out well, but there were some bumps along the way. At the first stockholders meeting I attended, they spent the entire time in heated arguments. I vowed never to go to another stockholders meeting, and I gave Charlie James my voting proxy.
It was unusual that Clyde Sowers came to the meeting with a briefcase. When we left, I mentioned to Clyde that he had never opened his briefcase. He replied, "I didn't have to, but I had my .45 in there in case things got out of hand."
The four of us ended up owning the feedlot plus a wheat-native pasture ranch nearby. When Clyde died, his wife, Betty, inherited his shares and we decided it would be good to get key man life insurance policies. When the insurance agent made her presentation and we accepted it, we ran into a glitch because Betty wouldn't give her age. She said it was none of our damn business—so we estimated her age and got by.

Read Part 1 of Started Small & Just Got Lucky NOW
Don't start a book at chapter 11! If you haven't read the first parts of Ken Eng's historical account of his 50-year career in the cattle industry, catch up now!
Charlie was a good manager and the feedlot stayed jammed full of cattle with a customer waiting list for many years. In the mid- to late-1980s, several people wanted to buy the feedlot. I thought the price they were offering was fair, so I told Bill and Charlie I thought we should sell. They asked if I would be mad if they bought my portion and kept theirs. I said, "Not in the least." I consequently ended up with a nice profit that helped buy a southwest New Mexico ranch. Later, Bill and Charlie got crossways and Bill brought Charlie out. I was sad that what once was a great partnership and friendship ended in total disarray.
Clyde and Betty Sowers loved to throw parties. At one of their Christmas parties, Betty ran out of Frangelico and sent my pilot to the local liquor stores to buy a bottle. They didn't have any in Clayton, and I found out years later that Betty then sent my pilot and plane to Amarillo for a bottle of Frangelico. I never paid much attention to the hours or expenses with an airplane, but that was an expensive bottle of liquor.
Betty died of cancer several years later. What made this especially traumatic was that her son, who was in his late 40s and was running the newspaper, died suddenly three days before Betty died. No one wanted to tell Betty the bad news as she was in and out of consciousness. The lady taking care of Betty said she kept saying, "I hear my baby crying and I need to go." That still sends shivers down my spine.
A banker throws me a lifeline
Another great friendship and business relationship was with Rex and Vi Reeves who had the First National Bank in Clayton. Rex was one of a kind, and if he liked you, you couldn't have a better friend or banker. If he didn't, you were S-O-L.
In late 1974, Rex called me into the bank and said, "Doc, you're almost out of cattle."
I answered him, "I know. I'm broke."
He replied, "You find the cattle, and I'll find the money."
I then proceeded to sign 20 blank notes and started buying calves in late 1974 when they were dirt cheap. The first group I bought was purchased by Rod Moss who was buying for Ed Cox in East Texas. I happened to stop by the sale barn and I asked Moss to put together a couple of loads of heifers for me. They cost 17¢/lb. and delivered to Clayton weighing approximately 450 lbs. They should have weighed 700 lbs., but they were thin. Along with other cattle I bought late in '74 and sold in June of '75, when there was a brief uptick in the market, I made about $150/head. Thanks to Rex, I recouped all my losses.
Perhaps the biggest personal casualty was that the experience traumatized my wife, Pat. Her family had gone through financial problems in Nebraska in the early '50s. I don't know why, but financial risks and losses never worried me because I always felt like I could somehow make it back. Perhaps it's because I've never cared much about money as such. After we divorced, Pat no doubt slept better.
Rex and Vi had some real hard times with the bank, partially because Rex would finance almost anyone for an extra 1-2% interest if he liked them. As a result, he had a lot of cattle customers who were sort of a rogues gallery. Whenever cattle times got tough, it was tough for the bank. Rex and Vi separated in the late '80s during banking bad times and Rex later committed suicide. His funeral was on April 15, 1988 (tax day). Vi and her son, Craig, ended up taking over the bank and have managed to expand. I believe they now own six banks, and I'm really proud of our friendship and their success.
I went into Clayton at least once or twice a month for over 30 years, and I ended up knowing lots of people. The old Eklund Bar and Hotel is where Black Jack Ketchum was hung in 1901. It's a landmark and good watering hole. One night we decided to have our feedyard board meeting at the Eklund Bar during a severe blizzard. The fellow who owned the bar said he wanted to go home and we were the only customers. He gave us the key and told us to serve ourselves and let ourselves out. We tried to drink at least one shot from every bottle at the bar and by sun-up we were ready for a blizzard of any size.
Clayton, although small, was sometimes the center of some extreme violence. I think there were three or four killings near there in a 10-year period several years ago. During that time, my pilot, Beadle, and I had separate rooms at the local hotel. One day I told my pilot I would call his room in the morning when I was ready to leave. No one answered in his room when I phoned. This went on for a couple of hours, and I finally asked the hotel to check his room. They found it hadn't been slept in. We mounted an all-out search for him because at that time a couple of the murders in the area remained unsolved. We worried something bad had happened to Beadle. As it turns out, the motel had checked him into the wrong room and he was sitting watching television and wondering why I hadn't called. We found this out after we had checked the local hospital, jail, all of the restaurants and bars and several of the country roads.
Gene Atchley was raised west of Clayton during the Dust Bowl and Depression days. After World War II he spent his entire life working in the cattle industry in New Mexico and Colorado. Before I hired him to manage the feedyard we built with Rex Reeves' assistance, he had worked for Whitey and Gary Wisebart for several years. He and Gary Wisebart, who now lives near Santa Fe, can tell some great stories.
Gene and his wife, Verleen, were close personal friends of Caroline and I. Verleen died not long after Caroline drowned. I love to hear Gene talk about the ranch days when they were still shipping calves by rail from around Mt. Dora, NM, to Kansas City. Gene said they would split off the calves from the cows and then run them hard several miles so they would wear down and not turn back to their mothers. They would then move them into the pens by the railroad track. Usually the train would be late. The calves were then shipped to Kansas City by rail, put on trucks and typically ended up in Iowa and Illinois feedyards. In spite of that rough handling, Gene said no one ever complained about health problems. This tells you something about the changes in our calves over the past several years.
Tracking down a trucker
Harold Parker and I fed quite a few calves at Gene's and Charlie's feedyards. Harold would buy them in Mississippi—and with Harold involved there was often some drama and surprises. One time Harold had put a load of calves onto a truck near Hattiesburg, MS, to send to Clayton one weekend. Harold and I were to partner on the calves, and they were to be sent to Clayton Cattle Feeders only two miles down the road from Gene's feedlot.
The trucker ran into a bad blizzard and probably other problems that are better to not discuss. He showed up at the feedyard late Sunday night—two days late. He turned into Gene's feedlot which was the wrong one, but they had the receiving gates set for some other cattle they were expecting. The trucker got them unloaded by himself. There were several dead cattle on the truck and he dragged them off and left a note tacked to the feedlot office door saying, "Here's your damn calves." Monday morning Gene called me and we finally got the situation figured out. I then called Harold.
In Defense of Show Moms & Dads
How long before a rain do you need to spray insecticides to get acceptable control?
Harold explained, "Well, this is a little bigger problem than you might think. We were supposed to pay for these cattle based on their off truck weight and the cattle were loaded in three separate groups and were to be weighed separately."
I informed Harold, "That can't happen now, and there's the additional problem of dividing up the dead calves."
Harold said, "There's another problem, we can't find the truck driver and I want to fire his ass."
Harold called back several hours later to say that they had found the truck someplace in Mississippi with a note on it saying to "Call Harold Parker." The trucker knew he was in trouble, and he just walked off. We tried to put everything back together, but there were more questions than answers.
Finally, Harold called again to inquire, "Doc, what do you really think."
I told him, "Harold, I think it's a wreck."
Harold replied, "Well, I know that, but do you think it's something money can fix?" I added that to my list of favorite Parkerisms.
I said, "Money can fix it easier than we can figure it out."
Banking hardships
About six years before Rex died, he repossessed a feedyard that he had sold to several traders who predictably didn't work out. He gave me 49% of this feedyard, requesting I find a manager and assistant manager then splitting my half with them. We renamed it New Mexico Cattle Feeders and it was quite successful with Gene Atchley as manager and Freddie Polling as assistant manager.
Three or four years later, Rex called me saying, "I need all the shares back to pledge on some loans. What do you, Gene and Freddie want for your shares?"
I suggested to Gene and Freddie, "Let's make him an offer he can live with and take what we can get as he'll end up with it anyway."
It worked out fine for Gene, Freddie and I. However, Rex still went broke and we were at a loss to understand why because the feedlot was making good money. We never knew where Rex lost his money, but he liked to partner with some pretty high-risk characters. Even still, he didn't have the usual bad habits such as futures trading, gambling, girls, and the like. Regardless, I miss him and he was the best banker I ever had. Were it not for the blank notes he had me sign in late 1974, I couldn't have continued to own cattle. God bless your soul, Rex!
The banking business was tough in Texas and New Mexico in the late 1980s and they were threatening to close Rex's bank. Part of it had to be sold to outside investors, and Rex and Vi split up. Rex also lost his position on the board and that depressed him. Rex often carried a revolver and both Gene Atchley and I were sad to hear he committed suicide, but glad he didn't take someone with him.
Because of bad loans to a lot of high-risk friends, Rex was in a lot of trouble, and I'm sure he felt that many people had let him down. An interesting tidbit is that one of the things that helped the bank survive was the fact that Rex had taken out a $600,000 life insurance policy on a border trader to cover his overdue loans. When the trader was killed when his private plane crashed, the insurance money helped save the bank.
The event that put the Eklund Hotel on postcards was the hanging of Black Jack Ketchum—a train robber and cattle rustler. He was hung in 1901 near the Eklund Hotel. Because they didn't adjust the noose properly, his head was jerked off when they pulled the trap door. Postcards chronicling the event are found in many Western bookstores. It is said that Black Jack's final words to the crowd were, "I'll see you in hell for breakfast."
The story of Charmayne James
No stories on Clayton, Clayton Cattle Feeders or Charlie James and family would be complete without mentioning Charmayne James. Charmayne first won the barrel racing championship at the Las Vegas National Finals in 1984 when she was 14 years old. She and her horse, Scamper, continued an unbroken winning streak at the National Finals for the next 10 years. She then retired Scamper continuing to compete for approximately nine additional years winning an additional championship on the different horse. This record will likely never be broken and Charmayne and her mother, Gloria, did it the hard way. They probably traveled 80,000 miles or more per year with a pickup and horse trailer for almost 20 years and a total of more than 1.5 million miles.
The story of Charmayne and her horse, Scamper, and the James family had a fairy tale beginning. Charlie, who has a great eye for horses, bought Scamper from a feedlot cowboy for $1,100. The horse was 4-5 years old and was too much for the cowboy to handle. Charmayne began riding Scamper shortly thereafter.
She had a set of barrels in their backyard at the feedyard, and she and Scamper would practice every day. I recall a funny incident when I was talking to her one time when she was practicing. She had a pet goat.
I asked her, "What do you plan to do with that goat?"
She replied, "Raise little goats."
"But you only have one."
And she replied, "That's okay, it's a girl."
Scamper died on July 4, 2012 at the age of 35, but not before they cloned him. They are collecting semen from the clone so we haven't seen the last of Scamper. Charmayne continues to conduct barrel racing clinics throughout the world, and she and her family along with Charlie and Gloria live on a ranch near Boerne, TX.
Next week: "Confinement Barns and Calf-Fed Holsteins."
Other trending stories at BEEF:
9 Tips For Preventing Pasture Bloat In Cattle
Tips For Minimizing Heat Stress In Cattle
Parasite & Pest Management Products To Consider
Take A Virtual Tour: World's Largest Vertically Integrated Cattle Operation
Ranch Management: Quick Tips For Easier Weaning
7 U.S. Ranching Operations Honored For Top Stewardship
60+ Stunning Photos That Showcase Ranch Work Ethics
Subscribe to Our Newsletters
BEEF Magazine is the source for beef production, management and market news.
You May Also Like
---